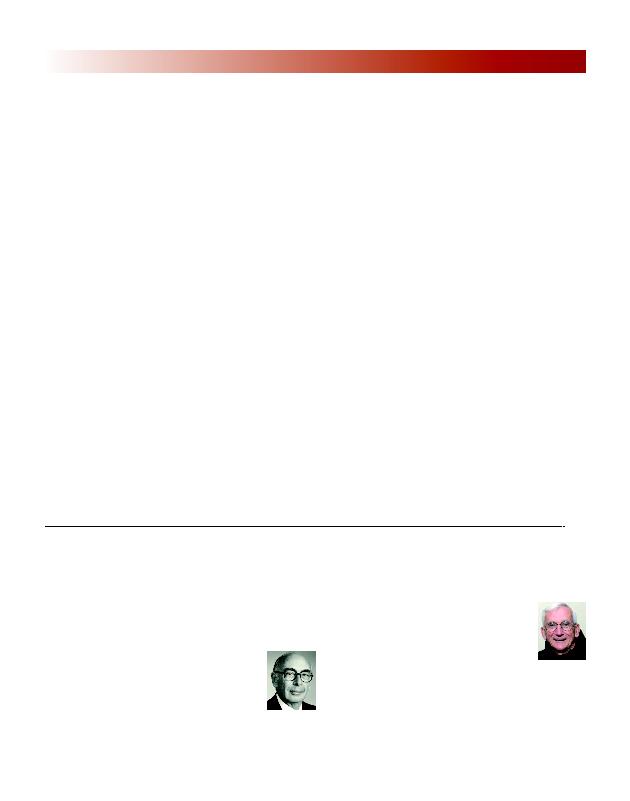 1973, he was honored as Alumnus
of the Year in 1992.
Rev. Robert Struzynski, O.F.M.,
who served the St. Bonaventure
and Mt. Irenaeus communities in
several capacities
over the years, died
Dec. 21, 2013, in
Ringwood, N.J. Early
in his career, Fr. Bob
taught in the univer-
sity's Department of
Theology and also
became involved in campus min-
istry. After a number of shifts in as-
signments, he returned to Western
New York in 2005, when he be-
came a member of the fraternity at
Mt. Ireneaus. A member of the
Order of Friars Minor for 55 years,
he retired in 2013.

2
Death Notices
Alumni Deaths
A directory of deceased alumni is available on Bona's Online. Not a member of Bona's Online? Visit www.sbu.edu/alumni to register.
In Memoriam
Mary (Dodson) Gilligan, '33, Ithaca, N.Y.
Matthew J. Quigley, '38, Clover, S.C.
William P. Gumpper, '39, Fairfield, Conn.
Robert W. McCaslin, '39, Alexandria, Va.
Rev. Albert J. Bosack, '40, Lackawanna, N.Y.
J. Bernard Malone, '40, Horseheads, N.Y.
Vincent Joy Sr., '47, Jamestown, N.Y.
Dr. Joseph A. Battaglia, '43, Jamesville, N.Y.
Rita C. (Ballard) Peters, '43, Marlton, N.J.
Col. Ray H. Smith, '43, Greenville, S.C.
Joseph V. Urmann, '43, Ridgway, Pa.
Dr. K. Bruce Jacobson, '48, Oak Ridge, Tenn.
Col. Joseph V. Sullivan, '48, Lakeland, Fla.
Aloysius Balcerak, '49, St. Augustine, Fla.
Richard J. Bowers, '49, San Jose, Calif.
Albert D. Cecchi, '49, Olean, N.Y.
Philip J. Colella, '49, Moon Township, Pa.
Msgr. Anthony J. Jasinski, '49,
Lackawanna, N.Y.
James W. Reynolds, '49, Milford, Mich.
William J. Abbott, '50, Custer City, Pa.
Dr. Arnold Abramo, '50, Orchard Park, N.Y.
Donald F. Dick, '50, Apex, N.C.
Richard N. Knowlton, '50, Bristow, Va.
Thomas G. Morrissey, '50, Garden City, N.Y.
Robert H. Equi, '51, Reading, Pa.
John S. Fuller, '51, Camillus, N.Y.
John H. Luca, '51, Olean, N.Y.
Kenneth R. Murphy, '51, Itasca, Ill.
Donald M. Priest, '51, Hamden, Conn.
George H. Wells, '51, Vernon Rockville, Conn.
Dr. Raymond S. Burns, '52, Southbury, Conn.
Helen O. (Karst) Dudley, '52, Wayland, N.Y.
John S. Fuller, '52, Camillus, N.Y.
William G. Jackson, '52, Crestwood, Ill.
Lucian L. Lodestro, Esq., '52, Falconer, N.Y.
Frank Godlewski, '53, Schenectady, N.Y.
Barbara J. Brookins of Olean, who
worked as a registrar's assistant in the
Records Office at St. Bonaventure for
29 years, died March 18. She retired in
May 2012.
Richard "Zink" Gigliotti of Olean,
who served as St. Bonaventure's ath-
letics trainer for 25 years, died Feb. 14.
Gigliotti was inducted into the univer-
sity's Athletics Hall of Fame in 1994.
Linda L. Goodemote of Allegany,
who worked as a secretary to the dean
of Graduate Studies at St. Bonaven-
ture from 1976 to 1994, died Jan. 18.
Rev. Zachary Hayes, O.F.M., one of
the most renowned American scholars
of the theology of St. Bonaventure in
the 20th century, died March 16. A
prolific researcher and well-respected
teacher, Fr. Zachary served on the fac-
J. Ronald LoPresto, '53, Cinnaminson, N.J.
Sheila M. (Dixon) Quinlan, '53, Allegany, N.Y.
Robert A. Lucas, '54, Rio Vista, Calif.
John P. Maley, '54, Williamsville, N.Y.
Thomas J. Thibodeau, '54, Berlin, Conn.
David R. Warsocki, '54, Hinsdale, N.Y.
Edmund J. Wisniewski, '54, Virginia Beach, Va.
Rev. Bartholomew R. Larkin, O.Carm., '55,
Grove City, Fla.
Rev. Robert Struzynski, O.F.M., '56, Butler, N.J.
Michael G. Avella Sr., '57, Maplecrest, N.Y.
Rev. Anthony F. Gagliardo, '57,
Colorado Springs, Colo.
Richard G. Voight, '57, Westbrook, Maine
John R. Bradt Sr., '58, Elmira, N.Y.
Edwin L. Kij, '58, Orchard Park, N.Y.
Rev. Aloysius Siracuse, '58, Boston, Mass.
John V. Carlon, '59, Lakewood, N.J.
William L. Dawson, '59, Lincoln, R.I.
Francis E. Donatucci, '59, Stamford, Conn.
Lawrence K. Evans, '58, Williamsville, N.Y.
Sr. Annette Mirco O.S.F., '59, Haddonfield, N.J.
Rocco J. Pelino, '59, Depew, N.Y.
Rev. Renato A. Ruzzier, '59, Erie, Pa.
Rev. William R. Tuyn, '59, East Aurora, N.Y.
Dr. Dennis M. Curley, '59, Monroe Township, N.J.
John H. Checkett, '60, Fort Lauderdale, Fla.
William P. Connery, '60, Hallendale Beach, Fla.
Richard J. Gaeta, '60, Hiawassee, Ga.
Jesse J. Grant, '60, Olean, N.Y.
Leo J. Kervin, '60, Fort Lauderdale, Fla.
Mary K. (Longnecker) McCord, '60, Olean, N.Y.
James J. Goodwin II, '62, Vero Beach, Fla.
Steve D. Wilkins, '62, Rochester, N.Y.
Sr. Margaret M. Gleason, '63, Buffalo, N.Y.
Paul J. O'Keefe, '63, Emporium, Pa.
George L. Munroe, '63, Larchmont, N.Y.
Barbara (D'Anzi) Geary, '64, Stafford Springs, Conn.
George T. Giacobbe, '64, Stony Point, N.Y.
Kirk P. Kelly, '64, Orchard Park, N.Y.
Leslie J. Miller, '64, Coral Springs, Fla.
James R. Dwyer, '67, Orchard Park, N.Y.
James F. Lapp, '67, Le Roy, N.Y.
Donald D. Higley, '68, Coudersport, Pa.
Florence (Ostovich) Caruso, '69, Bradford, Pa.
William E. Steidle, '69, New Windsor, N.Y.
Paul T. Schafer, '69, Olean, N.Y.
Godefridus van Berkel, '69, Albuquerque, N.M.
Sr. Maureen Boyle F.S.S.J., '70, Hamburg, N.Y.
Joanne M. Hanley-Wilson, '70, Knoxville, Tenn.
Michael P. Mariano, '70, Plano, Texas
James A. Mertens, '70, Midland, Mich.
Joseph J. Henry Jr., '71, Stonington, Conn.
Peter R. Wisniowski, '70, Kinderhook, N.Y.
Rev. Robert Ricciardi, '71, Cheshire, Conn.
Sr. Susan McGillicuddy, O.S.F., '72,
St. Petersburg, Fla.
John Scarzafava Esq., '73, Oneonta, N.Y.
Jerry D. Hyde Esq., '75, Mayville, N.Y.
Virginia M. (Healy) Hudson, '75, Old Bridge, N.J.
David P. Weidt, '76, Olean, N.Y.
Ann M. (Brooks) West, '76, Fredonia, N.Y.
Sr. Marybeth Harrington, '84, Waterbury, Conn.
Henry H. Schaefer II, '89, York, Pa.
Kenneth C. Sofio, '91, Hammondsport, N.Y.
Mary D. Leonard, '92, Wheat Ridge, Colo.
Michael Jennings, '93, Gilbert, Ariz.
David W. Dolaway, '94, Bradford, Pa.
Sr. Bernadette A. Svatos, O.S.F., '95,
Rochester, Minn.
Sara B. Matthews, '98, Hamburg, N.Y.
Laura L. Lindsey, '99, Olean, N.Y.
Timothy R. Bushnell, '09, Olean, N.Y.
Stephen L. Klucsik, '10, Syracuse, N.Y.
ulty at Catholic Theological Union
for 37 years and taught summer
courses in SBU's School of Franciscan
Studies from 1966 to 1990. In 2002,
he was honored with the Franciscan
Institute Medal from St. Bonaven-
ture.
Trustee Emeriti Hon. Howard Mar-
shall Holtzmann died at home in
Manhattan, Dec. 9, 2013, hours be-
fore his 92nd birth-
day. A brilliant
attorney, Holtzmann
was a pioneer in the
field of international
arbitration and con-
ciliation. He was an
original member of
the Iran-United States Claims Tribu-
nal, which was established as part of
the settlement of the Iranian hostage
crisis. Holtzmann was the legal ad-
visor for St. Bonaventure when it
was seeking University status in the
late 1940s and served on the
Board of Trustees from 1968 to
1989. His father, Jacob Holtzmann,
served as Regent of the state of
New York in 1950 and presented
the University charter to Fr. Juvenal
Lalor, O.F.M., then-president of St.
Bonaventure.
Brian E. Moretti of Olean, assis-
tant sports information director,
died March 5.
John Scarzafava Esq., of
Oneonta, N.Y., died July 13. A for-
mer member of the National
Alumni Board, he served as the
NAB president and on the Univer-
sity's Board of Trustees from 1988
to 1990. A member of the class of