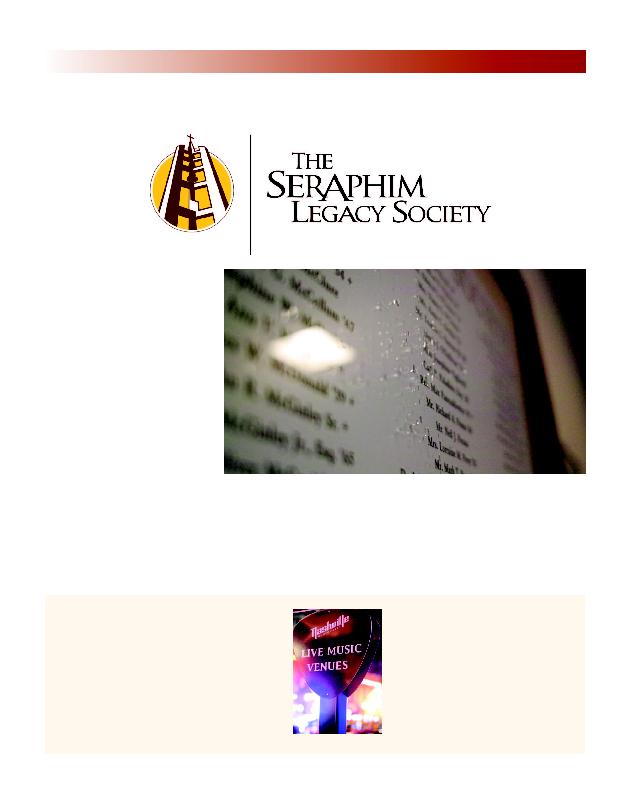 2
www.sbu.edu/Donate
Is your estate plan up to date? Modifica-
tions may be required if any of the follow-
ing apply:
· Birth of a child or grandchild
· Acquisition of new assets by gift or
· Giving away or selling assets in your
· Marriage, divorce, or death of a spouse
· Death of a beneficiary named in
· Changes in the needs of your
· An executor or trustee dies, moves, or
· Moving to a different state
· Purchasing or selling real estate
· Deciding to make additional bequests,
such as a gift for the future support of
St. Bonaventure University.
For more information, please visit
www.sbu.edu/plannedgiving
office at (800) 664-1273, option 3, to
speak with Bob Keenan, associate director
of Planned Giving.
The formal blessing of the new Seraphim Legacy Society plaques took place on Saturday,
June 7, after the annual Devereux and Seraphim breakfast. Fr. Peter Schneible, O.F.M.,
'73, blessed the plaques, which include 528 living and deceased Seraphim Legacy mem-
bers.
THE POWER OF A BONNIE:
SERAPHIM LEGACY SOCIETY
ALUMNI Events
How about spending an SBU Weekend
in Nashville? Join SBU November 14-16
for a Nashville itinerary that includes a
guided tour of the Frist Center, Nashville
Predator hockey practice, lunch at Miss
Mary BoBo's Boarding House, tour of the
Jack Daniel's Distillery and Sunday Mass at
Cathedral of the Incarnation. Interested?
To get on the list, please email Anne Goer-
gen at agoergen@sbu.edu or call (716)
The Power of a Bonnie! Coming to a location
near you ... receptions, athletics and gatherings
abound throughout the coming year. Visit
www.sbu.edu/alumni
for a complete list of alumni
events and special celebrations of Sr. Margaret Car-
ney's 10th anniversary as our president.
Be sure to shop the Alumni Gift Guide and
connect with ASK Design Jewelers at
www.askdesignjewelers.com
jewelry -- new this year!