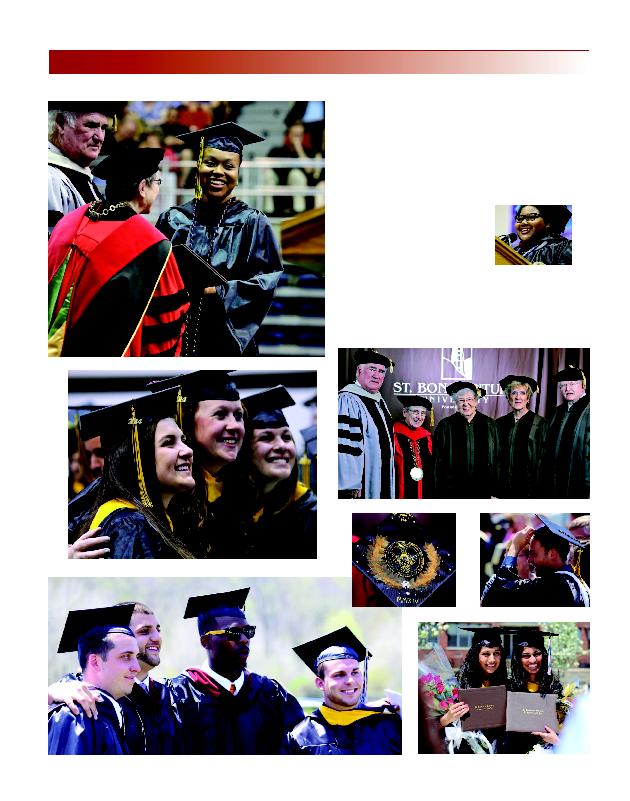 Campus News
HONORARY DEGREE RECIPIENTS
Rev. Dr. Joan Brown Campbell, director of the Department of
Religion at Chautauqua Institution for 13 years; Ann L. Swan, a
longtime benefactor of St. Bonaventure and a staunch supporter
of Catholic higher education; and Neal J. Johnson, class of
1973, president and CEO of Special Olympics New York. They are
pictured below with Board of Trustees Chair Raymond C. Dee,
'64, and University President Sr. Margaret Carney.
STUDENT SPEAKER
Makeda Loney, J/MC major
(at right)
COMMENCEMENT SPEAKER
Rev. Dr. Joan Brown Campbell
QUOTING CAMPBELL
"The world we are in and the world of our children and grand-
children will be an increasingly interfaith world. It will ask the very
best from the religious faith that is in us -- the living of our finest
religion. ... And from our religious variety, the faith we live by in-
side will touch our common life for the good of all."
COMMENCEMENT HIGHLIGHTS 2014