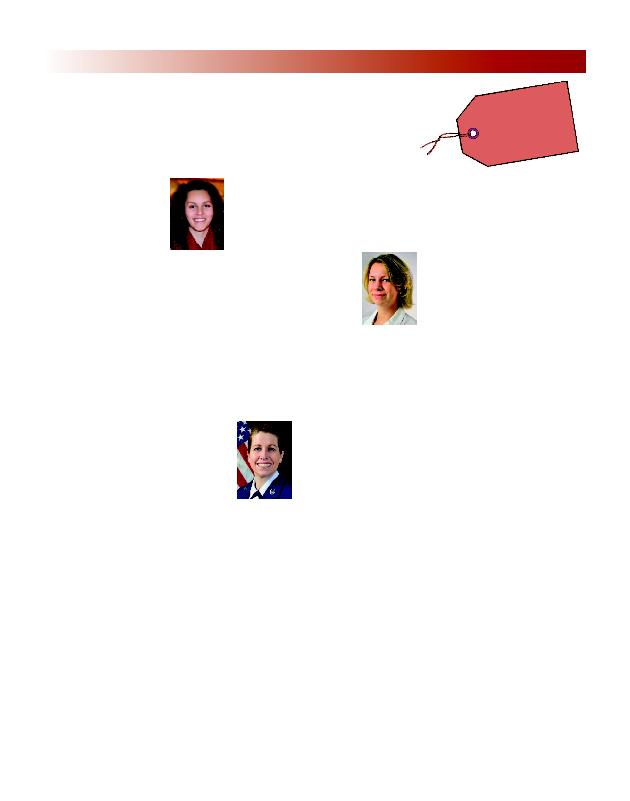 operates, in Canada and the U.S., the world's
longest crude oil and liquids transportation sys-
tem. Frawley was previously employed for 10
years at The Todd Company as a field manager
and safety manager for major projects and envi-
ronmental remediation.
2003 -- Dana E. Cowen earned a Ph.D. in art
history from Case Western Re-
serve University in Cleveland,
Ohio. The subject of her disser-
tation was Albrecht Dürer's Ob-
long Passion: The Impact of the
Reformation and Netherlandish
Art on the Artist's Late Draw-
ings. She is a guest curator at
the Cleveland Museum of Art and her exhibition
called "Dürer's Women" opened in June.
2004 -- Jeremy Hurlburt is the community
manager for the Tech Support Team at PLS 3rd
Learning, which earned a 2014 Stevie Award for
Sales & Customer Service. PLS 3rd Learning re-
ceived a gold award in the category of Front-
Line Customer Service Team of the Year -
Technology Industries.
2005 -- W. Jack Plants II was promoted to sen-
ior vice president/director of treasury at Rockville
Bank. He is responsible for the strategic and op-
erational management of the bank's Treasury
Department and ALCO (Asset-Liability Commit-
tee) process.
2006 -- Rachel (George) Axon earned a 2013
Associated Press Sports Editor (APSE) award.
Axon was part of the team at USA TODAY
Sports that finished third in the project reporting
category for circulation of more than 175,000
for a special report that examined the risks and
rewards for assistant coaches in college football.
This was Axon's fourth APSE top-10 finish and
third top-five finish. She previously won the in-
vestigative category for all circulations in 2009
and feature writing for 30,000-75,000 circula-
tion in 2010. Sean P. Lynch joined Barclays Cap-
ital Investment Banking Group as an AVP in
October 2013. Timothy Rothang of Mastic,
N.Y., was named one of Long Island's 2014 Top
Young Professionals by the Huntington Chamber
of Commerce. Thirty individuals under the age
of 30 from across Long Island were recognized.
Rothang has served as a legislative aide to Suf-
folk County legislator Kate Browning since 2009
and handles constituent services in the commu-
nity where he was raised and continues to live.
In addition to his governmental responsibilities,
he volunteers his time in the community and on
political campaigns. Rothang holds a master's
degree in public policy from SUNY Stony Brook.
Troy L. Smith was one of four emerging
African-American leaders in Cleveland profiled in
the weekly e-magazine Fresh Water. Smith was
described as "fast becoming a Cleveland
social media point man for marquee con-
cert coverage, new album and movie re-
leases and breakdowns of all things pop
culture." Smith moved to Cleveland from
Rochester in December 2013 to become
an entertainment reporter for Northeast
Ohio Media Group. Since then, he brought
live and post-concert coverage of larger-
than-life shows from Jay-Z and Justin Timberlake
to laptops and tablets around Greater Cleveland.
2007 -- Reagan Terry was promoted to senior
marketing communications specialist at Corning
Incorporated. In her new role,
she's responsible for developing
and executing a global market-
ing communications strategy for
Corning's High Performance Dis-
play business. She manages
media relations, provides execu-
tive communications counsel
and handles all employee communications plat-
forms. Terry began her Corning career in 2008.
2008 -- David Dinolfo was promoted from
senior accountant to manager on the Bonadio
Group's Commercial Team. Jennifer Lynn
Dixon was selected for promotion to chief mas-
ter sergeant during the Exceptional Promotion
Program boards. The Excep-
tional Promotion Program is a
competitive process awarding
only one airman in all of New
York state. Dixon became the
first female chief master ser-
geant in the history of the
107th Civil Engineer Squadron
and the youngest in the Air National Guard.
Scott Eddy was named assistant sports informa-
tion director at Bloomsburg University of Penn-
sylvania. He spent his previous two years
working in the sports information office at Edin-
boro University of Pennsylvania. Ashlie M.
(Steffenhagen) Flanigan was promoted to
supervisor at Buffamante Whipple Buttafaro,
P.C. She joined the firm in June 2008 and be-
came a certified public accountant in July 2012.
Lucas Hyman was promoted to audit manager
at Chiampou Travis Besaw & Kershner LLP. He
joined the firm in 2008. Kevin H. Miller re-
ceived a fellowship to the University of Florida
and completed his Ph.D. in condensed matter
physics in May 2013. He is now working as a
scientist at NASA Goddard in Washington, D.C.
In April, Miller was awarded the Early Career
Achiever Award in his division (Instrument Sys-
tems and Technology Division) and was the first
employee to win the award in less than one
year of employment. The crux of Miller's effort
involved a difficult and demanding measure-

2
Updates
We've lost touch with a number of
alums and need your help! Of the
many missing alumni, our hope is to
start finding lost alumni who will be
celebrating their reunion in 2015. If
you know the whereabouts of the fol-
lowing alumni, please let us know at
www.sbu.edu/foundalumni.
James A. Gay, '55
Theopane Germinasi, '55
Philip D. Mancuso, '55
Casper J. Urban, '55
Herbert J. Lamberton, '65
Marie-Celeste Sullivan, '65
Louis N. Agresta, '70
David B. Hlasnick, '75
James F. Palkovic, '75
Marlene L. Schiro, '75
Paul A. Ammermuller, '80
Patricia Formisano, '80
Susan Handel, '80
Wendy K. (Leute) Balcerzak, '85
Kevin J. Daly, '85
Karan M. Horan, '85
Michele C. Karas, '85
Joel D. Minsker, '85
John C. O'Donnell, '85
Marybeth A. Sledzik, '85
Jennifer Blatto-Vallee, '90
Michael J. Brady, '90
Jennifer J. (Lindner) Deckman, '90
Deborah A. (Davis) Fenick, '90
Dennis J. Griffin, '90
Allyson Hayes, '90
Walter R. Ivers, '90
Marty J. Marrone, '90
Stephen J. Donohue, '95
Michelle C. LeFrois, '95
Brian K. McDonough, '95
Mark W. Milne, '95
Matthew E. Perry, '95
David G. Purdom, '95
David J. Visiko, '95
Colleen A. (Brady) Vislosky, '95
Petrea Anderson, '00
Michael L. Marcy, '00
Rebecca S. Pollack, '00
Megan A. Uscinski, '00
Sarah A. Diorio, '05
Sadhna Gupta, '05
Tracy L. Nelson, '05
Justin M. Pfeiffer, '05
Stefanie M. Sargent, '05
Robert C. Donlin, '10
Brian A. Kelvie, '10