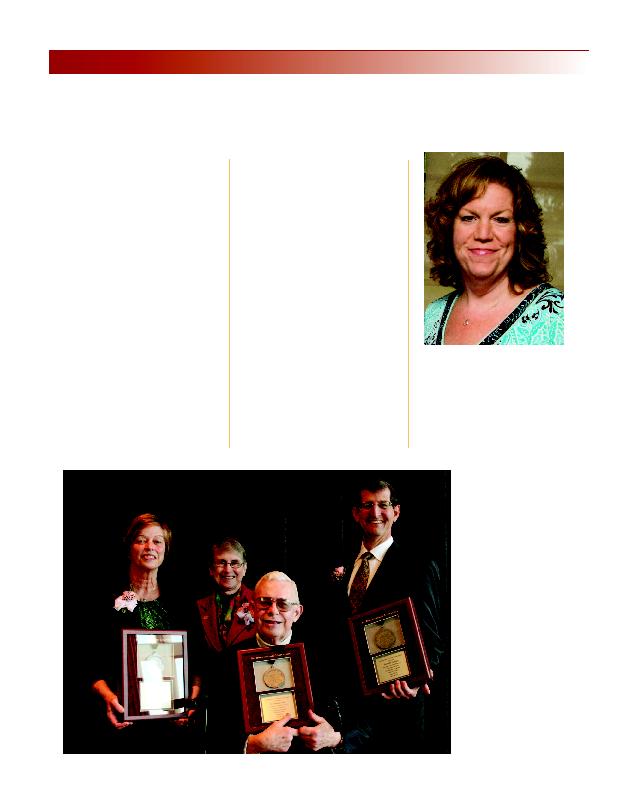 Partnering with you today. Making a difference for tomorrow.
... the 2014 Gaudete
Awards Ceremony and
Dinner raised $37,500 to-
ward student scholarship
aid as the University hon-
ored three selfless and
courageous members of
the Rochester, N.Y., com-
munity. Pictured with
University President Sr.
Margaret Carney, O.S.F.,
are (from left) Hon. Patri-
cia Marks, Fr. Laurence
Tracy and Ronald Sal-
luzzo, '72.
THE POWER OF A BONNIE:
SCHOLARSHIP
By Lynn (Mulhern) Williams, '89
K
aren M. Gaffney passed away on
March 26, 2013, after a coura-
geous 20-month battle against
A graduate of Cardinal Mooney High
School in Greece, N.Y., Karen entered
St. Bonaventure in the fall of 1985,
studying mass communication.
Almost immediately she was known
for her bright eyes, cheerful smile, vi-
brant sense of humor, and her quiet,
purposeful manner. Karen's pride in her
Irish heritage and her family's Texas
roots were matched only by her love of
all things Bonaventure.
Outside class, Karen joined WSBU and
served as a student ambassador, spread-
ing her love for SBU.
After Bonaventure, Karen never
missed a reunion and continued to sup-
port the University.
Following her 1989 graduation, Karen
returned to the Rochester area, working
in advancement at the University of
Rochester's Memorial Art Gallery and
Medical Center, and the Al Sigl Commu-
nity of Agencies.
As Vice President of Advancement for
the Al Sigl Foundation, Karen received
Rochester's Outstanding Fundraising
Professional Award in 2012, a salute to
her many achievements.
But Karen's greatest legacy remains
the love, kindness, and fellowship she
gave others. Honoring this, the newly
created Karen M. Gaffney Memorial
Scholarship will help students attend St.
Bonaventure.
Karen was a treasure. Strong, rich in
faith, kind, gentle, and humble, she
made friends wherever she went.
She continues to be missed by friends,
colleagues, and her loving family: par-
ents, Jack and Betty Gaffney; brother
and sister-in-law, Keith and Gale
Gaffney; sister and brother-in-law, Kelly
(Gaffney), '94, and Jim Gryglewicz, '94;
a niece, Marisa; and nephews Ryan,
Sean, and Michael.
In June, she would have celebrated
her 25th reunion on campus.
Contributions to support Karen's
scholarship are gratefully accepted at:
Karen M. Gaffney '89 Memorial Scholar-
ship, PO Box 2519, St. Bonaventure, NY
14778;
www.sbu.edu/karen
calling Mary Driscoll at (716) 375-2331.
IN REMEMBRANCE OF KAREN M. GAFFNEY, '89
SPEAKING OF
THE POWER OF
SCHOLARSHIPS ...