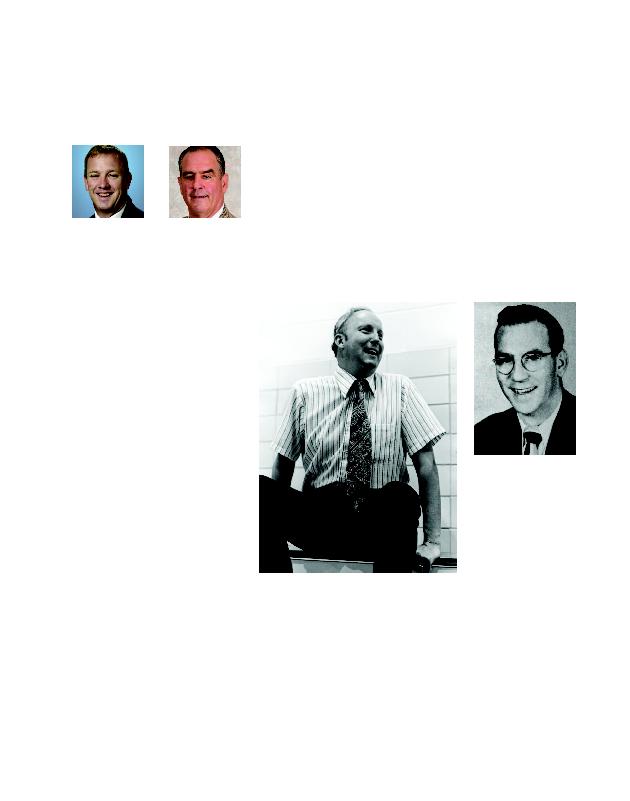 All in the Family
Adhering to the principles of
two men taken too soon, the
McNamee brothers have built
a powerhouse in the pool
wo days after the Northeast
emerged from the Great Blackout of
1965, darkness descended again on
St. Bonaventure. Kevin McNamee
knew the day was inevitable. For as
long as he could remember, McNamee, class of
'76, understood how fragile life was. His dad
earned a Purple Heart in World War II, but the
price was a shredded heart, ravaged by Ger-
mans and stitched together by the French,
whose efforts gave him 10 more years than
anyone thought possible.
"I can remember as kids standing out on the
front lawn of the old St. Francis Hospital look-
ing up, and he'd be waving out a window to
us after recovering from his latest heart
episode," said McNamee, now in his 20th year
as deputy athletic director at George Mason.
"You're always scared that you're going to
lose him and you're just hoping that day will
never come. And then, one day, I came home
from school ... "
Friday, Nov. 12, 1965. John McNamee Jr.
died of a heart attack at his North Olean
home. The founder of St. Bonaventure's phys
ed department and men's swim program was
just 47. He didn't have enough days, but he
never cheated the ones he was given.
"He always knew he was on borrowed
time, but that never stopped him. He was re-
lentless in living life," said Kevin, whose Twit-
ter avatar is a sepia-toned photo from the
early '50s of his dad with SBU's swim team.
"He had an unbelievable drive and resilience
to living a normal life."
Pat McNamee Tempesta, '68, was a sopho-
more at St. Bonaventure when her dad's heart
finally gave out. She was even taking an edu-
cation class from him that fall semester.
"He had his first heart attack when I was in
T
elementary school, and I vividly re-
member every heart attack he had after
that. It was a difficult scenario to deal
with as a child," said Pat, her voice
breaking up. "It's emotional for me to
talk about even now. It was horrible."
And yet, for all the pain and anxiety
brought on by their father's tenuous ex-
istence, Pat and Kevin also cherish great
memories of their dad, as do older
brother Jack and younger brother Brian,
class of '78. They are numbers one
through four in a five-kid clan.
The McNamee considered the living
embodiment of their dad has no memo-
ries of him. Sean McNamee is 50. His fa-
ther died 49 years ago.
"He is everything that his father was,"
said Kevin, coach of the Bonnies from
1978 to 1992. "The remarkable thing
about Sean is that he has every trait,
every attribute of dad."
His sister agrees.
"Sean enjoys life, has a similar sense
of humor, is a great family man and has
always been great with students," Tem-
pesta said. "My father was the same
way."
AT LEFT: John Skeehan
established a culture of
discipline and accounta-
bility that made St.
Bonaventure a respected
program in the North-
east. ABOVE: