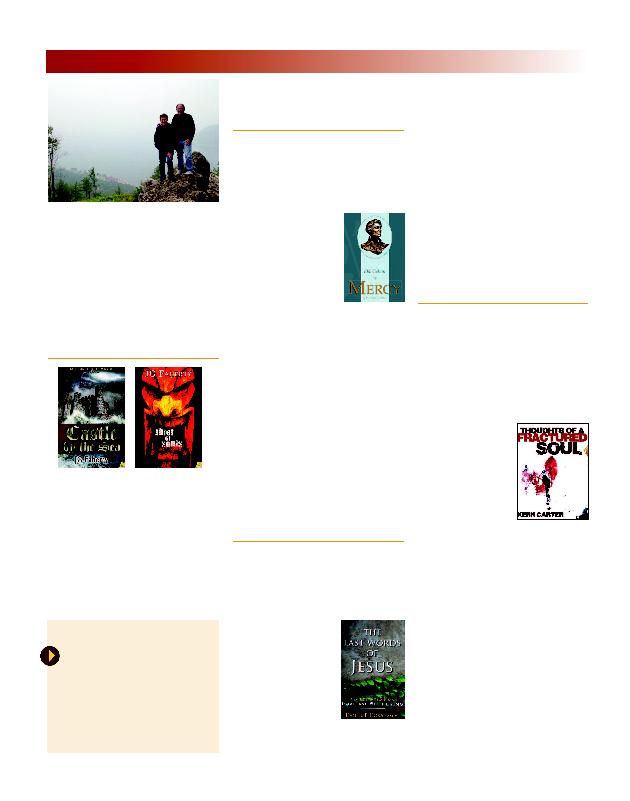 Kunzinger spent the summer of 2013
crossing Siberia by train and car with his son,
photographer Michael Kunzinger (the photo
above shows them above Lake Baikal in
Siberia). The alum's work is forthcoming
from Bang Press in a collection of essays,
"The Iron Scar: A Father and Son in Siberia."
This summer, the pair are doing a similar
project while walking the Camino de Santi-
ago pilgrimage in Spain for his second book
in the series titled "Out of the Way."
Bang Press released his collection of short
work, "Fragments," in February.
Greg Faherty, '84,
books coming out in 2014. The latest works
are "Castle by the Sea" (a gothic supernatu-
ral suspense), "Thief of Souls" (a supernatu-
ral thriller), "Fatal Consequences" (a modern
ghost story), and "Legacy" (a Lovecraftian
tale).
Faherty, writing under the name JG Fa-
herty, is an International Thriller Writers
award finalist and Bram Stoker Award finalist
with five novels, six novellas, and 50-plus
short stories to his credit. His 2013 release,
"The Burning Time," uses Olean and St.
Bonaventure as the basis for his fictional
town of Hastings Mills.
Ebb Galvin, '86,
Second Chance," the story of one woman's
courageous decision to undergo cytoreduc-
tive surgery and HIPEC, a potentially life-sav-
ing procedure that has only recently gained
widespread support in the
United States' medical
community.
Dr. Armando Sardi, had
once been a virtually un-
known medical student
from Colombia, yet he
emerged as a world-
renowned specialist as well
as a cofounder of healthcare services for the
poor in his native country.
The surgery itself is a masterwork of Dr.
Paul Sugarbaker, an oncologist and former
National Institutes of Health department
head with a long history of being on the cut-
ting edge of both medical science and sur-
gery. "Mercy" is a candid portrayal of what
it takes for a patient to come to grips with
such a decision and its aftermath. A portion
of all author royalties from "Mercy" will go
toward cancer research.
Galvin is a teacher and has published arti-
cles in small circulation magazines relating to
human interest, business, and air traffic con-
trol. He has also written literary analyses of
Anton Chekhov's "The Little Trilogy" and
Juan Goytisolo's "Duelo en el Paraiso." He
lives with his wife, Lisa, in Baltimore and has
one son.
The last words Jesus spoke from the cross,
sometimes called the seven last words, are a
time-honored source of meditation.
Fr.
Daniel P. Horan, O.F.M., '05
, brings a fresh
perspective to these sayings as he challenges
readers to look at their
lives through the lens of
Jesus' suffering and death
in his new book, "The
Last Words of Jesus: A
Meditation on Love and
Suffering."
for the poor and margin-
alized, as Jesus did, ex-
tending our love not just
to those we love but to those most in need.
By focusing on God's love for humanity ex-
pressed in the gift of Jesus, "The Last Words
of Jesus" will serve as a rich source of medi-
tation throughout the year. Horan is a Fran-
ciscan friar of Holy Name Province, a
columnist at America magazine, and the au-
thor of several books, including "Dating
God: Live and Love in the Way of St. Fran-
cis."
He has taught at Siena College and St.
Bonaventure and has published numerous
articles on Franciscan theology and spiritual-
ity, Thomas Merton, and contemporary sys-
tematic theology. He has lectured around the
United States and Europe, serves on the
board of directors of the International
Thomas Merton Society, and is working on a
Ph.D. in systematic theology at Boston Col-
lege. "The Last Words of Jesus" is available
in print, electronic and audio formats.
Kern Carter, '12,
"Thoughts of a Fractured Soul" (Friesen-
Press, 2014). The book tells a story of family
and failed potential told through the reflec-
tive voice of the main character, Corey
Thomas, a.k.a. Ace. Through a series of non-
linear digressions, some brief and some ex-
tended, Corey catalogues the crucial
moments of his life as he remembers. As
these insights are pieced
together, readers are
presented with a tale
that digs deep into soci-
etal behaviors and re-
flects the contemporary
structure of the modern
family.
fortunate enough to
open my eyes, I observe, challenge, push,
react, all in hopes of becoming a better
writer. I hesitate to label myself as an author
because anyone that publishes a book can
claim that title. I am a writer; someone that
lives with words and is in constant analysis of
the world around me," said Carter, a native
of Toronto who played guard for the Bonnies
for two years (2003-2005) before injuries de-
railed his playing career.
Visit www.friesenpress.com/bookstore,
amazon.com, and barnesandnoble.com for
more information.
Carter counts Dr. Rick Simpson, longtime
English professor, as a significant influence
on him. "How can I put into words my grati-
tude to him for reading 181 pages of my
first draft at the end of a semester, and for
including comments on almost every page,"
Carter said.
Off the Shelf
CONTACT US
We are happy to print announcements and
brief summaries of new books, CDs and
other multimedia works published by SBU
alumni, faculty and staff.
Send a copy of the book or CD and summary
press release to:
Bonaventure magazine
P.O. Box 2509
St. Bonaventure University
St. Bonaventure, NY 14778
or bonalumnus@sbu.edu