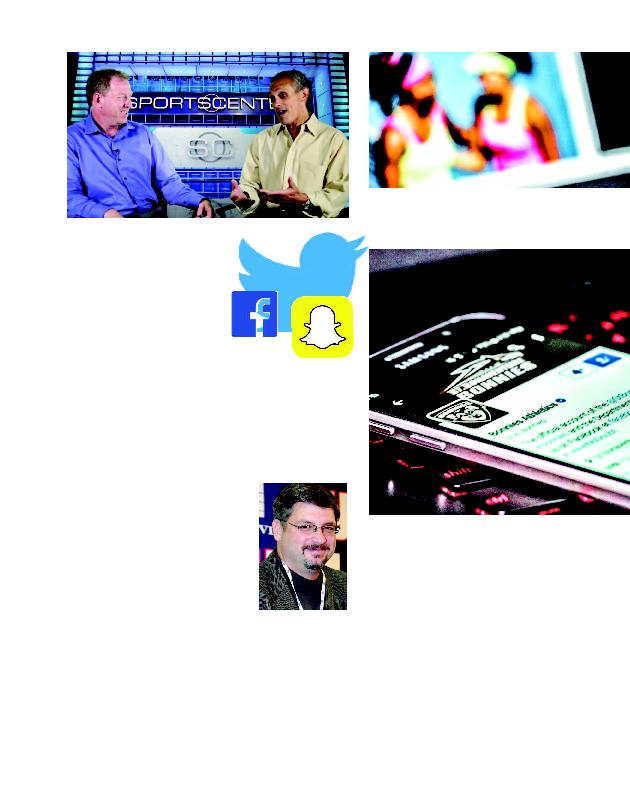 Vaccaro (follow him on Twitter, @MikeVacc), who
uses social media sparingly but tactically, made his
readers wait for the meatier story online -- and then
posted the column link to his 19,000-plus followers on
Twitter and 3,278 Facebook friends. More than
500,000 readers of the Post's print edition eventually
saw it as well, but long after the column had spiraled
through cyberspace.
FOR VACCARO, a 27-year veteran of the trade who
once endured dictating high school game stories from
a pay phone to a sports department intern, the explo-
sion of digital and social media has forever altered the
landscape of sports journalism.
Vaccaro admits he's blessed to work in a five-paper
town that still values the printed word, but he recog-
nizes the need for journalists to embrace social media
in some fashion -- Twitter, Facebook, blogging, pod-
casts, Snapchat -- to remain relevant.
s the 2016 World Series returned to Cleveland, Mike Vac-
caro returned to Chicago. The New York Post sports colum-
nist posted up at a familiar bar for a burger and a beer, to
"hang with the locals while they lived and died" by the
Vaccaro, '89, again sought the regulars at the Billy Goat Tavern in
Wrigleyville for Game 6. Last year, covering the New York Mets in the Na-
tional League Championship Series, he sat there under the goat head on
the wall -- not the original Murphy denied en-
trance to the 1945 World Series, but an effigy to
the farm animal credited with the Cubs' losing
curse.
Central as players and organizations are to the
sports narrative, fans -- especially those of teams
like the Cubs with such a tortured history -- can
add a flavor to game coverage that a utility in-
fielder with a game-winning pinch hit could
never do.
Vaccaro wanted a social perspective on a semi-
nal moment in American sports history, but he
wasn't going to let social media dictate how he
told that story by spewing viral sound bites every
other batter.
His Game 7 prose for those with more than a 140-character attention
span reminded readers of baseball's essence. How ironic, he wrote, that
two fanbases waiting to end World Series droughts totaling 176 years
would be forced to wait, biting fingernails, on the last possible day of the
season -- if only for 17 minutes -- for the bane of the fans' existence: the
rain delay.
"Sometimes you win. Sometimes you lose. Sometimes it rains," Vaccaro
wrote, quoting Crash Davis in "Bull Durham."
THE GAME
A
ABOVE: Chris LaPlaca, '79, (right) talks with Ed Sherman, who writes for
the Chicago Tribune and the Poynter Institute.
How digital and social media
have altered the landscape of