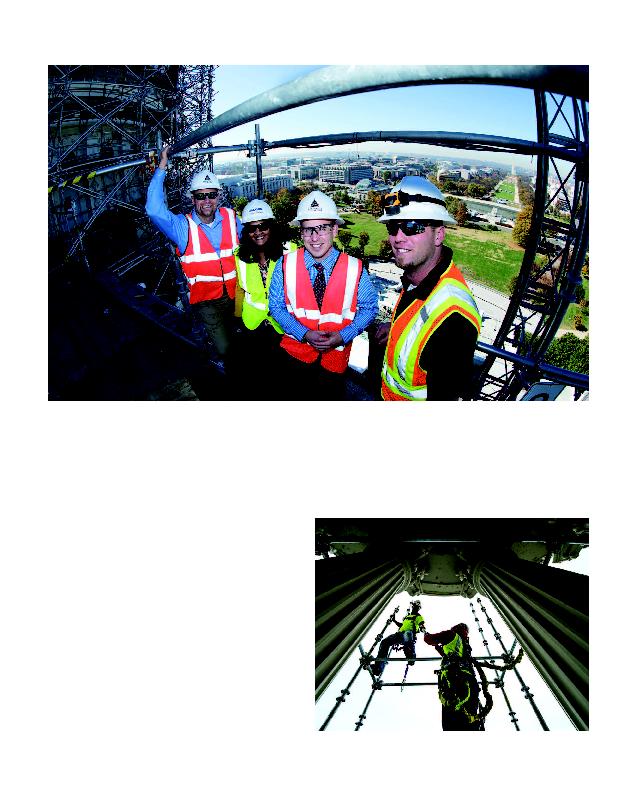 t a young age, Joe Abriatis, '06, regularly helped
his father, a carpenter, with roofing projects. It's
hard for him to believe today that that experience
served as early training for repairing the most impor-
tant roof in America.
Abriatis is construction manager of the U.S. Capitol Dome
Restoration Project, a three-year, $60 million project that saw
the refurbishment of the outside of the 150-year-old cast iron
dome.
Workers removed 14 layers of paint, repaired 1,300 cracks
and replaced hundreds of pieces of damaged ornamentation
on the 9-million-pound dome. Work on the Capitol dome was
officially completed in November, clearing the way for the
building to be center stage for January's Presidential Inaugura-
tion.
As construction manager, Abriatis has worked with fellow Ar-
chitect of the Capitol (AOC) staff, inspectors, architects, engi-
neers and consultants as a team to oversee the contractor's
work. It also means he traversed the 25 levels of scaffolding
Alumnus Joe Abriatis (third from left) has had a bird's-eye-view of the U.S. Capitol Dome Restoration Project. He has worked for the
Architect of the Capitol -- which is the steward of the iconic buildings on Capitol Hill -- since 2010.
Photos Courtesy of the Architect of the Capitol
Workers climbed scaffolding hung from 52 miles of metal piping to
remove paint and repair damage to the Capitol's dome.