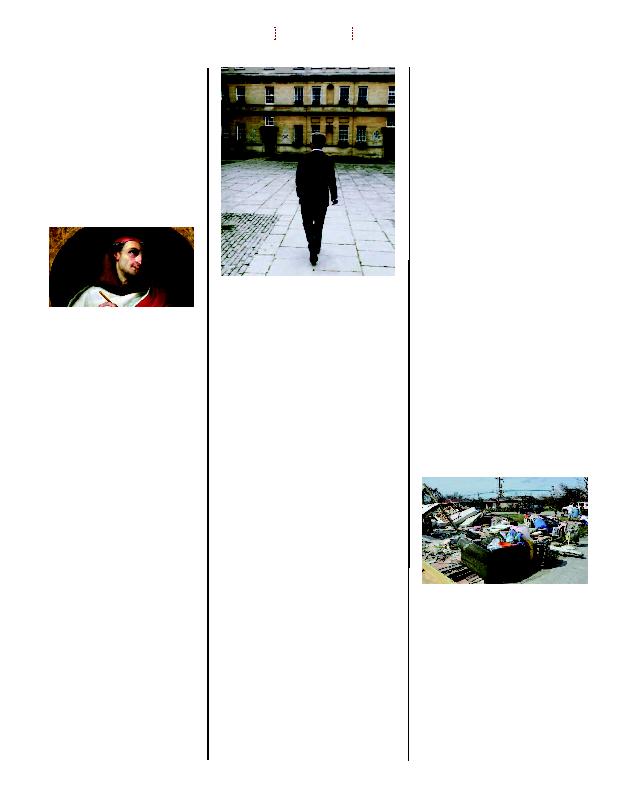 You're invited!
Come
back to Oxford
2017 OXFORD REUNION
Three SBU degrees
offered 100% online
NEW ONLINE OFFERINGS
45
University to host
world premiere
of St. Bonaventure
Mass in fall 2017
SAVE THE DATE!
I
N

2
-
1
The summer of 2017 will mark the 30th
anniversary of the Francis E. Kelley Oxford
Program. St. Bonaventure is planning a
very Oxford four-day celebration for any-
one and everyone who ever took part in
the Oxford Program over the last three
decades.
On Thursday, July 27, the party will start
at 6 p.m. with an address by a very special
guest speaker, followed by a Pimms recep-
tion. At 8, alumni will return one more
time to High Table, which all Oxford
alumni will remember well.
The following day, we will treat ourselves
to the highest of high teas: white linen,
tiered silver serving trays, little cucumber
sandwiches, fancy pastries plus scones with
jam and clotted cream. And, of course, a
proper cup of tea.
Saturday will be an all-day trip in char-
tered coach to Stonehenge and Bath.
And on Sunday, following Mass in the his-
toric Trinity College chapel, the celebration
will conclude with a garden party brunch
on the beautiful Trinity lawns.
All alumni who remember their once-in-a-
lifetime experience as part of the Oxford
program are invited to make it a twice-in-a
-lifetime memory by coming back to Eng-
land to join in the celebration. Plus, it's a
bloody good excuse to plan a European va-
cation next year!
Cost of the full four-day celebration is
$300 per person. For more information or
to reserve a place for you and your family in
the celebration, contact assistant director
Anne Lee at alee@sbu.edu.
That's the number of SBU students
headed to Grand Bahama Island in Janu-
ary. Due to recent hurricane devastation,
the SBU contingent will be focusing on
disaster relief; however the group will
continue with our well-received school
and business consulting programs. This
will be the 14th trip to the Bahamas, the
third in which hurricane relief will be
taking a priority. This year we will be ac-
companied by several nonstudents who
will be leading the relief crews.
St. Bonaventure successfully launched
its online MBA, joining master's offerings
in Integrated Marketing Communications
and Strategic Leadership. The online MBA
can be completed in as few as 20
months, while the MSL and IMC degrees
can be completed in as few as 12
months.
The Jandoli School of Communication
will soon offer two graduate-level certifi-
cate programs. The Health Care Inte-
grated Marketing Communications
certificate prepares students to work in a
variety of healthcare settings such as
healthcare administration, public relations,
mid-level management, and patient and
consumer affairs advocacy. The Health-
care Leadership graduate certificate pro-
vides a powerful combination of practical
leadership skills and a strategic perspec-
tive of the healthcare industry, which
equips graduates to lead and truly make a
difference in this field.
These credit-bearing certificates, ex-
pected to launch in fall 2017, can be
taken as standalone programs or part of
the Strategic Leadership or IMC master's
degree. Contact gradsch@sbu.edu for
more details.
Next fall, the university will host
the world premiere of St. Bonaven-
ture Mass, composed by Fabio Luisi
in honor of the 800th anniversary of
the birth of St. Bonaventure.
The Mass will be held at 5 p.m.
Sunday, Sept. 17, 2017. A location
will be announced in the near fu-
ture.
The Mass will be performed in
Latin with texts and prayers of St.
Bonaventure spoken in an English
translation by Fr. Dominic Monti,
O.F.M., Ph.D., a Franciscan friar of
Holy Name Province, renowned his-
torian and Distinguished Professor of
Franciscan Studies at the university.
The New York City premiere of the
concert performance of the St.
Bonaventure Mass will be held at 5
p.m. Tuesday, Sept. 19, 2017, at
The Cloisters of the Metropolitan
Museum in New York City.
The composition of the St. Bona-
venture Mass is Maestro Luisi's gift
to the university.
Luisi serves as the general music di-
rector of the Zurich/Switzerland
Opera and launches two new ap-
pointments: music director of the
Maggio Musical Fiorentino (Flo-
rence May Festival) in 2018 and
music director of the Royal Danish
Symphony Orchestra in the 2017-
2018 season.
Luisi was principal conductor of
the Metropolitan Opera from 2011
to 2017 and has guest conducted
most of the major orchestras
around the world. His extensive
discography has earned him many
record awards and honors world-
wide.