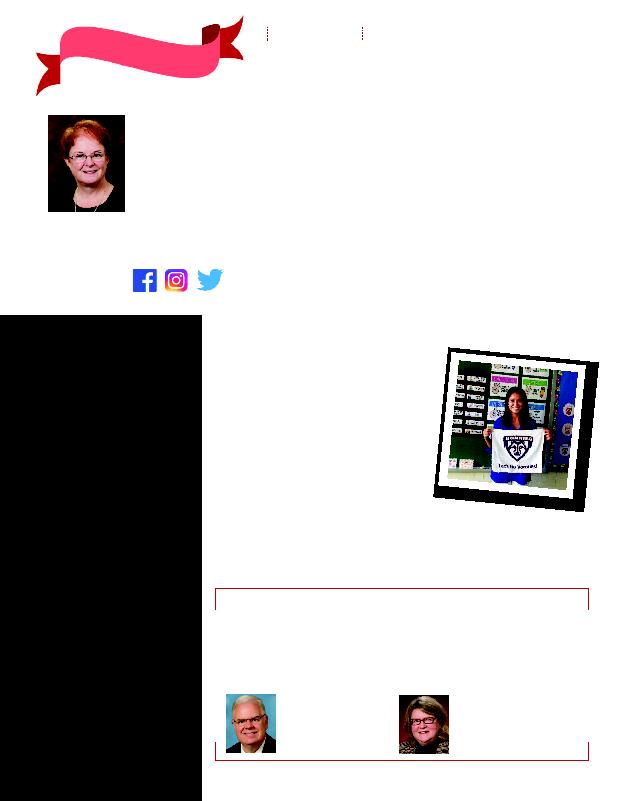 Joseph E. Zimmer, Ph.D.
Provost and Vice President
for Academic Affairs
Dean, School of Education
2012-2015
id you know that you are a part of St. Bonaventure history? You are one of the many educators -- teachers,
leaders, counselors and allied professionals -- who has journeyed with SBU professors and peers. You are
one of us and we are so very proud of the mark you are making in schools and agencies.
This year marks the 100th anniversary of teacher education at St. Bonaventure. Our programs are innovative. Our
students are passionate. Our graduates are extraordinary educators. Principals from across the country call us every
year begging for Bona graduates whom they can entice to take jobs in their districts.
Teacher education is more important than ever. The federal government is projecting that the U.S. will need
430,000 new teachers by 2020. SBU can and will prepare many of those new teachers.
Your help is needed ... to spread the word about our innovative programs ... and to support the School of Edu-
cation with a philanthropic gift in honor of our centennial. Celebrate your achievements. Help us celebrate the
achievements of today's SBU students.
Listed below are giving opportunities, plus a way to reach out via social media. Can we count on your partnership?
P.S. We are collecting pictures of SBU alums in their classrooms and schools. Post a pic-
ture on Facebook, Instagram or Twitter and tag it with
#BonniesTeach
. We are looking for
pictures from many decades. Help us create a visual birthday card!
· $50 can provide two SBU-logoed
"teacher toolkits" per year to stu-
dents who have been accepted to
Bona's as education majors.
· $100 can provide support for stu-
dent research and presentation.
· $500 can provide support for a
student's week-long diversity expe-
rience.
· $1,000 can provide the cost of
certification for one
Elementary/Special Education
major.
· $5,000 can provide support for
faculty and staff development and
research.
· $25,000 can provide a partial
scholarship of $1,250 annually.
>>
www.sbu.edu/donateschoolofed.
For more information or to set up a
gift payment plan, contact:
Martin Blind, '94, '97
Major Gifts Officer
P.O. Box 2500
St. Bonaventure, NY 14778
Phone: (716) 307-5517
Lindsey Bellman, '16, a kindergarten special educa-
tion resource teacher in Glenndale, Md., proudly
shared the photo at right while preparing her first
kindergarten classroom last summer.
Bellman credits the School of Education with giv-
ing her the "hands-on experience and confidence"
to manage her own classroom.
"I really feel that Bonaventure did a great job
preparing me for my teaching career," she said,
adding that being in the classroom and working di-
rectly with students since the beginning of her
freshman year made all the difference.
Bellman's success story is one of thousands for
the School of Education, where we are celebrating
100 years of preparing extraordinary educators.
While we take great pride in our state- and nation-
ally-accredited programs that integrate theory with
practice, we must continue to evolve and exceed
expectations. And we need your help to do this.
You can help #bonniesteach
100 years
of teacher education
at St. Bonaventure
Every $ enhances
our programs
Nancy Casey, Ed.D.
Dean
School of Education
Peggy Yehl Burke, Ed.D.
Dean, School of Education
2003-2011
Your investment -- whatever the
size -- will help to enhance the School
of Education and expand its reach, en-
suring that today's students have the in-
structional support and services they
deserve, just as Bellman did.
One of the best jobs I've ever had was
being dean of the School of Education.
I would receive positive feedback daily
on the accomplishments of our alumni,
our students in the field, our faculty,
and our students in the classroom and
in extracurricular activities. I was
always proud to be dean of
Teaching and related careers in
guidance and school administration
are the most powerful ways for one
generation to shape the future. SBU has
prepared educators firmly committed to
respecting the dignity of the students they
serve. The Franciscan values embedded
in these preparatory programs are
particularly critical in today's
world and serve as a point of
"
"