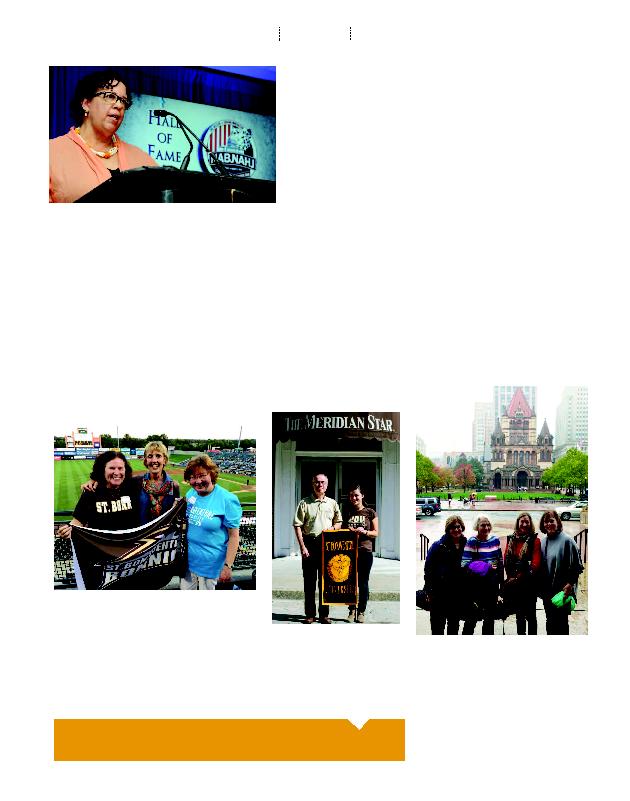 I
N

2
-
1
Paul H. Titus, '57, of Schnader At-
torneys at Law of Pittsburgh was hon-
ored Oct. 20 with the Allegheny
County Bar Foundation's Lifetime Pro
Bono Service Award for 2016. He also
was celebrated during Pro Bono Week
(October 23-29), a national celebra-
tion of the work that volunteer attor-
neys perform on behalf of
low-income clients.
Titus has been dedicated to pro
bono work throughout his career,
working to vindicate the rights of
those wrongly convicted, illegally ex-
cluded or condemned to death.
From 2000-2002, Titus worked to
exonerate a man wrongly convicted
and condemned to death for the
brutal murders of a young mother,
her two young daughters and niece.
He uncovered key medical evidence
that had been overlooked in the first
trial. In another case, he worked on
behalf of 12 interfaith organizations
in support of a court's decision to in-
validate ordinances enacted by the
city of Hazelton to prevent people
without legal immigration status from
renting housing in the city on the
grounds that an influx of illegal aliens
would cause an increase in crime and
downturn in the economy. Ultimately
the ordinances were defeated.
In addition to his pro bono work at
Schnader, Titus is a longtime volun-
teer with Uptown Legal Clinic, where
he provides legal services on issues
such as disability benefits and em-
ployment law to low-income individ-
uals.
He also volunteers in the commu-
nity, in particular with the Thea Bow-
man Academy in Wilkinsburg, where
he teaches constitutional law to the
school's seventh- and eighth-grade
students, runs a mock trial program,
and takes the students on trips to
Harrisburg and Washington, D.C.
Attorney Paul Titus honored with
Lifetime Pro Bono Service Award
Jacqueline Trescott, '68, (pictured above) was among 11
journalists inducted into the National Association of Black
Journalists Hall of Fame in August. She joined The Washing-
ton Star as a staff reporter in 1970, covering cultural person-
alities and events.
From 1976 to June 2012, Trescott worked for The Washing-
ton Post, reporting for its award-winning Style Section.
Beginning in 1992, Trescott became the principal arts news
reporter, covering Washington's museums, performing arts
centers and theaters. The stories ranged from the attacks on
the National Endowment for the Arts, to the rise of arts facil-
ities as economic engines for their communities to the con-
struction of the National Museum of the American Indian.
During her four decades as a journalist, Trescott interviewed
musical and literary personalities who helped define their
craft, including Toni Morrison, Stevie Wonder, Quincy Jones,
Chita Rivera, Denzel Washington, Oprah Winfrey and
Alice Walker.
BONNIES TAKE ON BOSTON
Georgette Attea Rautenstrauch, Sue
Lennon Pfeiffer, Jane Kaminsky Blaser and
Marie Lannon Marquardt, all members of
the Class of '82, take a break in Boston for
a photo op during the Boston Weekend
event, Oct. 21-23. About 40 alumni at-
tended dinner Friday night, spent Satur-
day touring Boston, and were joined by 30
other Boston-area alumni for Mass on
Sunday at St. Anthony Shrine.
MISSISSIPPI JOURNALISTS
Dave Bohrer, '77, editor of The
Meridian (Miss.) Star, is pic-
tured with Whitney Downard,
'16, who recently joined the
daily newspaper as a reporter.
BONNIES HIT JERSEY BALLPARK
More than 40 alumni and guests attended a
minor league Somerset Patriots baseball game
outing in Bridgewater, N.J., June 29. The univer-
sity's Alumni Office and New Jersey Alumni Chap-
ter sponsored the get-together for New
Jersey-area alums at the Patriots home field, TD
Bank Ballpark. Pictured from left are Mary Eliza-
beth (Shea) Wells, '76, Jocelyn Thomas, '77, and
Mary Ellen Marsjanik, `81.
SEND US NEWS OF YOUR ACCOMPLISHMENTS
To submit career updates, use the enclosed envelope or fill out an online form at
www.sbu.edu/BonaMag. Attending an alumni chapter event? Send us a photo!