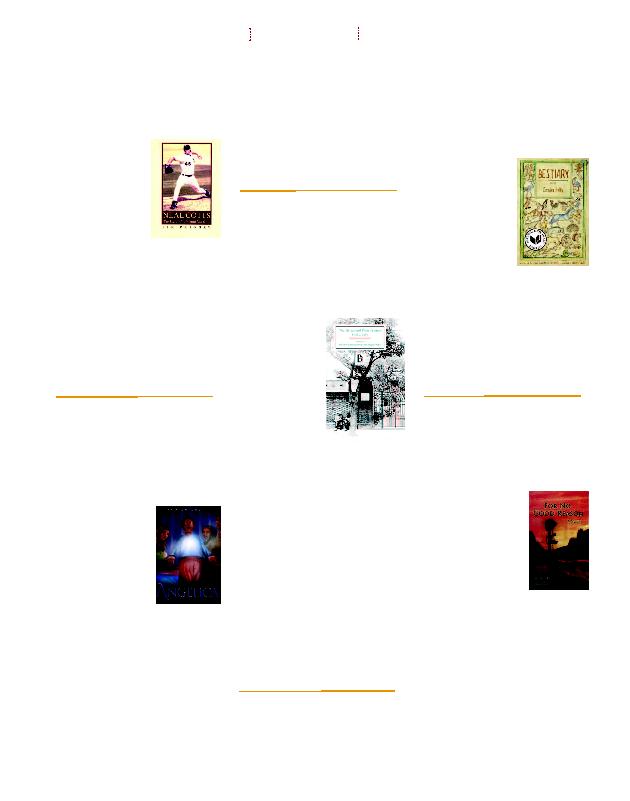 Jim Pransky, '84,
orado Rockies, has written a biography on
major league baseball player Neal Cotts.
"Neal Cotts: The Lefty Who Would Not
Quit," traces the Lebanon, Ill., native's
path to the big
leagues including a
World Championship
with the Chicago
White Sox in 2005.
Cotts as a scout for
the Oakland Athletics
in 2001, was a former
collegiate coach at St.
Bonaventure, George
Washington (D.C.) and Quincy (Ill.) before
starting his scouting career in 1992.
He has written a five-book fictional se-
ries on the exploits of high school athlete
Mickey Baker and biographies on former
major league players Josh Rabe and Josh
Kinney (dual biography), John Flaherty
and Cotts.
His first novel, "The Tenor with the
Golden Arm," was released in November.
He is a native of Eldred, Pa., and lives in
Davenport, Iowa, with his wife, Grace.
Andrew Gould, '08,
the novel "Angelica," a story that started
out as his senior honors project at St.
Bonaventure.
"Angelica" contains the character Fa-
ther LaBeau, who is based on the late Fr.
Alphonsus Trabold, the friar and exorcist
who used to teach the
popular "Spooks" class
at St. Bonaventure.
is a work of fiction, the
story cities many theo-
logical and historical
sources that were avail-
able to Gould at Fried-
sam Library, including
archival sources specifi-
cally involving Fr. Trabold.
The book is described as a unique take
on the subject of possession as a 10-year-
old boy's body is overcome by an angel in
order to warn about a prophecy in which
the boy will be crucial, and of the horrors
that lie waiting for everyone if the
prophecy is unfulfilled.
Gould, who describes himself as a man
devoted to both practicing law and the
art of writing good fiction, says "Angel-
ica' is also a message for a world facing
grim and troubling times and perhaps a
guiding light to lead a way out of the
darkness."
"Angelica," which was published by
New York City-based Page Publishing, can
be found at the Apple iTunes store, Ama-
zon, Google Play and Barnes and Noble.
Gould, who lives in Hellertown, Pa.,
graduated from St. Bonaventure with a
B.A. in history and holds a J.D. from
Thomas M. Cooley Law School.
Dr. Megan Walsh,
English, had a novel idea: breathe new life
into one of the most neglected but impor-
tant works of fiction of the 19th century.
With insights she gleaned from St. Bona-
venture students by first teaching the novel
in 2012, Walsh -- along with William
Huntting Howell of Boston University --
has released a new critical edition of Frank
J. Webb's 1857 novel
"The Garies and
Their Friends." Pub-
lished by Broadview
Press, the
Walsh/Howell edition
provides new insights
to Webb's novel, one
of the earliest novels
by a black American
author.
the story of two fam-
ilies struggling for different sorts of re-
spectability: the Garies, a well-to-do
interracial couple who relocate to Philadel-
phia from the plantation South in order to
legalize their marriage; and their friends the
Ellises, free black Philadelphians hoping to
make the move from the working class into
the bourgeoisie.
Despite living and working in the free city
of Philadelphia, these characters experience
the many nuanced ways that social preju-
dice wrought havoc on black people's lives
throughout the antebellum United States.
This academic year, Walsh will twice
get to teach from her own edition of "The
Garies" -- American Novel to 1865 (ENG
375); and again in American Literature of
the Nineteenth Century (ENG 572).
Walsh has taught English at the university
Dr. Donika Kelly,
English at St. Bonaventure, was named to
the 2016 National Book Award longlist for
poetry.
Her poetry collection, "Bestiary," was
selected by some of the most distinguished
poets and publishers in the field through
the nonprofit National Book Foundation.
Since 1950, the foundation has awarded
literary prizes to the most highly regarded
writers in the United States, including
William Carlos Williams, Marianne Moore
and Allen Ginsberg.
"Bestiary" contains
poems on moving be-
tween the southern
and western United
States, how to be iden-
tified, and what it
means to be oneself.
among others, are
woven into the poems
through the use of hy-
brid monster characters from Greek
mythology and pop culture. Kelly thinks
"Bestiary" most appeals to "people trying
to be people in the world" and general
fans of poetry or Greek mythology.
More information on Kelly can be found
at her website, donikakelly.com. "Bestiary"
is available for purchase online at Amazon,
Barnes & Noble, and IndieBound.org.
Steve Banko,
who left the university in
1968 to serve in Vietnam, has written a
novel, "For No Good Reason," based on
his Vietnam experiences.
In the '60s, simple mistakes could have
grave consequences. Josh Duffy made one
such mistake and pays an
incredible price: After ex-
pulsion from college for
failing ROTC, Duffy is
drafted and deployed to
Vietnam.
he was in Vietnam, there
were a string of Bona
guys who "helped me
keep what little sanity I
was able to salvage."
He noted Mike Kull, Joe Brett and espe-
cially Andy Carra were great correspon-
dents while he was away. Banko was
wounded six times -- four by gunshot --
so letters were his lifeline. And when he
started to rewrite the story in the first per-
son, Mike Del Nagro's editing was essen-
tial to the completion of the book.
"For No Good Reason" is available from
Amazon, Barnes & Noble, and Powell's.
Signed copies are available through Banko
via e-mail at stbanko3@roadrunner.com
for an additional $3.50 for postage.