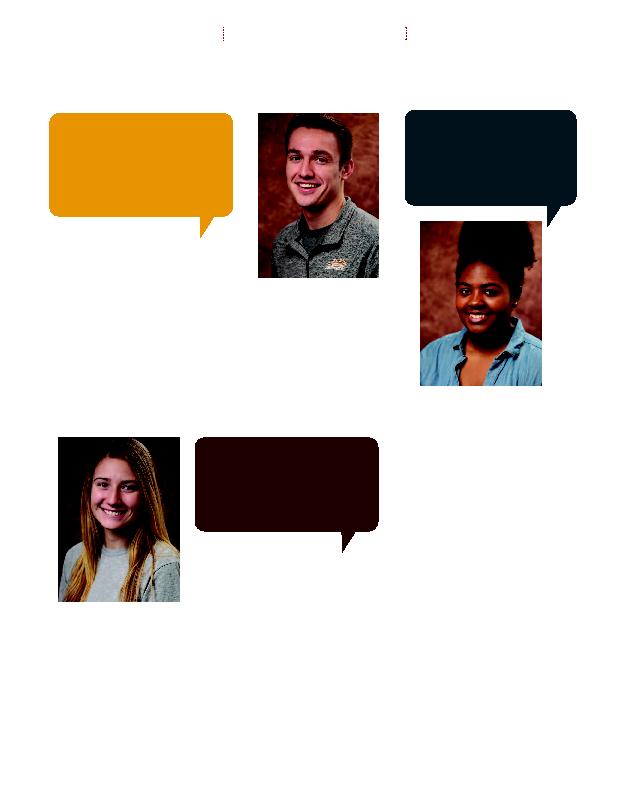 Why St. Bonaventure?
vironment of the school. Everyone is so wel-
coming and caring toward one another. And I
love the intensity for sports here. Basketball
games are celebrated like holidays. It's an op-
portunity for everyone to come together and be a part of something so big
and fun. But it isn't just basketball that brings students together. I love going
to soccer games with my friends, especially under the lights, and seeing the
bleachers full of other students cheering the Bonnies on! Club hockey games
also have a very supportive student body section.
What does this scholarship mean for you?
It means that I will be telling
myself to push harder and not give up because I know many students are not
fortunate enough to be granted scholarships.
Are you involved in any campus clubs or activities?
year on the women's club soccer team and I spend some of my free time vol-
unteering at the local ASPCA.
Why St. Bonaventure? I chose St. Bonaventure
because of the family atmosphere this campus
community has. It is a home away from home. I
also spent many years visiting and getting to
know the campus because I have three siblings who are either currently enrolled
or have graduated from here. It was an easy choice for me.
How did you choose your major? I love to help people, especially those who
have special needs because in past experiences they have taught me more than I
could ever teach them. I have multiple years' experience working with individuals
with disabilities and it is extremely rewarding -- I love every second of it.
Are you involved in any campus clubs or activities? I am the captain of the
men's club volleyball team and I participate in intramurals.
The Pathway to Success Begins With You.
I
N

2
-
1
Why St. Bonaventure?
to this school because I knew I
could become a better leader.
The staff here wants you to be
successful and will support you.
I have a wonderful dean who
has helped me so much. I also
loved the campus and I thought
it was so beautiful.
What does this scholarship
mean for you?
ship means that I will be able to
help my community develop
leaders. I want to help the
youth of my community beat
the odds. Growing up in De-
troit is very difficult with the
crime rate and unemployment
rate. I want to make sure that
our youth are not forgotten
and to give them the resources
they need to become produc-
tive citizens.
Are you involved in any
campus clubs or activities?
This year I am the secretary of
the Step Team, a resident assis-
tant, and am in Embrace it
Africa.
MEET
Scholarship: Robert R. & Carole Lynn
Jones Scholarship
Major: Sport Studies
Hometown: New York, N.Y.
MEET
Scholarship: August Gillon Endowed
Scholarship (Galasso)
Major: Psychology
Hometown: Rush, N.Y.
MEET
Scholarship: The Sylvia Foster and Anna
LoPresti Endowment Scholarship
Major: Elementary Education/Special
Education
Hometown: Baldwinsville, N.Y.