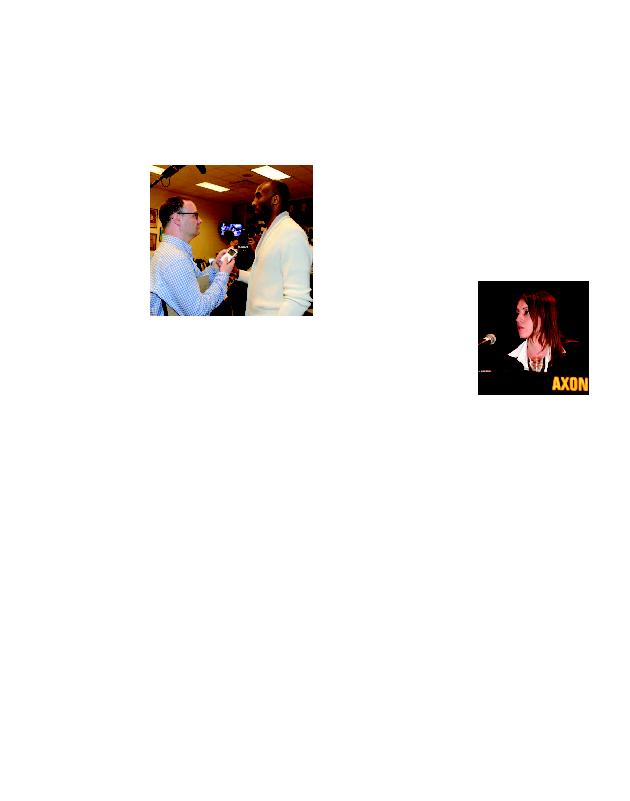 THE DIGITAL MEDIA revolution in journalism isn't breaking
news. Twitter turned 10 this year. Major news outlets have had
websites for more than 20 years.
But there are always new products, apps and methods. Face-
book Live and Snapchat have come to the forefront. Digital gov-
erns the industry, catering to eyes glued to smartphones,
regardless of whether you find it an effective tool or the death of
journalism 140 characters at a time.
(@WojVerticalNBA)
reaches 1.5 million
Twitter followers and
millions more across
numerous online plat-
forms while covering
the NBA with "The
Vertical" on Yahoo
Sports. He launched
the site this year.
Many regard him the
premier professional
basketball reporter in
the country, person-
ally breaking news be-
fore even the quickest
of contemporary media outlets. Hoops fans -- players, coaches
and executives, for that matter -- often go to "The Vertical" first
for news on free agency pickups, trades and draft picks from him
and his team of writers and analysts.
"For me, the process of doing the job has never really changed,"
says Wojnarowski, '91, who grew up in newsprint and was once
turned down for a job at the Niagara Falls Gazette before rising to
prominence while evolving with newer modes of communication.
"The same fundamentals I learned at St. Bonaventure don't
change for me. Maybe they multiply in terms of the number of
people you're dealing with or the number of stories you're pursu-
ing all at once."
It's a reality sports journalists from Bonaventure share with their
colleagues across the spectrum.
Rachel (George) Axon (@RachelAxon) worked 16- to 20-hour
days at the summer Olympics in Rio for USA Today, managing digi-
tal and video content in addition to writing multiple stories a day
for print.
"In terms of our understanding of what social media would
mean for journalism, I don't think we had any clue," says Axon,
'06, who graduated from college the year Twitter was founded
and when blogging was king.
"My first job was really formative in terms of being able to be
versatile and learn those types of things. When I left St.
Bonaventure, we were told that you need to be able to report no
matter what the medium," she said.
Chris LaPlaca (@espn_chris) joined ESPN in its infancy. Today, he
says, journalistic integrity guides everything from Twitter to TV
broadcasts and fantasy sports to smartphone apps at the inter-
national media empire.
"Speed and brevity sometimes add up to a lack of context and
factual perspective," admits LaPlaca, '79. "I think that's danger-
ous. What's more important, being first or fast or being right? We
talk about finding the sweet spot where they both merge. ...
There's a constant tension brought about by speed, but we still try
to be true to the principles of journalism."
RECALL NEWS GATHERING and sharing before the digital age.
LaPlaca remembers when the 1981 NCAA men's basketball Final
Four was in Philadelphia. ESPN was a fledgling operation, and he a
recent SBU grad. Tapes of the highlights and interviews were
needed back in Bristol, Conn., for airing the next day. LaPlaca
drove the tapes to the airport himself.
"It wasn't my job, but we all did everything. We were building a
company," says LaPlaca, now ESPN's senior vice president for com-
munications.
Today, the network is "a machine" with more than 1,000 sports
reporters, commentators and analysts, and thousands more sup-
port staffers, he says. The internet and satellite uplinks allow
footage, interviews, commentary and more to be aired immedi-
ately or posted online and on ESPN apps within seconds. Apps for
fantasy sports sprouted from sports fans' desire to take the love af-
fair even further.
"The one thing that I think distin-
guishes sports amongst any other
entertainment genre is the word
passion," says LaPlaca, who was in-
ducted to the St. Bonaventure Jan-
doli School of Communication Wall
of Fame in April 2003. "I say this,
and it sounds silly, but when your
team wins the championship, it's
like you're euphoric -- food tastes
better, you love your wife a little bit
more."
Social media brands lift ESPN
commentators to superstar status.
NFL Insider Adam Schefter
(@AdamSchefter) has 5.51 million
Twitter followers; other reporters and analysts tout more than 1
million themselves.
But there's a responsibility.
"Don't tweet it if you wouldn't report it on television, on radio,
on .com, whatever," LaPlaca says. "Social media brings the same
level of work and dedication to the craft, in 140 characters, as you
would on any of our other platforms."
THE ONGOING PROBLEM of sexual assaults on college cam-
puses meets the sporting news through Axon's reporting at USA
Today. She's covered it extensively the last three years, most re-
cently at Baylor, where both the school and football program are
in trouble for mishandling assault investigations.
Social media responses have, at times, grown hostile following
her investigative reports.
"I've had people tell me I should die. I've had people tell me I
should be assaulted," Axon says. "A good day is if they just call
you names. Depending on the topic and the sensitivity of it and
the fan base -- some are worse than others -- it can really get
very negative."
Attacks are often gender-oriented, she says, but she presses on
"If you're a female reporter," she says, "you're often attacked
for being a female rather than the content."
Internet trolls occasionally torment sports writer Amy Moritz
(@amymoritz) of the Buffalo News, but her social media experi-
Adrian Wojnarowski interviews five-
time NBA champion Kobe Bryant.
Rachel (George) Axon, '06,
managed digital and video
content for USA Today at
the Rio Olympics.