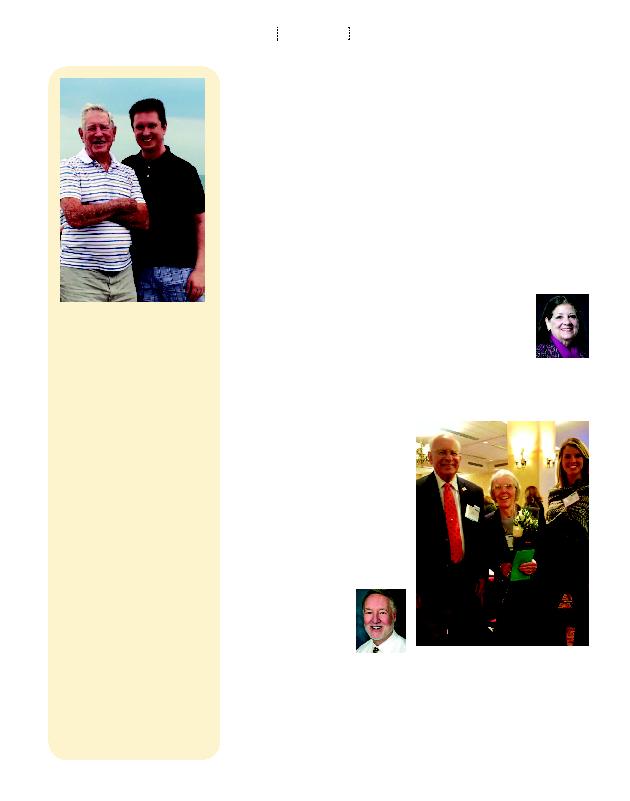 Alumnus Joseph Hull, '39, of
Wilmington, N.C., marked his 100th
birthday June 24. A chemistry major,
Hull commuted from Smethport, Pa.,
to Olean to attend St. Bonaventure.
He started in September 1934 and
took a year off after two years to
work -- because he owed the col-
lege $250. He then returned after
one year to take classes at night and
completed his degree in 1939.
Hull worked at Eastman Kodak in
Rochester, retiring in 1976. Following
retirement, he and his wife, Harriett,
moved to Wilmington. He still lives in
the home they purchased in 1976.
The couple had been married 71
years when Harriett passed away in
2011 at the age of 91.
Turning 100 hasn't slowed Hull
down: He mows his own yard, keeps
the house in top shape and goes to
exercise class -- called Silver Sneakers
-- three days a week. He drives and
eats out on a regular basis.
Hull has three children, two grand-
children and two great-grandchil-
dren. His son John Hull serves on the
university's Board of Trustees Invest-
ment Committee as a non-trustee
member.
Joseph Hull, Class of 1939, is pic-
tured with his grandson Kevin Hull.
Joseph Hull marks
100th birthday
and Statistics Department at the University
of Houston-Downtown. In May 2016, the
University of Houston Board of Regents
awarded him professor emeritus status.
1967 -- Gerard J. Monaghan,
been retired for 10 years from running the
international Association of Bridal Consult-
ants, is back in the business with a new ven-
ture -- The Wedding Council -- offering
e-brochures to couples on what they need
to know to plan a specialty wedding or add
an ethnic flair to their day.
1968 -- Kevin V. Culhane
Gunston Hall, Va., the historical home of
George Mason, the author of the Virginia
Bill of Rights. In addition to the mansion
and associated buildings, there is a library
with an extensive rare books/manuscript
section, where Culhane works. Over the
past year, Culhane has co-authored three ar-
ticles in the Gunston Grapevine newsletter
about famous and interesting Mason family
members from information gleaned from
many hidden treasures found in the library.
The articles featured profiles about George
Mason Graham, the last Mason relative to
own Gunston Hall; Armistead T. Mason and
the War of 1812; and Alexander Macomb
Mason, a Confederate sailor and George
Mason's great-grandson. Culhane has vol-
unteered at Gunston Hall since retiring four
years ago after 45 years in the military and
with the Defense Department.
1971 -- William Clapper
ucation at Spatech Institute, an adult learn-
ing school that prepares students for careers
in therapeutic massage, polarity (energy
work) and aesthetics. Clapper has taught
therapeutic massage at Spatech since 2015
and has been a professional massage thera-
pist since 2008.
1974 -- John F. Habig,
and financial advisor at Morgan Stanley, has
been recognized by Barron's
Magazine as the #1 Financial
Advisor in New Hampshire
for 2016. This is his seventh
consecutive year of recogni-
tion in the Barron's Top Advi-
sors listing (2009-2016).
Habig has worked for Mor-
gan Stanley for 31 years. He and his wife,
Kelly, live in Rye, N.H., and have been
blessed with three children and four grand-
children.
1977 -- David Majka, Ed.D.,
moted to vice president of Planning and Ad-
ministration at Robert Morris University. The
Wesleyan University 1994 ECAC New Eng-
land Women's Soccer Champions and coach
Jeffrey Vagell
were inducted into the We-
selyan University Athletic Department's Hall
of Fame Oct. 21, 2016.
1978 -- Mary Jo (Fairley) Polidore
president of Communications and Outreach
for the Federal Reserve Bank of Dallas. Poli-
dore oversees the bank's corporate commu-
nications and public outreach functions,
which support economic growth and in-
creased understanding of the economy and
role of the Federal Reserve. Previously, she
was vice president of corporate communica-
tions for Dallas Fort Worth International Air-
port. She also served for more than 15 years
in a variety of senior management positions
in communications and public affairs with
four of Lockheed Martin Corporation's
major businesses.
1981 -- Dr. Lori V. Quigley
was named vice president
for academic affairs at
Medaille College. Quigley
previously served as profes-
sor and dean of the Esteves
School of Education at The
Sage Colleges in the capital region of New
York state and associate dean of the School
of Education at Buffalo State College. She is
John, '58, and Kay Meisch were honored
as Outstanding Philanthropists by the As-
sociation of Fundraising Professionals of
Genesee Valley. The Meiches were recog-
nized at the organization's National Phi-
lanthropy Day luncheon Nov. 4 in
Rochester. The couple is pictured with
alumna Erin Kinney, '12, who works in the
Stewardship Office at the University of
Rochester and is a member of the AFPGV.