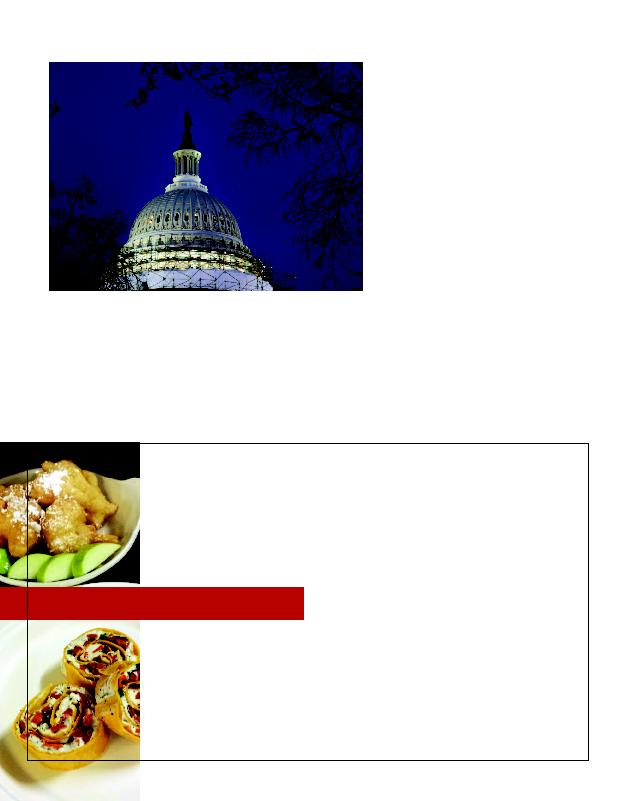 Abriatis wanted to follow in his father's footsteps in the construction indus-
try.
"He had always strongly encouraged me to go into the engineering field so
that I could work in the same industry, but have a better education and ca-
reer for myself," he said.
Abriatis enrolled in St. Bonaventure's pre-engineering program, which
would have required him to transfer after two years to a four-year engineer-
ing school. During those first two years, though, he had a lot of discussions
about his career plans with physics professors Dr. John Neeson, Dr. David Di-
Mattio and Dr. Jerry Kiefer. This led him to decide to
finish his bachelor's degree in engineering physics at
St. Bonaventure before pursuing a master's degree
in civil engineering at Missouri-Rolla.
As a civil engineer before working at the AOC,
Abriatis always envisioned working on new con-
struction projects, such as highways and bridges.
His career at the AOC has fostered an incredible ap-
preciation for historic buildings and the importance
of preserving them for future generations.
"I never would have envisioned that one day I
would be working with a team restoring the most
iconic structure in the country," he said.
Honored by the assignment to manage the Dome
Restoration Project, Abriatis has enjoyed meeting
and speaking with people who share a passion for
the dome, from members of Congress to the
United States Capitol Historical Society and the
Washington Conservation Guild.
"These are individuals and groups of people that
have a stake in restoration of the dome and I have
really enjoyed being able to share with them what
our team has been doing and all the hard work that
goes into restoring it," said Abriatis.
In the new year, Abriatis will start a new position
-- project controls manger with the AOC. In that
capacity he will be involved in developing project
controls and standards for the many projects that
are managed across the AOC campus.
Learn more about the Capitol Dome Restoration
project ­ and all of the iconic buildings on Capitol
Hill ­ at
www.aoc.gov
The U.S. Capitol is seen at night with scaffolding that hugged the outside of
the dome.
You will need:
Roasted Vegetable Pinwheels
You will need:
Salt and pepper for taste
For the spread:
Assembly:
In a large bowl, combine the flour, sugar, baking powder and salt. In
another bowl, combine the egg, milk, butter, orange juice, peel and
vanilla. Add to dry ingredients just until moistened. Fold in apples.
In an electric skillet or deep-fat fryer, heat 1/4 in. of oil to 375°. Drop
batter by rounded tablespoons into oil. Fry until golden brown on both
sides. Drain on paper towels. Dust with confectioners' sugar. Serve
warm. Yield: 2-3 servings.
University sous chef Justin
Maxson has been leading themed
cooking classes to some delicious
results! For those who live nearby,
be sure to check out SBU's Get
Cooking Classes. Classes are
announced each semester at
www.sbu/edu/lifelonglearning.
Justin shares a couple of his
favorite holiday recipes here.
'Tis the season ... to get cooking!
Assembly:
Toss vegetables together with salt, pepper and oil. Spread on a baking
sheet and roast in the oven for 8 minutes. Remove and cool. Mix all of
the ingredients for the spread until smooth.
On both of the tortilla shells spread the mixture evenly across all the
way to the edges. Sprinkle the cooled vegetables evenly across both
surfaces and begin to tightly roll the tortilla into a log. Chill in the refrig-
erator. When time for service, slice the log into 1 inch slices and serve.