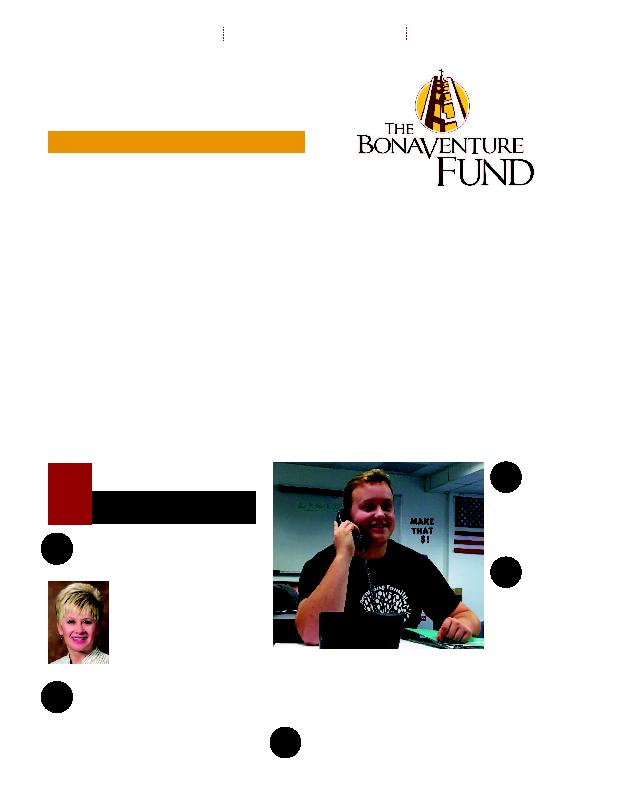 The Pathway to Success Begins With You.
Double your donation
with a matching gift
Karen Heitzinger oversees The Bonaventure
Fund, which provides support for scholar-
ships, program enhancement and student
services. Recently promoted to di-
rector of annual giving at the uni-
versity, Heitzinger has more than a
decade of fundraising experience
and has held a number of posi-
tions in the University Advance-
ment division, including associate
director of annual giving and man-
ager of the Bonathon.
The Bonaventure Fund runs June 1, 2016,
through May 31, 2017. To make a gift to
The Bonaventure Fund, please visit
www.sbu.edu/donate or mail a check to The
Bonaventure Fund, St. Bonaventure University, P.O.
Box 2519, St. Bonaventure, NY 14778. To make a
gift by phone, call us at (716) 375-2326. Don't for-
get to contact your human resources department
to see if your company will make it a match.
All gifts received by December 31, 2016,
may be eligible as a tax deduction on your
the form and verify the paid amount, the completed form is then
sent to your company for processing. From there, each com-
pany's reimbursement is different. Some pay monthly, others
quarterly, and still others may be annually. Your human resources
department can assist you with this.
Is there a deadline for submitting my form? Again, each
company is different. Some may have a submission deadline at
the end of the calendar year, while others may allow you to sub-
mit your form for calendar year 2016 through the first quarter of
2017 (January-March). Check with your human resources depart-
ment for submission deadlines.
How do matching gift monies benefit the university?
Matching gift monies enable SBU to enhance the lives of stu-
dents by providing scholarships, educational instruction and aca-
demic support.
Should you have additional questions regarding corporate
matching gift programs, please feel free to contact the Office of
Annual Giving at (716) 375-2326.
What is a Matching Gift Program (MGP)? It is a charitable
giving program set up by a corporation that matches an em-
ployee's donation to an eligible nonprofit organization. Some
companies even match retiree gifts.
How much money will my company match? Every com-
pany is different. Most companies match dollar for dollar (1:1),
while some triple or even quadruple donations. Minimum dol-
lar amounts generally start at $25 with a maximum range from
$1,000 to $15,000. It is best to check with your human re-
sources department to learn your company's requirements.
Does my company take part in the MGP? Sixty-five per-
cent of Fortune 500 companies participate in the program. To
see if your company participates, you can easily search our
database at
www.matchinggifts.com/sbu
your human resources department.
How do I participate in a MGP? To initiate the process, you
first need to make a donation to the unrestricted Bonaventure
Fund. Once you've made your gift, contact your HR depart-
ment for details in submitting the required information.
How does St. Bonaventure receive the money? In order
for SBU to receive your company's match, you must submit the
matching gift form. We cannot do that for you. Once we have
Bonaventure Fund
Have you
moved lately,
phone/cell number,
changed jobs? Let us
know by calling (716)
375-2326.
ber to your
contacts --
-- and pick up the
phone to have an en-
gaging conversation
with one of our Bon-
athon callers. The stu-
dents call Sunday
through Wednesday
evenings and they
would love to tell you
what's happening on
campus. Plus, don't
forget to share a fa-
vorite Bonaventure
memory with them!
Bonathon supervisor Trystan Rushia, a senior in the
Jandoli School of Communication from Warren, Pa.,
hopes you will take his call.
2.
1.
3.
4.
5.