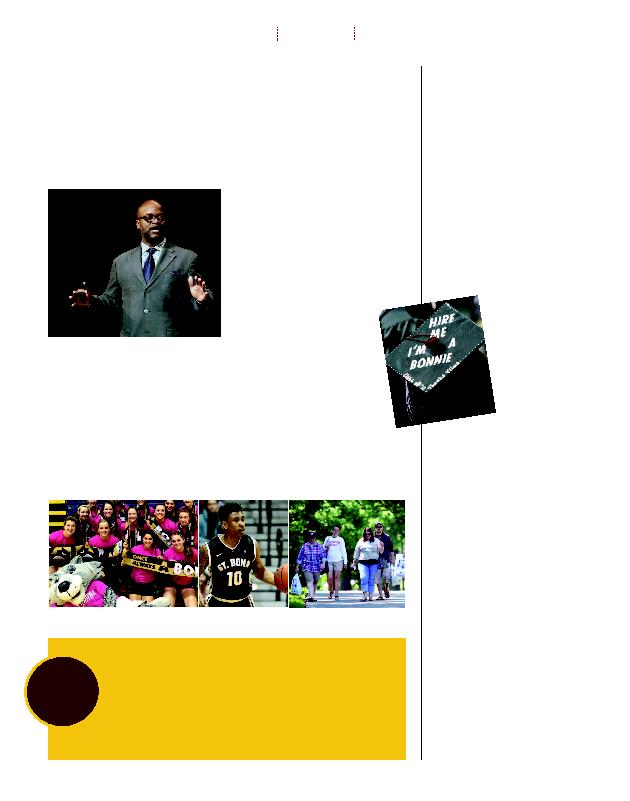 in 2017!
BONNIES4BONNIES
Developing responsible leaders
SCHOOL OF BUSINESS
Connect your firm,
St. Bona students
St. Bonaventure alumni with job
and internship opportunities at their
companies are invited to meet some
ideal candidates -- current SBU stu-
dents.
In February, Bona's Career and Pro-
fessional Readiness Center will host its
second annual Bonnies4Bonnies ca-
reer networking event, which offers
students the chance to connect with
alumni professionals, discuss career
options, and discover internship and
job opportunities.
sign and development firm, will be
the keynote speaker.
"We are excited to be able to offer
an event on campus that connects
SBU students to such passionate and
successful alumni," said Pamela Fer-
man, assistant director and employer
relations coordinator at the CPRC.
"As often as we talk about the
power of the Bonaventure alumni
network, we are able to see it play
out through an event like
Bonnies4Bonnies, where our stu-
dents walk away with opportunities,
better knowledge of their field, or
even more motivation through the
story of someone's journey to suc-
cess," she said.
Last year, more than 100 students
attended the gathering that featured
notable alumni from New York City,
Washington, D.C., Buffalo, New Jer-
sey, Pittsburgh, Charlotte and
Rochester.
>>
Alumni who would like to learn
more or participate are invited to
contact Ferman at (716) 375-2384
or pferman@sbu.edu.
Dean Dr. Matrecia James and the School
of Business launched The William C. Fos-
ter '62 Center for Responsible Leadership
in November with guest speaker Alfonzo
Alexander, chief relationship officer of the
National Association of State Boards of Ac-
countancy (NASBA) and president of
NASBA's Center for the Public Trust.
Alexander spoke to an audience of more
than 300 students, where he discussed the
importance of establishing personal ethics
early in a career.
Noting that every person in the room will
likely face an ethical dilemma in the work-
place, Alexander encouraged students to
build a brand that others respect and to
seek out "deep mentoring relationships."
He shared the "ethical leadership PIE,"
an acronym for Performance, Image and
Exposure: three keys to personal ethics suc-
cess.
"Good performance can open doors for
you and for others behind you ... and
image is about what is in the heart and
what a person brings to the table,"
Alexander said, adding that exposure is "a
commitment to being a lifelong learner to
positively impact others around you."
Led by Michael Gallagher, Ph.D., assistant
professor of finance, the new
center will offer opportunities for
the development of leadership,
professionalism and ethical deci-
sion-making. It will integrate with
students, faculty, staff and other
programs across campus, as well as
with area businesses.
The Foster Center for Responsible
Leadership is made possible through
an endowment gift by Daria L. Foster,
Managing Partner of Lord, Abbett &
Co. LLC, honoring her late husband,
William C. Foster, '62. Mr. Foster served on
St. Bonaventure's Board of Trustees from
2008 until his passing in 2010.
Deck yourself out in Bona gear on Feb. 24 as
we celebrate our 8th Annual Bona Pride Day!
On Feb. 25, cheer on the Bonnies as they take
on Duquesne at Bob Lanier Court in the Reilly
Center. Get your tickets now at
gobonnies.sbu.edu/tickets. Homecoming
wouldn't be complete without a trip to the
Rathskeller -- we have several parties planned!
Registration opens in early
March. Check for updates at
Come home
Alfonzo Alexander was the inaugural
guest speaker for the Foster Center for
Responsible Leadership at the university.