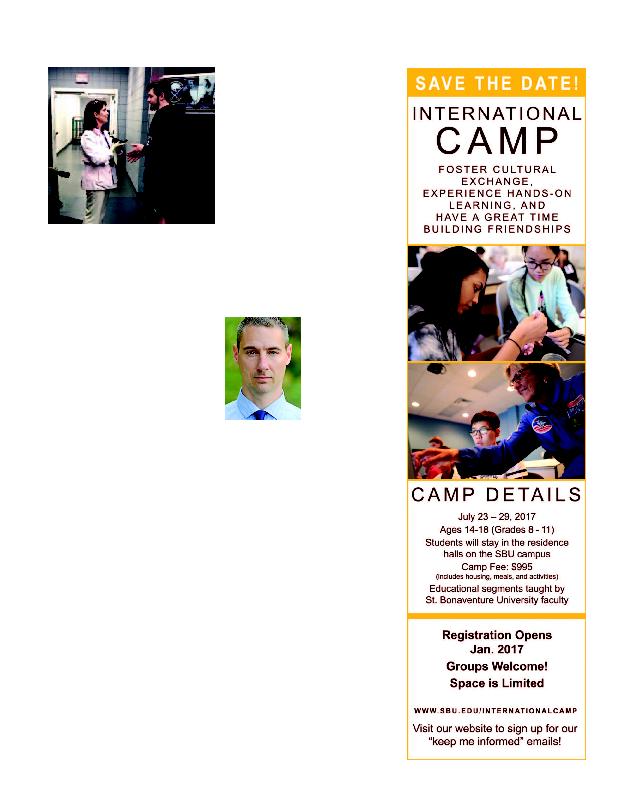 I
N

2
-
1
ence has been less volatile, she says.
Moritz, '95, often posts her Sabres or
Bisons game stories and notebooks on
Twitter. Instagram and Snapchat also are
ancillary tools she employs to add video
and other digital components to her
coverage.
"It's learning to write for a different
medium," Moritz says. "It's still story-
telling, but in a different format. One of
the things I've always valued about my
Bonaventure education is I've learned
how to be a good journalist and a good
writer, and those were things that trans-
lated. It's just about learning a new
gizmo."
She also manages a personal blog,
"The Accidental Athlete," at www.amy-
moritz.com, where she chronicles her
running pursuits and raises money for
the homeless.
WASHINGTON TIMES sports enter-
prise writer Todd Dybas (@Todd_Dybas)
questions the wisdom of offering free
online content, an overwhelmingly com-
mon practice, for the sake of reaching
eyes and being relevant in 21st century
sports writing. It's a return-on-investment
thing, he says.
"Say you sold ketchup in Allegany for
$2, but you also have a place in Olean
where you give it away for free," says
Dybas, '99. "Then everyone comes and
gets the free ketchup, and you wonder
why you're not making any revenue and
you're losing money. Applying the con-
cept that we use in journalism to any
other business model ... people would
look at you like you're a maniac."
As a former beat writer for the Seattle
Seahawks at the Tacoma News Tribune,
Dybas penned an exclusive story in 2014
as wide receiver Golden Tate signed with
the Detroit Lions.
Posted online, its content was reposted
moments later to an aggregate website,
where the ad revenue-generating clicks
on the page it was posted exponentially
surpassed the original story.
"I gave him 20,000 views, and our site
got 120 views out of a relationship I culti-
vated (with Tate) for three years that re-
sulted in exclusive content," says Dybas,
now the Washington Nationals beat
writer with the Washington Times.
Despite lawsuits, the sites remain legal,
even if they are "parasitic," Woj-
narowski says.
Yet Dybas still tweets, sometimes
dozens of times a day, hesitantly posting
links to stories while wary of aggregate
websites reaping financial benefits from
his work. It's part
of the job, he says.
an industry casu-
alty as the Seattle
Post-Intelligencer's
print operation
closed in 2009
during the Great
Recession. Out of a
job -- although re-
porting as a
stringer led to op-
portunities later --
he turned to mak-
ing apps, for which
device users happily paid $3 each for con-
tent access. If newspapers are to survive,
apps are a route to revenue, he says.
In the business of scooping -- al-
though Yahoo Sports is no aggregate
site -- Wojnarowski respects newspa-
pers' troubles as he leads national pro
hoops coverage with online-streaming
draft and free agency specials, podcasts
and breaking news videos. During the
2011 NBA draft, relying on what he calls
"everyday reporting," Wojnarowski
called half of the first-round picks on
Twitter before the ESPN broadcast an-
nounced them.
As for always being first? Journalistic
"We can live with getting beat," he
says, "but we can't live with being
wrong."
(Kelsey Boudin, SBU Class of '12, is the
city editor for the Olean Times Herald.
Follow him on Twitter, @KelseyMBoudin)
Todd Dybas, '99, is
a sports enterprise
writer with the
Washington
Times.
Amy Moritz interviews pro hockey
player Patrick Kaleta, who spent parts of
nine seasons with the Buffalo Sabres.