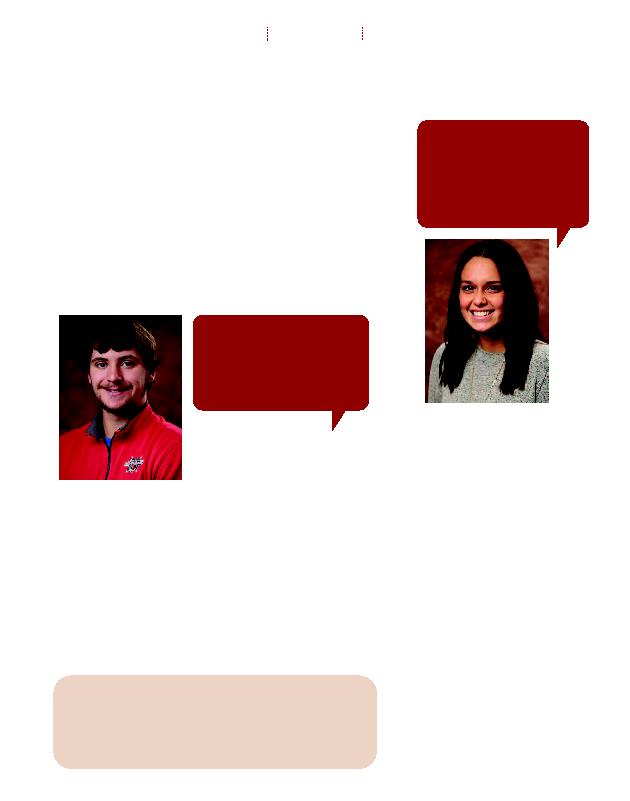 Why St. Bonaventure?
options on where to continue my academic
and athletic careers, I found St. Bonaventure to
be an ideal fit. As a golfer, I found St.
Bonaventure to have a good D1 program with
a great tournament schedule involving a lot of travel. As a student, it was ideal
for my intended business major and not too far from home.
What does this scholarship mean for you?
With the ever-increasing finan-
cial commitment that higher education continues to be, this scholarship is a
much-appreciated alleviation of future debt and stress, and gives me peace of
mind that I am decreasing the amount of debt that I will have to pay off to fi-
nance my education.
How did you choose your major?
I selected management as sort of a gen-
eral major to start. I'm not sure what exactly I want to do when I get out of col-
lege, but I know I want to do something with business. Management seemed
to be a broad degree that could be helpful in many different positions. I will
certainly add either another major or a couple minors by the time I graduate.
Many of our supporters agree that helping students achieve educational
dreams through an endowed scholarship is one of the most rewarding invest-
ments they can make. Due to the generosity of our community, more than
$1.3 million in endowed scholarship aid was awarded during the past fiscal
year, allowing talented students access to St. Bonaventure's distinctive brand of
higher education.
Read on to learn about a few of our scholarship recipients and how an
endowed scholarship has impacted their lives.
To establish your own endowed scholarship, please contact Kathleen
Ryan, '83, assistant director of development for stewardship, at (716) 375-
2308 or kryan@sbu.edu.
Transform a life
Why St. Bonaventure?
a small high school where everyone
knew everyone, so I felt comfortable
coming to a similar scene here at
Bonaventure. The alumni are so pas-
sionate about this school and you al-
ways get the same reaction when you
tell them you go to Bonaventure. I
knew that if these people loved their
school still, after 20-plus years, I
would, too.
How did you choose your major?
have always loved working with chil-
dren. I chose elementary and special
education because by being a
teacher, I can touch the lives of so
many children in various ways. I can
be a teacher, a leader, a role model, a
coach and a person to lean on -- and
each of those titles is so important.
Are you involved in any campus
clubs or activities?
part of Bona Buddies, Enactus and
Family Business Club. Through Enac-
tus, I am part of Canvas for a Cure,
which hosted a canvas painting party
to raise money for children who have
cancer.
MEET
Scholarship: The Sylvia Foster and
Anna LoPresti Endowment Scholarship
Major: Elementary Education/Special
Education
Hometown: Angola, N.Y.
With two sons in college, money is always more of a concern than I
wish it was. And then there is parent debt and student debt. I feel so
very grateful for the scholarship and the peace of mind it gives us.
What a blessing that extra help is!
~ Tami Phillips (mother of Nolan T. Ditcher)
MEET
Scholarship: The Mary Ellen Honan
Memorial Scholarship
Major: Management
Hometown: Randolph, N.Y.