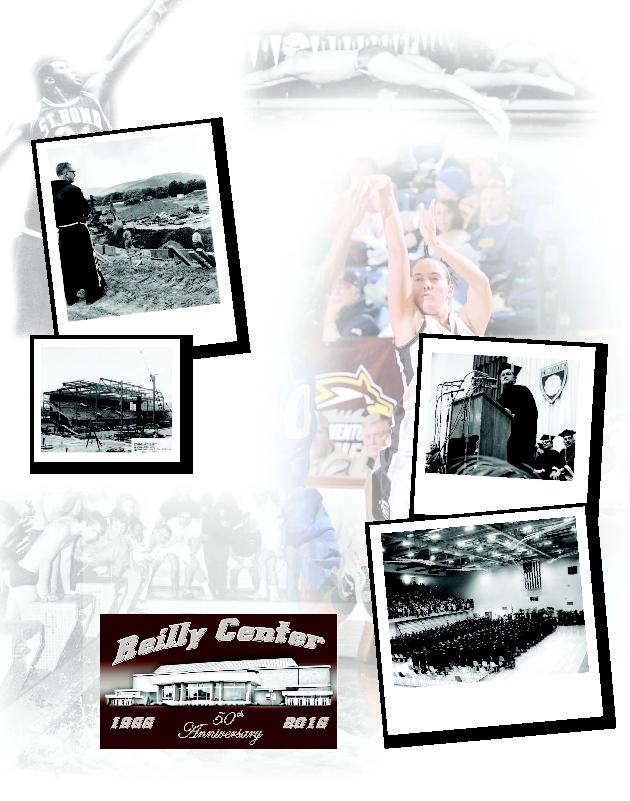 W
hen Bonnies basketball season began in November, it kicked off the
50th anniversary campaign for the Reilly Center. Hailed as one of the
finest collegiate venues for spectator involvement and enthusiasm, the
Reilly Center has provided the Bonnies with a tremendous home court advantage.
Since its doors opened in 1966, the Reilly Center has served as the focal point for
the St. Bonaventure spirit. It's the "place to be" on game nights, not only for the
campus community but throughout the region. The student section has been hailed
as one of the most enthusiastic in the nation. Season ticket holders pass on their
seats through generations. Bonnies fans are just as passionate as they are loyal and
they pack the Reilly Center to cheer their beloved Brown and White.
College basketball experts and coaches throughout the country have departed
the Reilly Center with appreciation for its character and atmosphere. This past
summer, a fan vote conducted by ESPN selected "The RC" as the toughest place
for opponents to play in the Atlantic 10. It is also home to the university's very
successful men's and women's swimming programs.
In January 2015, the Buffalo News listed a visit to the Reilly Center for a bas-
ketball game one of its "50 Things Every Western New Yorker Should Do
Originally named the University Cen-
ter, the building was dedicated to the
memory of Carroll "Mike" Reilly, '25,
on June 1, 1974. Reilly was a Bona student-athlete,
faculty member, football-basketball coach and ath-
letic director. He is also a member of the St. Bona-
venture Athletic Hall of Fame. The doors to the
University Center opened on Dec. 2, 1966, and since
then the Bonnies have gone 441-201 on their home
court (entering the 2016-17 season).
Throughout the season, the Bonnies will celebrate
the 50th anniversary of the Reilly Center by high-
lighting top moments in the building at every men's
and women's basketball game. These moments will include suc-
cesses on the RC hardwood and in its pool. Each moment will air
during the games at selected timeouts on one of the newest addi-
tions to the arena, the university's brand new state-of-
the-art video board.
The RC top moments will be available for fans
to view throughout the year on GoBonnies.com
and through the Athletics Department's Twitter ac-
count @Go_Bonnies.
Reilly Center turns the big 5-0