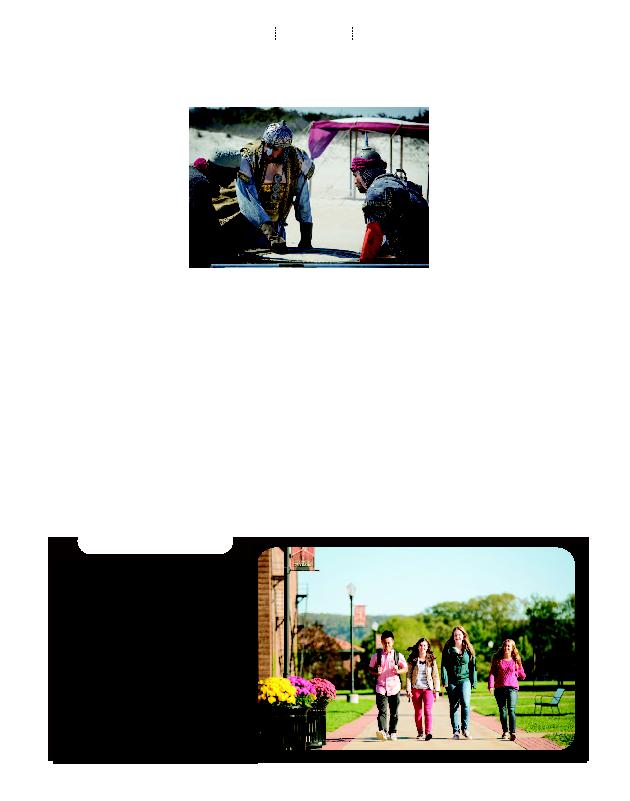 I
N

2
-
1
A new film about Saint Francis
and the Sultan of Egypt explores
the spiritual exchange between
these two men of faith amid a bat-
tlefield of horror and features his-
torical context about their meeting
provided by several experts affili-
ated with St. Bonaventure.
"The Sultan and the Saint," a
docudrama about Muslim-Christ-
ian relations, was produced by
Unity Productions Foundation.
In the year 1219, during the
height of the bloody Christian-
Muslim conflict known as the
Crusades, Saint Francis of Assisi
risked his life by walking across
enemy lines to meet the Sultan of
Egypt, the Muslim ruler Al-Malik al-Kamil.
This remarkable encounter, and the commit-
ment to peace of the two men behind it,
presented an alternative to the persistent
call for war.
The film is told with cinematic-style re-en-
actments and interviews with renowned his-
torians, art experts, religious thinkers and
brain scientists.
Among those who shared their expertise on
Franciscans and Islam for the film were Fr.
Michael Calabria, O.F.M., director of St.
Bonaventure's Center for Arab and Islamic
Studies; Fr. Michael Cusato, O.F.M., distin-
guished professor of Franciscan studies at the
university; and Sr. Kathy Warren, O.S.F., a
2002 Franciscan studies graduate. In addition,
alumnus Patrick Opitz, '01, an IMDb-credited
actor, had a small role as an extra in the film.
Fr. Michael Calabria, who holds a doctor-
ate in Islamic studies, said, "I'm very happy
to have been part of this film, and look for-
ward to bringing it to St. Bonaventure soon.
This encounter that occurred nearly 800
years ago continues to have tremendous rel-
evance in the contemporary world. I was
genuinely touched and inspired by the film
and believe that many others will be as
well."
As an alumnus of the Garret Theater Play-
ers, Opitz said he has tried to honor his
mentor, the late Dr. Stephan Gray-Lewis, a
longtime faculty member, through his film
and stage work, including his role in "The
Sultan and the Saint."
"While only appearing as a background
character in a few scenes, I felt that it was
important to participate in some capacity
because of the opportunity to use my skills
in a way that would reflect on my experi-
ence at St. Bonaventure and my interest
in Franciscan spirituality," said Opitz.
"Saint Francis was a builder of
bridges, badly needed at a time of reli-
gious violence. His commitment to a
respectful dialogue with people of dif-
ferent faiths, and the ability to see
others as people first, not enemies, is
an inspiration to my own commitment
to interfaith dialogue," added Opitz.
His goal is to continue to use film as
a medium for religious dialogue by
producing his own film next year.
Since graduating from St. Bonaven-
ture, Opitz has worked in the govern-
ment contracting industry in the
Washington, D.C., area.
Fr. Cusato, one of the leading histo-
rians of medieval Franciscan history working
in the field today, is former director of the
Franciscan Institute and dean of the School
of Franciscan Studies. In addition to a doc-
torate in medieval church history, he holds a
master's degree in Franciscan studies from
SBU and has authored numerous publica-
tions on the Franciscan movement, and
Francis' meeting with the Sultan.
Sr. Warren is a member of Sisters of St.
Francis of Rochester, Minn., and a specialist
in interreligious dialogue. She is the author
of "Daring to Cross the Threshold: Francis of
Assisi Encounters Sultan Malek-al-Kamil"
and is co-producer of the two-part DVD "In
the Footprints of Francis and the Sultan: A
Model for Peacemaking" in which Fr. Cusato
and Fr. Calabria also appear.
More information about the film is avail-
www.sultanandthesaintfilm.com
New docudrama features historians, alumni from Bona's
`THE SULTAN AND THE SAINT'
In this photo from the film, Sultan Al-Kamil meets with his
advisers.
for sophomores and juniors
· Enjoy lunch in the dining hall
Learn more and register
www.sbu.edu/visit