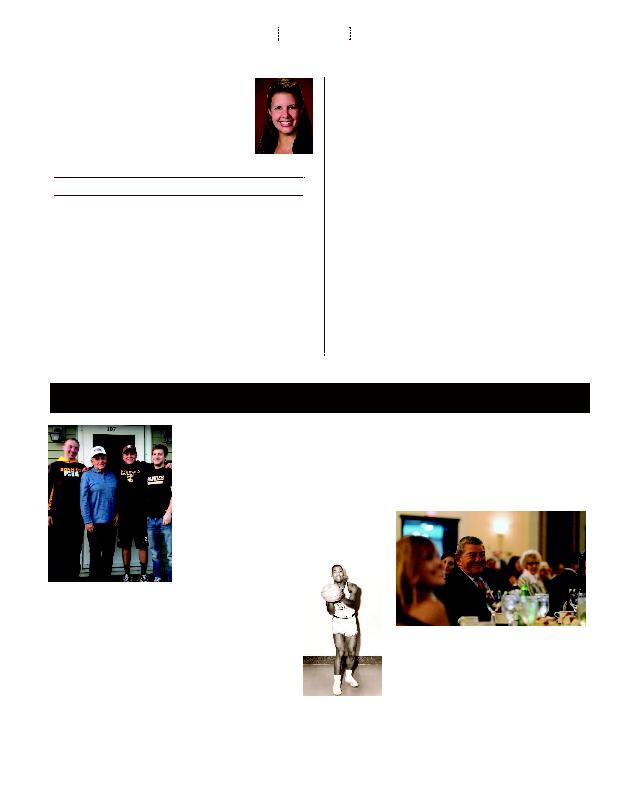 T
he National Alumni Association Board held a
retreat at Mt. Irenaeus as part of our Octo-
ber meeting. We reflected on the concept of
Fraternitas, a core tenet of Franciscanism regarding
kinship. Kinship not only as sisters and brothers, but
with the Earth and all its inhabitants as well. How do
we live our lives in relation to others? This has been
on my mind a lot since then.
We often speak of the unique characteristics of our time at St.
Bonaventure and of us as Bonnies. We call it indefinable or intangible,
but that doesn't do it justice. It is the sense of family. It is the drive to
make the world a better place. It is the lenses of ethics and compassion
through which we decide the paths our personal and professional lives
will travel. It is the help we extend to the generations of Bonnies who
follow us. And all of that is informed by and instilled through the Fran-
ciscan teachings and examples we absorbed as students.
Two shining beacons of Franciscanism reached milestones this year,
one the silver and one the golden anniversary of his ordination ­ Fr.
Francis Di Spigno, O.F.M., guardian of the St. Bonaventure Friary and
executive director of University Ministries, and Fr. Dan Riley, O.F.M.,
founder of Mt. Irenaeus and Alumni Chaplain, respectively.
In a few short months, the new McGinley-Carney Center for Francis-
I
N

2
-
1
Charismatic Bonnies
Message from the National Alumni Association Board President
To submit professional news for the next issue of Bonaventure magazine, drop us a note in the enclosed envelope, fill out an online form at
www.sbu.edu/BonaMag, or email bonalumnus@sbu.edu. Submissions may be edited for clarity or length.
44 SHARE YOUR CAREER NEWS WITH THE BONA NATION!
SHARING THEIR
BONA PRIDE!
John "Jack" McMullen, '53, and
his wife, Teresa (Frisina), cele-
brated their 61st wedding an-
niversary on Sept. 3. They are
the proud parents of six chil-
dren and 14 grandchildren. Two
of their grandsons are St.
Bonaventure students -- Matt
Fidurko, '18, and Ryan O'Con-
nor, '18. Grandson Kevin O'Con-
nor graduated from SBU in
2015. Jack McMullen is pictured
here with his three Bona grand-
sons.
1957 -- Richard Pardi
Alumni Reunion Weekend 2017 in June. He and
his wife, Cindy, visited the Marian Shrines in Portu-
gal, Spain and France and also took a holy year
visit to Rome. Viva Papa Francis!
1960 -- Sam Stith
members inducted into the New York City Basket-
ball Hall of Fame on Sept. 14. Stith embodied the
brand of basketball played on the streets of
Harlem. He attended St. Francis High School in
Queens. Recruited to St.
Bonaventure by head coach
Eddie Donovan, Stith be-
came the point man for a
defensive system that led
to the development of the
zone press. Over his college
career, which spanned
three varsity seasons, Stith
scored 1,112 points and
grabbed 620 rebounds.
Stith will be forever linked
with his late brother, Tom,
who was a year younger
and also starred for the
Bonnies. The brothers helped lift St. Bonaventure
to three straight NIT appearances from 1958-60.
As a senior in 1959-60, Sam Stith helped lead the
Brown and White to a 21-5 record, including 18
straight wins, and a fourth-place finish in the NIT.
He averaged 20.5 points per game. Sam Stith was
selected by the Cincinnati Royals in the 1960 NBA
Draft. He played for the Royals and then his home-
town New York Knicks. In 1969, he was inducted
into St. Bonaventure's Athletics Hall of Fame as
part of its inaugural class. His number 22 is retired
at St. Bonaventure.
1964 --
The Investigative Post honored
Lee Cop-
pola
(pictured above) Oct. 19 for his distinguished
service and contributions to journalism in Western
New York. Investigative Post is a nonprofit West-
ern New York news organization dedicated exclu-
sively to watchdog journalism. Coppola, a veteran
investigative reporter and educator, was dean of
St. Bonaventure's journalism school from 1996 to
2011. In 2012, Coppola was inducted into the
Buffalo Broadcasters Association Hall of Fame.
Ron Barnes
retired as a full professor in the Math
can Ministry will be finished. The beautiful new home in the center
of campus shall now reflect the cherished heart of our education
and mission.
The friars, both currently and historically, approach their work at
the university with the conviction that education must transform the
whole person, an education concerned not only with the intellectual
dimension, but with the will, the heart, and the body as well. We
are all living proof of this holistic human approach. It is incumbent
on us to share our spectacular, charismatic selves with our communi-
ties, colleagues and friends. It showcases our Franciscan-based edu-
cation, our commitment to service, and helps us recruit new
students. All of this makes our university stronger.
St. Bonaventure's newly named president, Dr. Dennis DePerro, is
grounded in the Franciscan tradition and values. His vision for our
beloved alma mater will fortify, continue and expand this excep-
tional foundation. He is looking forward to meeting all of you, un-
derstanding your aspirations and how you can participate in the
university's ongoing success.
Personally, I'm in the midst of a career change, trying to determine
where and how I can make the world a better place. I look forward
to hearing how you are living Franciscan, working Franciscan, serv-
ing Franciscan, and loving Franciscan. Share your stories through
class notes or alumni@sbu.edu.
Pax et bonum,
Kristan McMahon, '97