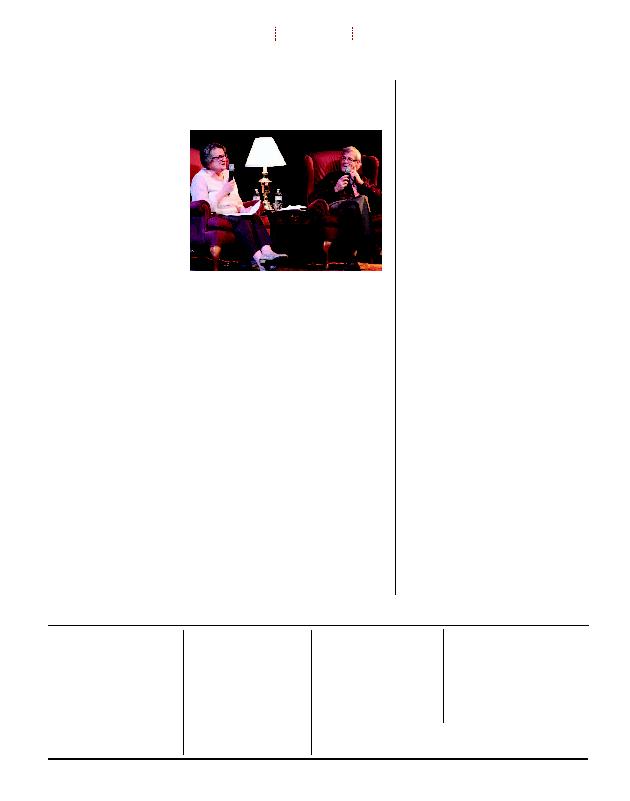 I
N

2
-
1
ACADEMIC UPDATES
A new School of Allied Health has been
approved at the university as part of its Al-
lied Health Initiative, a plan to create new
healthcare-related undergraduate and clini-
cal graduate programs over the next few
years.
Allied health professionals provide a range
of diagnostic, technical, therapeutic and di-
rect patient care and support services, and
their numbers are rising.
Healthcare is one of the fastest growing
industries in the U.S., said Dr. Joseph Zim-
mer, provost and vice president for Aca-
demic Affairs. From 2010 to 2014,
bachelor's and master's degrees in health pro-
fessions increased by 65 percent and 71 per-
cent, respectively, outpacing any other field of
study. What's more, the Bureau of Labor Sta-
tistics estimates that healthcare will grow 19
percent over the next decade (2014-2024),
adding 2.3 million new jobs.
St. Bonaventure is well-positioned to help
keep up with this demand through new pro-
grams that draw from its solid foundation in
science and sport studies, said Zimmer.
Over the past year, St. Bonaventure has ex-
plored the possibility of offering clinical gradu-
ate degrees in several allied health fields, as
well as a "feeder program" at the undergrad-
uate level.
Dr. Claire Watson, chair of the physical edu-
cation and sport studies programs since 2013,
is executive director of the Allied Health Initia-
tive, while Dr. Monica Thomas, director of
SBU's highly competitive Franciscan Health
Care Professions Program, was named associ-
ate director. Follow the development of allied
health programs and initiatives on the new
School of Allied Health website:
www.sbu.edu/alliedhealth
If anyone would have under-
stood the rationale to change the
name of the journalism school at
St. Bonaventure, it likely would
have been the program's
founder, Dr. Russell Jandoli.
"Dr. Jandoli was rightfully
proud of the legacy he left at
Bonaventure, and I suspect he
would see this name change as
he saw editing student writing:
Use precise and concise words to
share the truth of who you are
and what you do," said Michael
Hill, '96, a university trustee and
a member of the school's Advi-
sory Council.
The Russell J. Jandoli School
of Journalism and Mass Com-
munication will now be known
as the Jandoli School of Com-
munication.
"The delivery of great journal-
ism has changed dramatically
since Dr. Jandoli founded the
school decades ago, but the fun-
damentals of a St. Bonaventure
education have not," Hill said.
"Great storytelling illuminates
the major issues of our day, and
this name change simply reflects
the increased vehicles today's
practitioners have at their finger-
tips to transmit poignant mes-
sages that can change the
world."
Dr. Pauline Hoffmann, dean of
the Jandoli School of Communi-
cation, emphasized that produc-
ing top-notch journalists will still
be an essential focus of the
Journalism school to become
Jandoli School of Communication
New School of Allied
Health approved as
university develops new
healthcare programs
Men's basketball game and
reception, Rochester, N.Y.
2017 Alumni Events
The School of Communication welcomed UK
journalists Barbara and Alan Mackenzie to
campus for two weeks as Lenna Visiting Schol-
ars. The Mackenzies, who have both held re-
porting and editing positions at newspapers in
Great Britain, provided valuable insight into
developments in Europe, specifically Great
Britain, with the recent Brexit vote. They were
also able to compare and contrast that historic
vote with our own presidential election and
offer a global look at freedom of the press.
"We have no intention of eliminating journal-
ism as a major, or de-emphasizing the need for
good writing in all of our disciplines," Hoffmann
said. "But journalism is no longer the sole focus
of what we offer to our students, and the term
mass communication is simply too narrow to ac-
count for all the communication platforms that
exist in the world we now live."
In the last decade, the Jandoli School has
added graduate programs in integrated mar-
keting communications and strategic leader-
ship; an undergraduate program in strategic
communication and digital media; and an inter-
disciplinary program (with English) in profes-
sional and creative writing.
Atlantic 10 Men's Basketball
campus; all class years invited!
For more information about upcoming events, visit
www.sbu.edu/Alumni
or email alumni@sbu.edu.