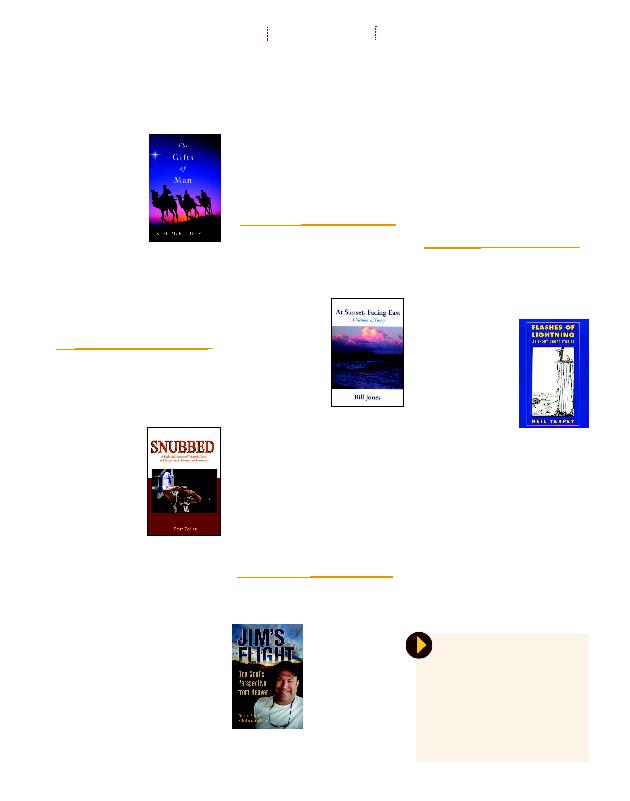 I
N

2
-
1
Stephanie Reuter McElligott, '72,
published her first book, "The Gifts of
Man." In vivid historical detail, this biblical
fiction weaves a rich tale of the Three
Wise Men and the people and experi-
ences that shaped
each man's journey to
find the Messiah.
brings the human con-
dition to the forefront
and speaks to the
common struggles of
the day -- war, illness,
the treatment of
women, loss and love.
Faith, identity and love
underpin the story, inspiring readers to
search within themselves and ask, What
truly is the greatest gift of man?
McElligott holds a BA in history from St.
This book is available in paperback and
Kindle versions on Amazon.
The 2015-16 men's basketball season at
St. Bonaventure, which unfolded against
the backdrop of a financial crisis spawned
by slumping enrollment, is the subject of
a new book by
Brian Toolan, '72
ketball Season of Tri-
umph, Crisis and
Despair at St.
Bonaventure Univer-
sity," chronicles a
championship year
for the third-smallest
college in NCAA Divi-
sion I. Toolan had a
43-year career as a
newspaper reporter and editor, including
being the senior vice president and editor
of the Hartford Courant when it won the
Pulitzer Prize in 1999.
Toolan's reporting began months ahead
of the season's tipoff, not long after the
university had reaffirmed its commitment
to remain a Division I program.
Amid this tumult, Coach Mark Schmidt
prepared his team for the school's 96th
season of men's basketball. It began with
injuries depleting the roster and resulted
in adjustments to the style of play. The
Bonnies were predicted to finish eighth in
the A-10 by league coaches. Granting
Toolan generous access, Schmidt, frank
and strikingly unvarnished, is the book's
key figure.
The soaring performances that resulted
in a share of the conference champi-
onship and the crushing process that de-
nied the Bonnies an NCAA Tournament bid
are recounted in a manner difficult to
achieve in daily coverage of any season.
It is a narrative of a season unlike any
other in St. Bonaventure's history, and a
basketball story in a wider context.
"Snubbed" is published by NFBPublishing
in Buffalo and is available through Amazon,
Barnes & Noble, Powell's Books, NFBPub-
lishing.com, Dog Ears bookstore, Talking
Leaves bookstore and other outlets.
In his memoir in poetry, "At Sunset, Fac-
Bill Jones, '73,
that has filled him with wonder. He's heard
the voices of family through five genera-
tions, the young mag-
ically echoing the old.
He's witnessed the
world of anthrax and
America's cities on
fire, seen the impossi-
ble become all too
possible.
roads not often taken
in the U.S., Mexico,
Colombia and Ja-
maica. He's been haunted by dreams that
spoke the truth and gave him new direc-
tion.
For him, life burns brightest in the
scenes he can't forget. One of those
scenes took place in the course Physics for
Poets at St. Bona's in 1972. "At Sunset,
Facing East" is a compilation of selected
poems published over the last 40 years as
well as new poems written for this memoir.
The book is available from Apprentice
House Press at Loyola University Mary-
land, Amazon and Barnes & Noble.
Christine Frank Petosa, '76,
lished her first nonfiction book, "Jim's
Flight: One Soul's Per-
spective from
Heaven," along with
co-author Elizabeth
Williams.
pilation of the journey
of Jim Petosa's transi-
tion to heaven, as well
as his wife's experi-
ence as the caretaker
with help from spiritual communicator,
medium and grief counselor Elizabeth
Jim was diagnosed with esophageal
cancer at the age of 47. After a 19-month
battle, he left the physical world. With
help from Williams, Frank Petosa says, Jim
is able to make contact from the other
side, bringing insights into a soul's contin-
ued existence outside a physical body.
"Jim's Flight" was published by Findhorn
Press and was presented by the publisher at
the Frankfurt, Germany, book fair. The
book is available on Amazon.
Frank Petosa, of Syracuse, retired after
33 years of teaching in the Solvay and Du-
anesburg school districts.
Neil Tarpey, '73
Lightning," a compilation of 52 short sto-
ries, each containing 101 words or less.
"Flashes of Lightning" is packed with sto-
ries about people, an
idea Tarpey believes is
essential to writing
successful fiction. The
characters ญญ both
likeable and despicable
ญญ have motives vary-
ing from healthy to di-
abolical.
wide range of charac-
ters, such as a gun-tot-
ing monk, a dangerous hitchhiker, hit men
and a horse and a skunk.
The stories take place in a variety of set-
tings, including the desert, forests, camp-
grounds, bayou, a funeral home, churches
and a lawyer's office. The brief plots explore
the human condition, focusing on major
themes such as jealousy, greed and honor.
"Flashes of Lightning" exposes life or
death conflicts but also nails humorous uni-
versal experiences ญญ bad first dates, job in-
terviews, family gatherings. Tarpey, who
lives in Northern California with his wife,
received a B.A. in English from St. Bonaven-
ture. The book is available in paperback on
Amazon.
CONTACT US
We are happy to print announcements
and brief summaries of new books, CDs
and other multimedia works published by
SBU alumni, faculty and staff. Send a copy of
the book or CD and summary press release
to:
Bonaventure magazine
P.O. Box 2509
St. Bonaventure University
St. Bonaventure, NY 14778
Or email bonalumnus@sbu.edu