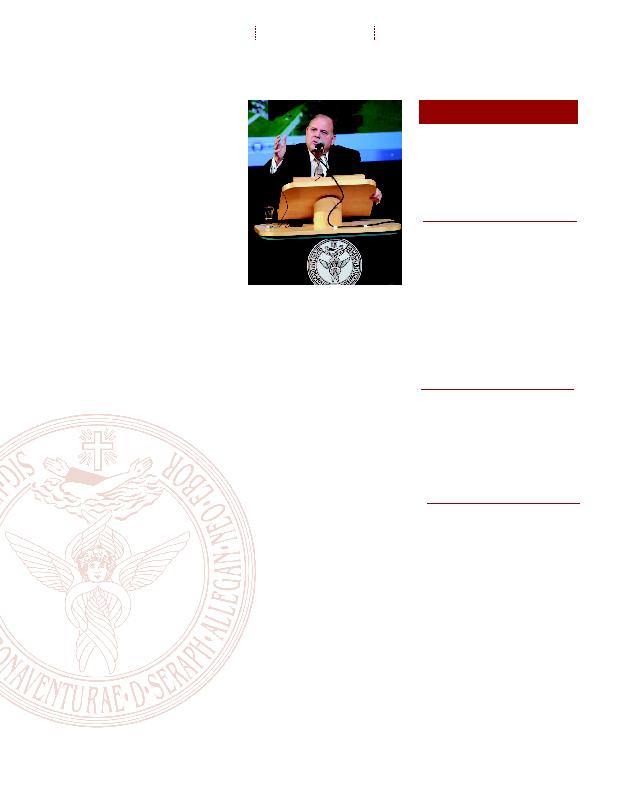 Dr. Dennis DePerro named SBU's 21st president
I
N

2
-
1
Board Chair
First Vice Chair
Second Vice Chair
Vice Chair for Academic Excellence
Vice Chair for Presidential Search
Board Secretary
St. Bonaventure University Board of Trustees
Steven G. Barry, '88
Lana D. Benatovich
Janet I. Bodnar, '71
James E. Canty, '84
Scott P. Cielewich, '72
Fr. Thomas E. Conway, O.F.M.
Joseph A. DeMaria, '79
Thomas M. Garvey, '74
Deb A. Henretta, '83
Michael E. Hill, '96
Albert C. Horton, '66
Bharat Kohli
William J. Lawley Jr., '85
Cindy Abbott Letro
Paul C. McDonald, '80
Kristan K. McMahon, '97
Yvonne Minor-Ragan
Very Rev. Kevin J. Mullen, O.F.M.
Les Palm
Fr. Kenneth P. Paulli, O.F.M.
Richard A. Penna, '68
Very Rev. John E. Puodziunas, O.F.M.
Bill Purcell
Leslie C. Quick III, L.H.D., '75
Andrew P. Roth
Carol A. Schumacher, '78
John D. Sheehan, '82
James E. Stitt
Marvin W. Stocker, '65
Lynda M. Wilhelm, '86
Trustees Emeriti
Raymond C. Dee, L.H.D., '64
Robert R. Jones, D.C.S., '58
John R. "Jack" McGinley, L.H.D., '65
Charles Osgood, L.H.D.
Program, a national program devel-
oped to strengthen lay leadership
through formation and focus on Jesuit
mission and vision.
Interim President Dr. Andrew Roth,
who took over Aug. 1 when Sr. Mar-
garet Carney, O.S.F., retired, will work
closely with DePerro on a transition
plan next spring and summer.
During DePerro's 18 years as vice
president for enrollment, Le Moyne's
undergraduate enrollment grew from
1,680 to 2,400, while graduate en-
rollment rose from 390 to 650 over
the same period.
DePerro has a doctorate in higher
education management (2006) from
the University of Pennsylvania, a mas-
ter's in educational administration
and supervision (1988) from Canisius,
and a bachelor's in biology from Can-
isius (1981).
DePerro's wife is a vice president at
Cadaret, Grant and Co., a national fi-
nancial advisory firm headquartered in
Syracuse. Their sons attend Providence
College.
Learn more about DePerro at
www.sbu.edu/deperro
D
r. Dennis DePerro, a Buffalo native
who has spent his entire 35-year career
in college administration, has been
named the 21st president of St. Bonaventure.
DePerro, dean of the Purcell School of Profes-
sional Studies at Le Moyne College in Syracuse,
will take office June 1, 2017.
DePerro, 57, was introduced to the campus
community Nov. 21. He was joined by his wife,
Sherry, and sons Andrew and Matthew.
"I have always aspired to be the president of
a Catholic college. That was the cake," DePerro
said. "Coming to St. Bonaventure was the
icing. ... This place has always had a special
place in my heart."
DePerro was vice president for enrollment
management at Le Moyne for 18 years before
becoming the inaugural dean of the School of
Graduate and Professional Studies in 2013. He
helped secure a $6.5 million gift last year for
the school, renamed the Kathy and John Pur-
cell School of Professional Studies, which spe-
cializes in allied health and education
offerings.
St. Bonaventure established a School of Al-
DePerro attended Bishop Timon High School
"The Jesuits have had a profound impact on
my life, but my foundation is Franciscan," he
said. "To have the opportunity to lead this re-
markable institution is something I never could
have imagined as a student at Timon. I'm
deeply grateful to the members of the Board of
Trustees and those members of the campus
community who have extended this measure of
faith in me. I'm humbled and honored."
DePerro has spent his career in college admin-
istration; for eight years (1982-1990) in admis-
sions and alumni relations at his alma mater
Canisius College, and for five years (1990-1995)
as dean of admission and financial aid at Mari-
etta College in Ohio before going to Le Moyne
in 1995.
DePerro was one of Le Moyne's first two par-
ticipants in the inaugural Ignatian Colleagues
"Dennis is a great fit for St. Bonaventure.
His innovative enrollment efforts,
allied health program development, and
commitment to the liberal arts in a Catholic
setting make him an ideal president."
"Dr. DePerro is the right candidate to lead
St. Bonaventure today and advance the
university into its even stronger future.
He brings not only vision, but concrete,
enactable thoughts on how we get there.
He is committed to our mission, which will
inspire alumni, students, faculty and friends
of the university. He exudes the Franciscan
values with genuine joy and love that will
President, National Alumni
"Dr. DePerro's value of equity and inclusion in
the community, as well as his focus on the
student experience at Bona's, speak to the
interests of the student body. We're excited to
see Dr. DePerro take on his role as president
and to be a visible leader on campus."
Member, Presidential Search Committee
"I think Dr. Dennis DePerro will be an exceptional
asset to St. Bonaventure. He understands both
our liberal arts-centered identity and the
challenges that lie ahead. I know I speak for my
faculty colleagues on the Search Committee, and
at the university, when I say that I very much look
forward to working with him in the years ahead."
Dr. Megan Walsh, Associate Professor of English
and Member of the Search Committee