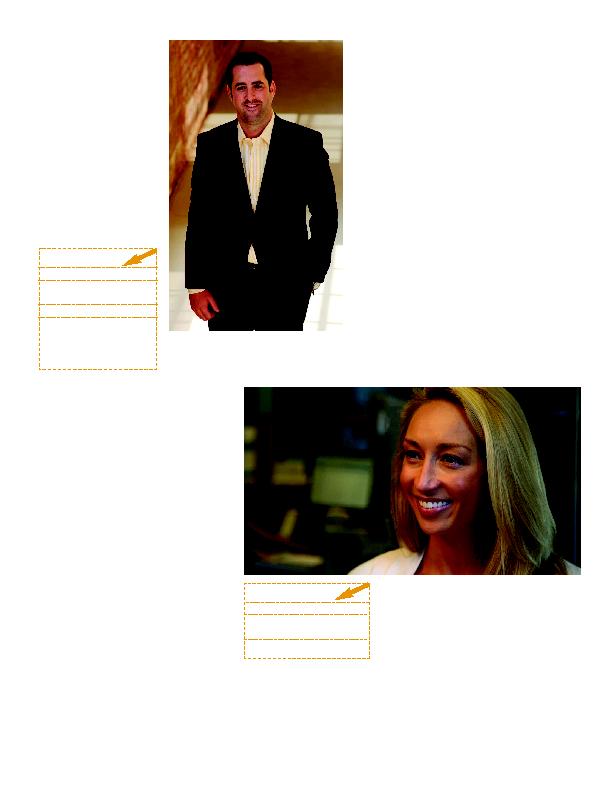 at Wells Fargo and, before he knew it, he
was hired as a business analyst for the com-
pany.
SEAN RICKARD
Professional Readiness Cen-
ter, Sean Rickard was put in
touch with alumni in a host
of different cities. It was the
enthusiastic, tight-knit Char-
lotte, N.C., alumni that ulti-
mately won him over. With
only the encouragement of
the Charlotte alumni base and
no guarantee of a position,
Rickard decided to take a
chance on the southern city.
Within a week of his moving
to the city he was interviewing
Her classwork at Bonaventure
helped prepare her for her pro-
fessional roles as well. The thor-
ough education in business she
received made her more com-
fortable at work.
"Things you didn't realize you
KRYSTIN (TROYER) RYAN
Krystin (Troyer) Ryan took a leap of faith when
she moved to Charlotte, N.C., with no job
prospects just two months after graduation.
However, her journey did not remove her from
the tight-knit Bonaventure alumni network and
she soon secured a job at Wachovia with the
help of a recruiter who had attended her alma
mater.
Now working at Wells Fargo, which merged
with Wachovia in 2009, Ryan provides market-
ing support for Wells Fargo Securities' Sales &
Trading division. Her daily workload varies, from
running ad campaigns to working with other divi-
sions within the company.
Though she has gained invaluable experience in
her 10 years as a Wachovia and Wells Fargo em-
ployee, Ryan said that her experience at St.
Bonaventure prepared her for her position in mar-
keting. While in school, she was able to help cre-
ate an American Advertising Federation
campaign for the Toyota Matrix. She and her
classmates performed every task that a profes-
sional marketing team would in creating an ad
campaign.
"I had a nice portfolio of work," Ryan recalls.
"When I went to interview for a marketing posi-
tion within Wells Fargo, I already had this book
of work to show as experience that I already
had in doing all of these different types of activ-
ities within marketing and advertising."
means friends for life, it
sitting in class suddenly come back to you when
someone at work mentions a term or a piece of
logic," she said.
The St. Bonaventure alumni group in Charlotte
consists of more than 200 individuals whom Ryan
describes as "very close."
"I was surprised by the number of Bonnies (in
Charlotte). We're all very close. There are Bonnie
bowling leagues and Bonnie golf leagues, and we
have a float in the St. Patrick's Day Parade," Ryan
said. She has lost count of the times that her
Bonnies gear has gotten her noticed while travel-
ling. "It's a real family school," she said. "It may
be a small school but Bonaventure roots, I think,
run deep."
"It's still a running joke with my parents," he said. "My
mother told me I would be back in three or four months. I
made a trip down in my dad's old car with three or four
pairs of pants ... and the next thing I knew I was here full
time, signing a lease. It's been eight years now. I love the
city and I love what the alumni here have done for me."
Rickard now works for Mindseeker, a Charlotte recruit-
ing firm, with the very alumni who convinced him to
move to Charlotte.
"I work with a lot of Bonaventure alums who helped
me get a job down here... I had to jump at the opportu-
nity, and I haven't looked back since," he said.
St. Bonaventure provided Rickard with more than just a
helpful alumni base. His business degree has gone a long
way toward Rickard's success in the professional sphere.
"My degree in business helps me every day in my job,"
he said. "Between the core curriculum and my business
major, I was exposed to accounting, finance, manage-
ment and marketing. I deal with all of those four areas of
expertise on a daily basis with all the jobs that I recruit for.
It allows me to define the right role for each of my candi-
dates."
The understandable result of all of this is that Rickard,
who is president of SBU's alumni chapter in Charlotte, is
bursting with Bonaventure pride: "That degree, it's some-
thing that I'm proud of every day. I have my diploma still
hanging up on the wall of my bedroom, and it's some-
thing that I can look at every day with pride. I am very ex-
cited to be a Bonnie."