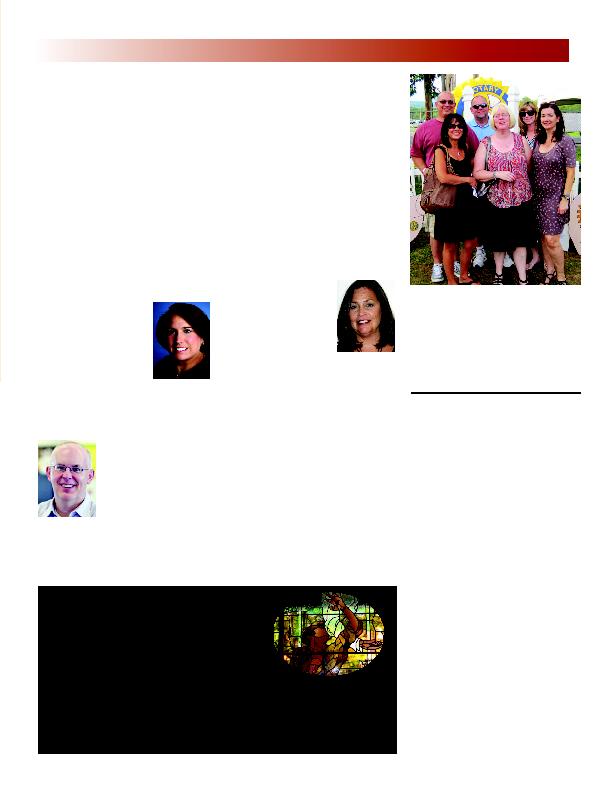 several books on urban planning, including
the Los Angeles Times bestseller "The Reluc-
tant Metropolis."
1983 -- After 18 years at ESPN, Michael
Stinton is headed south. Stinton was named
the director of promotions for the Golf Chan-
nel, headquartered in Orlando, Fla. In addition
to managing a staff of producers who create
the on-air and off-air promotions for the net-
work, Stinton is looking forward to seeing his
golf handicap get lower. The five-time Emmy
winner moved to Florida with his wife, Patri-
cia. They have two children in college.
30th Reunion ~ 2014
1984 -- Donna L. (Smith) Burden, a found-
ing partner of Burden, Gulisano & Hickey, LLC,
has been appointed chair of the Transporta-
tion Committee of the International Associa-
tion of Defense Counsel, a
professional association for
corporate and insurance de-
fense lawyers around that
world. The Transportation
Committee serves all mem-
bers who are involved in the
defense of aviation compa-
nies, maritime companies,
railroads, and motor carriers and trucking in-
surance companies for personal injury
claims, property damage claims and cargo
claims. Brad Johnson was promoted to vice
president of partner sales
and operations at
Wayfair.com, the largest
online retailer of home fur-
nishings and decor. In this
newly created role, Johnson
will continue to oversee
Wayfair.com's retail partner
channels while launching
new business efforts and spearheading the
Canadian expansion for the company. Prior
to his promotion, Johnson served as senior
director of business development for Way-
fair.com, where he grew the company's part-
ner channel business. Before joining Way-
fair.com, Johnson founded and led
operations for Intrepid Learning Solutions, a
provider of consulting, outsourcing and re-
search training services. Johnson has an exten-
sive background in starting companies and
managing international businesses for major
corporations, including EMC, PepsiCo, Po-
laroid, and KPMG. He holds an MBA from the
University of Virginia Darden School of Busi-
ness.
1985 -- Wendy Mann was appointed sen-
ior vice president of NAIOP, the Commercial
Real Estate Development Association. Mann
oversees day-to-day business operations of
the association and serves as executive direc-
tor of NAIOP's Research
Foundation and publisher of
Development magazine.
Mann previously was direc-
tor of communications at
the National Telecommunica-
tions Cooperative Associa-
tion, where she was
responsible for all the asso-
ciation's communications initiatives, includ-
ing strategic communication planning,
integrated marketing, media relations, pub-
lishing and website development/content
management. Prior to that, she served as
vice president of member services for the In-
telligent Transportation Society of America.
She also has held positions with the Health
Industry Distributors Association, the Educa-
tional Society for Resource Management,
Greater Washington Society of Association
Executives, and the U.S. Chamber of Com-
merce. Mann earned the Certified Associa-
tion Executive (CAE) designation in 1991 and
has pursued graduate level studies at George
Mason University.
1986 -- Michael Powers was named to
the Board of Directors of the Advertising
Club of Buffalo. Powers is the marketing
manager at The Buffalo Zoo.
1987 -- Adam Jablonski and his wife, An-
drea (Hatch), '90, have completed the con-
struction of the Hugh Shields Clinic and
Hannah's Home in Masseno, Kenya. The
clinic will provide necessary health care for
the community and no longer will the sick
men, women and children of the Masseno
area have to walk five miles to see a doctor.
The Fairport, N.Y., couple have completed
this project through their non-profit founda-
tion, Building Futures Inc. (www.buildingfu-
turesinc.com).
25th Reunion ~ 2014
1989 -- Kathleen Hefele Carroll has been
working for the past three years as a sixth-
grade science inclusion teacher in Dorch-
ester, Mass. She was recently awarded the
Wipro Science Education Fellowship.
Through the University of Massachusetts
Boston's COSMIC (Centre of Science and
Math in Context), the fellowship is a two-
year program that uses a model of teacher
support and development to improve in-
struction and increase teacher leadership in
Boston public schools. Bridget (Haraszko)
O'Neill was named English department
chair and drama/musical director for Seton
Catholic Preparatory High School in Chan-
I
N

2
-
2
Updates
Classmates celebrate the big 5-0
What better way to turn 50 than with a
crew of Bonnies. Pictured are (front row,
from left) Marianne (Bartone ) Shaw,
'85; Helen (Norton) Hasselbeck, '85; and
Maureen Cahill, '85; and (second row,
from left) Greg Faherty, '84; Al Neu, '85;
and Nancy (Hoffmann) Gibson, '85.
St. Bonaventure University President
Sr. Margaret Carney, O.S.F., S.T.D., presents
Franciscan: Finding Tools to Rebuild the Church
February 7-9, 2014
San Damiano Retreat Center
Danville, Calif.
"Francis was famous for his answer to a call to `rebuild the church.' Our new Pope is bringing new ex-
citement to that task. What can we learn from the life of Francis and his companions that will help us
enter into this new moment, a time of rebuilding faith and enkindling new hope."
-- Sr. Margaret Carney, O.S.F.
Information & registration |www.sandamiano.org