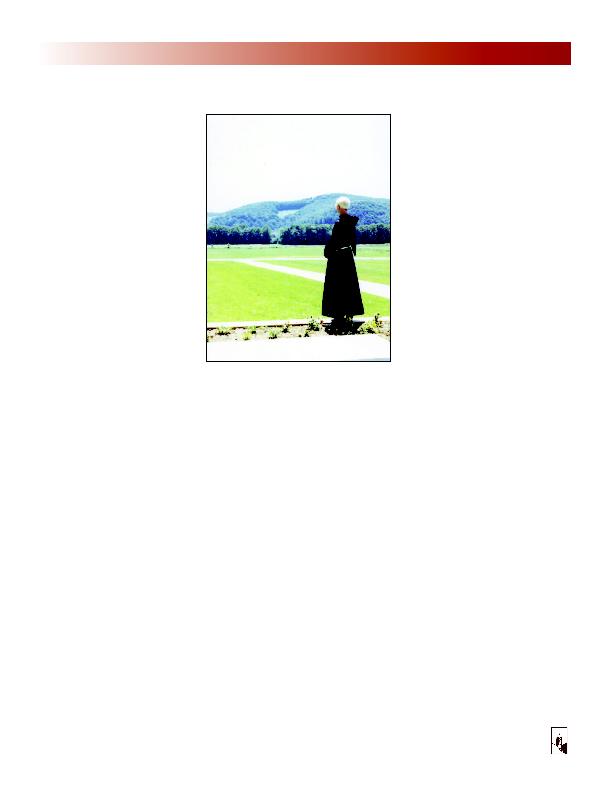 Francis of Assisi Church in New York City.
Merton was devastated, interpreting this
change of plans as a sign that God found
him unacceptable for religious life.
With an MA in English from Columbia in
hand, he set out looking for a job. He knew
of an opening at a small Franciscan school in
Western New York called St. Bonaventure
College.
He had actually spent time nearby during
the summer at his friend's family cabin in
Olean, along with one of his best friends,
Robert Lax, who would himself go on to be-
come a renowned literary figure and talented
poet, and even visited the campus. He landed
an interview with Fr. Thomas Plassmann,
O.F.M., president of St. Bonaventure at the
time, and was hired to teach in the English de-
partment.
For a year-and-a-half, Merton lived on cam-
pus, taught his courses, became lifelong
friends with several friars -- especially
Thomas Plassmann, Irenaeus Herscher and
Philotheous Boehner -- and continued to
discern where God was calling him.
In addition to the deeply personal friend-
ships he formed, Merton's intellect and spiri-
tuality was shaped by the Franciscan
By Daniel P. Horan, O.F.M.
S
tudents, alumni, faculty and
staff of St. Bonaventure Univer-
sity know exactly what I mean
when I say "Merton's Heart." It is that
somewhat heart-shaped pasture that
can be seen etched into the "en-
chanted" Allegheny Mountains across
the river and overlooking the SBU
campus.
Whether you've had the opportunity
to hike up to the clearing in the past or
only have glanced at it from afar, it
nevertheless remains a fixture in the
collective Bonaventure landscape of our
memories.
Yet, few of the St. Bonaventure fam-
ily know about that hillside heart's
namesake or the significance of the
Franciscan tradition generally and the
St. Bonaventure campus specifically for
Thomas Merton.
Thomas Merton (1915-1968) was a
Trappist Monk who is generally re-
membered as a best-selling author of
spiritual writing and, toward the end
of his life, a leading Catholic voice in
the civil rights, anti-war, and interreli-
gious-dialogue movements.
Born in France but raised in England
and the United States, Merton studied
literature at Columbia University, con-
verted to Catholicism in 1938, and dis-
cerned a vocation to religious life. This
process of discernment and the recom-
mendation of his philosophy professor
and mentor Dan Walsh led Merton to
the Franciscan Order.
Several people who knew the young
man even told him that he had a "Fran-
ciscan spirit." He applied to enter Holy
Name Province (the same province of
Franciscans that founded St. Bonaven-
ture) to become a Franciscan friar and
was initially accepted into the novitiate.
For a constellation of reasons, Merton
would never become a Franciscan friar
-- there would be no "Thomas Mer-
ton, O.F.M." He was told that he
should probably withdraw his applica-
tion after he expressed serious doubts
and confessed that he had withheld
certain details of his youthful past dur-
ing his interview with the friars at St.
I
N

2
-
2
Franciscan Minute
Visiting the real `Merton's Heart'
tradition. He studied the works of Bona-
venture, John Duns Scotus, William of Ock-
ham, and other Franciscan greats with
Boehner. He joined the Secular Franciscan
Order during his time at St. Bonaventure,
concretizing his "Franciscan spirit" in the
form of a professed way of living after the
example of St. Francis.
As Merton's official biographer, Michael
Mott, describes it, "Merton was to find an-
other way of membership among the
`tramps of God' -- in blue jeans, if not
patched brown cloth."
What began early as the nascent seed
of Franciscan spirit in Merton was nur-
tured by the friars, tradition and spiritual-
ity that Merton encountered on the
campus of St. Bonaventure, and eventu-
ally blossomed into the full Franciscan
heart that continued to guide one of the
20th century's most-famous spiritual writ-
ers throughout his life.
In letters and journal entries from the
1940s, 1950s and 1960s, Merton wrote
about the enduring influence of his time at
St. Bonaventure, the significance of his friar
friends and mentors, and the spiritual
worldview of St. Francis that shaped his
"Franciscan side, which continues to
grow."
As the St. Bonaventure community be-
gins the celebrations commemorating his
100th birthday on Jan. 31, 2015, we can
look to our older Bonaventure brother
Thomas Merton for guidance and inspira-
tion, knowing that we share much in
common. As we continue to think of the
meadow on the hill overlooking campus
as "Merton's Heart," we should also
pause to recall how the Bonaventure ex-
perience so many of us hold in each of
our hearts also indelibly shaped the real
heart of Thomas Merton.
Daniel P. Horan, O.F.M., '05, is a Francis-
can friar of Holy Name Province, a colum-
nist for America magazine, and the
author of several books including "The
Last Words of Jesus: A Meditation on
Love and Suffering" (2013) and the forth-
coming, "The Franciscan Heart of Thomas
Merton: A New Look at the Spiritual Influ-
ence of His Life, Thought, and Writing"
(2014).
Courtesy of University Archives
Legendary library director Fr. Irenaeus Herscher,
O.F.M., looks out at the landscape that has be-
come known as Merton's Heart.