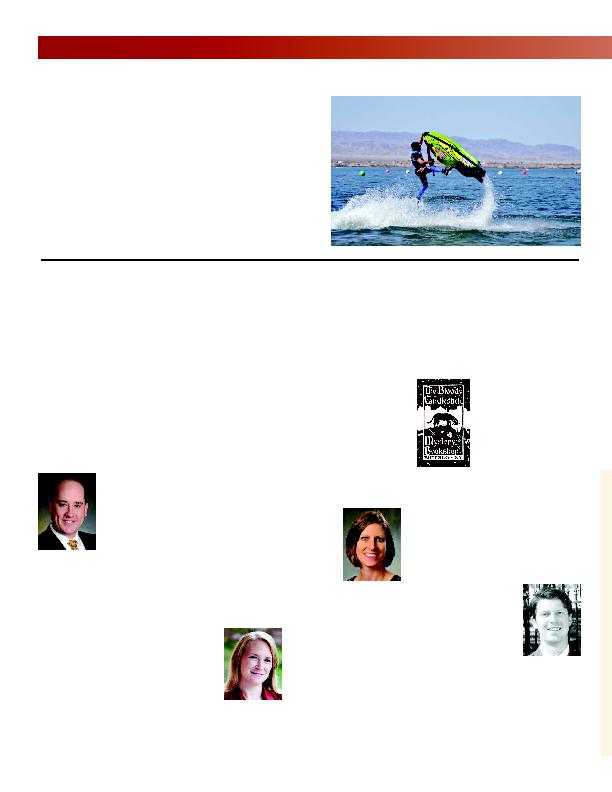 2000 -- Elizabeth (Tascione) Licamele has
been named chief of public communications
for the Central Intelligence Agency (CIA). She
manages the agency's outreach, engagement,
public relations, public website and social
media programs, while also supporting media
relations and internal communications. She
lives in Virginia with her husband, Greg Li-
camele, '99, the director of external communi-
cations for Fairfax County Government and the
chair of a new communications committee for
Mt. Irenaeus that includes alumni from a vari-
ety of years. Elizabeth and Greg have two
daughters. Keri (Guminey) Thoman was pro-
moted to assistant athletic director for Student-
Athlete Support Services and director of
Academic Services at the University of Cincin-
nati.
2001 -- Thomas D. Iwankow is dean of en-
rollment management at Maria College in Al-
bany, N.Y. Kate (Lewis)
Torok was promoted to assis-
tant director of marketing and
communications at St. John
Fisher College. Previously, she
was the department's senior
communication specialist,
and she has been with the
college since 2010. Pamela (Say) Witter was
promoted to executive director of develop-
ment at Houghton College and now oversees
the development division,
which includes major gift of-
ficers, annual fund, steward-
ship programming, planned
giving, advancement serv-
ices, and all other areas of
development. She also main-
tains a portfolio of major
and annual giving prospects and serves as
chairperson of Leadership Allegany. In 2012,
she was awarded the Leadership Cattaraugus
Alumna of the Year award.
2002 -- Melinda (Clemens) McCloud is
director of the Group Home Program at
Hope for Youth, a nonprofit agency serving
youth ages 12 to 21 toward the goal of self
sufficiency and family reunification through-
out Long Island. She lives in West Bay
Shore, N.Y., with her husband, Stewart
McCloud, '02, and their two daughters.
2003 -- Andrew Lohrum
opened a North Buffalo
bookstore -- The Bloody
Candlestick Mystery Book-
shop -- that focuses on
the genres of mystery/de-
tective fiction. Comple-
menting the Hertel
Avenue store is an online
store at www.bloodycandlestick.com,
which carries books in all genres, plus
music, movies, ebooks, and audiobooks.
10th Reunion ~ 2014
2004 -- Maria Pasqualetti completed
her Psy.D. in clinical forensic psychology
from the Chicago School of Professional
Psychology.
2005 -- Rudy Barry was
selected as a Bryce Harlow
Fellow, which is awarded
by the Bryce Harlow Foun-
dation to exceptional
graduate students in the
professional advocacy sec-
tor. Barry is pursuing his
MBA at George Washington University
and is the managing director at Whitmer
& Worrall, a government relations consult-
ing firm in Washington, D.C. Stephon
Johnson completed a political reporting
fellowship at the City University of New
York's Graduate School of Journalism. The
fellowship focused on coverage of city-
ternational office. In that role, he led inter-
national public education, fundraising, com-
munications, marketing and branding
efforts for one of the world's largest health
care charities. Hill is a member of St.
Bonaventure's National Alumni Association
Board and serves in various capacities for
cultural and children's charities in the
Greater D.C. area.
1997 -- Amy (Genagon) Hagovsky joined
The Pew Charitable Trusts in Washington,
D.C. She serves as communications director
for the Global Ocean Legacy project, a posi-
tion that combines her public relations and
campaign skills with her love of the ocean.
15th Reunion ~ 2014
1999 -- For the second
year in a row, Matthew
Dauksza led the Prudential
Empire State Agency to
earn the Agency President's
Trophy Award, a distinction
given to the top agency in
the company's Agency Dis-
tribution sales organization for its outstanding
sales performance and service to the commu-
nity. Dauksza is managing director of the Em-
pire State Agency. Graham Diehl and his
wife, Lori (Fisher), '99, are celebrating 10
years of marriage. Graham graduated in May
2012 with a master's degree in information
technology from Rochester Institute of Tech-
nology's Golisano College of Computing and
Information Sciences with a 4.0 GPA. He has
been working for Bosch Automotive Service
Solutions as a software design engineer since
2007. In 2012 he started the business Apper-
dashery LLC. to develop mobile apps. He's
published five apps within the past year to
Apple's App Store for iPhone, iPad and iPod
touch. The Diehls live in Rochester with their
three children.
Updates
Ryan Doberstein, '11, finished 10th in the world in the Amateur
Freestyle division at the International Jet Sports Boating Association's
World Finals in October in Lake Havasu, Ariz. IJSBA is the worldwide
sanctioning body for personal watercraft competitive racing, and the
World Finals invitation-only policy attracts more than 750 of the world's
best personal watercraft racers.
In August, Doberstein finished third in the Amateur Freestyles at the
2013 U.S. Nationals in Charleston, W.Va.
Doberstein is the operations manager at Eric Malone Enterprises (EME)
in central Pennsylvania. The company made the first aftermarket standup
jetski hull and continues to be an industry innovator. Doberstein is spon-
sored by EME, along with Slippery Wetsuits, Attain Clothing, RnR2Stroke
and Smooth Gator.
Doberstein welcomes emails from alums at Fphoto@me.com.
Doberstein secures Top 10 finish in personal watercraft racing