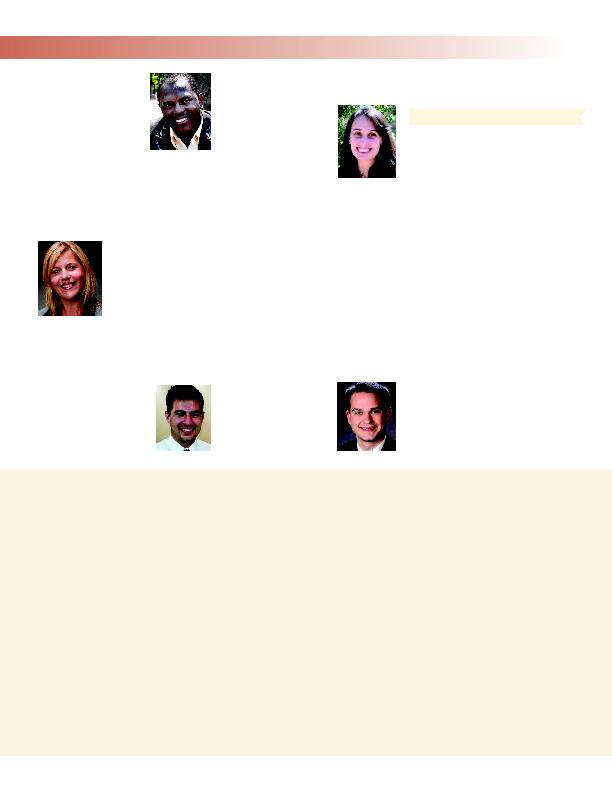 wide elections and how to
deliver the best coverage
possible on issues impor-
tant to New York City's var-
ious ethnic communities.
During the fellowship,
Johnson first broke the
story of Anthony Weiner's
run for mayor. Johnson is a staff writer for
the New York Amsterdam News, the largest
black newspaper in the country. Tera L.
White relocated to Central Florida, where
she is a resource development specialist for
the Children's Home Society of Florida.
Jamie Zielonko of Buffalo was promoted to
senior account executive at
SKM Group, a full-service
marketing communications
agency. Zielonko has been
with the agency since 2010
and she works on the TOPS
Friendly Markets account
service team. She is a mem-
ber of the Advertising Club of Buffalo.
2006 -- Daniel Rettig is in his first season
as head golf professional at Tri-County
Country Club in Forestville, N.Y.
2007 -- Luke Donius com-
pleted his Ph.D. in microbiol-
ogy and immunology at the
University of Utah. The title
of his thesis was "Comple-
ment receptors 1 and 2:
functionally independent bridges for innate
enhancement of humoral immunity."
2011 -- Mary Schrader is
the outreach coordinator at
The Old Jail Art Center in Al-
bany, Texas. She graduated
from Syracuse University
with a Master of Arts de-
gree in museum studies in
May 2013.
2012 -- Alicia D'Alessandro graduated
from AmeriCorps National Civilian Commu-
nity Corps program in July. She began her
term of service in October 2012. Kelsey
Barton completed a master's degree in
childhood literacy at St. Bonaventure and is
now working for Prince George's County
Public Schools in Maryland as a first-grade
teacher at Templeton Elementary School.
Emily Call is a reading teacher for grades
first through fifth at Notre Dame Academy in
South Buffalo. Allison Kotz is an early child-
hood intervention teacher at Four Seasons
Elementary School in Gambrills, Md. Tara
Maxwell is teaching fourth grade at
Springhill Lake Elementary School in Prince
George's County, Md.
Nathan Opferbeck joined
Buffamante Whipple Butta-
faro, P.C., as a staff account-
ant in the Jamestown office.
He is involved in preparing fi-
nancial statements related to
compilations, reviews and audits, in addition
to preparing tax returns for individual and
business clients.
Please take a short alumni survey @
www.sbu.edu/2013GradSurvey
2013 -- Megan O'Donnell is working full
time at UBMD Internal Medicine in Amherst,
N.Y., as the marketing assistant and attends
St. Bonaventure's IMC graduate program at
the Buffalo Center. Lauren Pingelski lives in
South Jersey and works for Pricewaterhouse-
Coopers in the Assurance (audit) department
in Philadelphia. Pingelski works in the asset
management sector and deals with corpo-
rate and fund accounting and real estate
clients. She's completed two of the four
parts of the CPA exam and hopes to com-
plete the exam soon. Cristabell Ramdial is
a maritime specialist with International Reg-
istries Inc. She works in the company's Madi-
son Avenue office and registers ships,
tankers and bulk carriers coming into the
Marshall Islands. In addition, she works with
huge law firms and banks in various coun-
tries to record and deliver mortgages on
these vessels. "One really great aspect about
my job is that I get to interact with people
from many countries -- my communications
background helps a lot with this!" she
writes. Jeremy Tranzillio lives in Amherst,
N.Y., and is working as an analyst in the
product control group at Citigroup.
A directory of deceased alumni is available on Bona's Online. Not a member of Bona's Online?
Visit www.sbu.edu/bonasonline to register.
I
N

2
-
2
Alumni Deaths
Rev. Francis T. Hogan, '43, Melbourne, Fla.
Rev. Edward J. Ryan Jr., '43, Troy, N.Y.
William G. Dillon, '48, Berlin, Md.
Dr. Salvatore J. Dalberth, '49, Rochester, N.Y.
Rev. Paul J. Antos, '50, Niskayuna, N.Y.
John L. Maracle, '50, Rochester, N.Y.
John P. Milne, '50, Webster, N.Y.
John G. Priest Jr., '50, Skaneateles, N.Y.
Rev. Marion M. Tolczyk, O.F.M., '50,
Bridgeport, Conn.
Rev. Roch A. Coogan, '51, St. Petersburg, Fla.
John R. Hooper, '51, Delmar, N.Y.
James W. Mulroy, '51, Dedham, Mass.
Nicholas Naccarella, '51, Penfield, N.Y.
Donald M. "Bud" Priest, '51, Hamden, Conn.
Dr. Anthony S. Sgarlato, '51, Staten Island, N.Y.
James P. "Zack" Ward, '51, Great Valley, N.Y.
Godfrey Cappe, '52, Plainville, Conn.
Richard B. Lawlor, '52, Monroe Township, N.J.
Alba C. Palmer, '52, Hilton, N.Y.
Col. John "Jack" Caruso, '53, Salamanca, N.Y.
Anthony Sangiuolo, '54, Yonkers, N.Y.
Francis X. Elinski, '55, Buffalo, N.Y.
Raymond A. Mahar, '56, Rochester, N.Y.
Donald L. O'Neil, '56, Sodus, N.Y
William J. Sader, '56, Olean, N.Y.
James A. Greco M.D., '57, Saint Marys, Ga.
Robert J. Charbonneau, '58, Barrington, N.Y.
Stanley J. Giermek, '58, Abingdon, Md.
Thomas B. Barry, '59, Waynesville, N.C.
John C. Mahaney, '59, Summit, N.J.
William K. Kane, '60, Bronx, N.Y.
Dr. Robert Lederman, '60, West Bloomfield,
Mich.
Sr. Margaret E. Beall, O.S.F., '61, Towson, Md.
Thomas A. Callahan Sr., '62, Manahawkin, N.J.
Orris "Orrie" E. Jirele, '62, Albert Lea, Minn.
William T. Repp, '63, Victor, N.Y.
Richard L. Burns, '65, Summerfield, Fla.
Joseph P. Fitzgerald, '65, Alexandria, Va.
George N. Kayatta, Ph.D., '65, New York, N.Y.
Timothy J. Rinker, '65, Cuba, N.Y.
William F. Bryson, '67, Wanaque, N.J.
Richard G. Lisi, '67, Olean, N.Y.
Francis X. Hiney, '68, Milford, N.H.
Rev. John P. Rohan, '68, East Hartford, Conn.
Ronald Polanski, '69, Lancaster, N.Y.
Leonard Janicki, '70, Lancaster, N.Y.
Patrick M. Blocher, '74, Weston's Mills, N.Y.
Dennis J. Amore, '72, Friendship, N.Y.
Janet E. Driscoll, '72, Huntersville, N.C.
Eileen (Sherman) Burdick, '75, Elmira
Heights, N.Y.
Theresa A. (Vallone) Reiser, '76, Vestal, N.Y.
Patrick J. O'Rourke, '78, Tempe, Ariz.
James F. O'Brien, '81, Corning, N.Y.
Anthony C. Wronski, '82, Lockport, N.Y.
Kathleen A. Dudley-Perry, '98,
Round Lake, N.Y.
Tyler S. Davis, '16, Rochester, N.Y.
In Memoriam:
Fr. Maurice Sheehan, O.F.M., Cap., died
Sept. 8, 2013, in Pittsburgh. In 1979,
Fr. Maurice joined the faculty at the Francis-
can Institute at St. Bonaventure, and also
served as its assistant director. He remained
at the university until 1990.