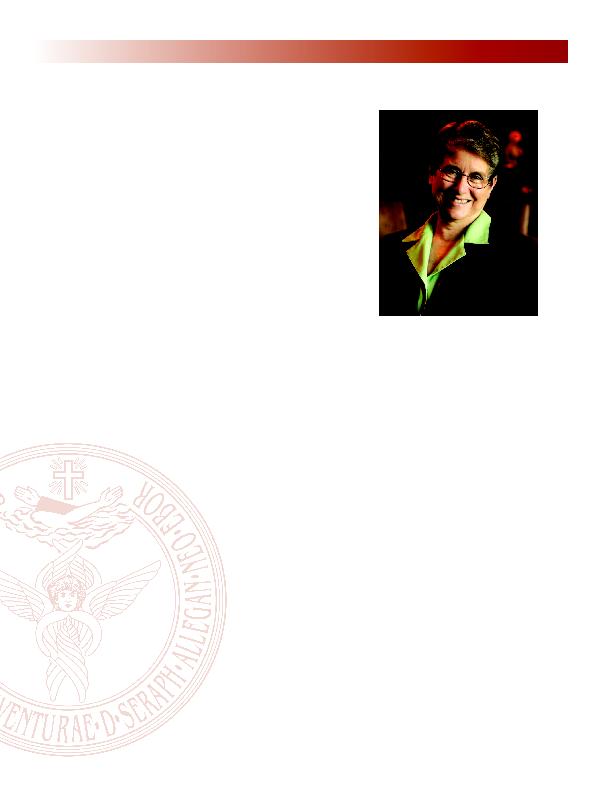 I
N

2
-
2
From the President
Board Chair
Board Vice Chair
Fr. Frank R. Sevola, O.F.M., '82
Board Secretary
Lana D. Benatovich
Janet I. Bodnar, '71
Laurie A. Branch, '04
St. Bonaventure University Board of Trustees
Timothy J. Finan
Thomas M. Garvey, '74
Albert C. Horton, '66
Robert P. Kane, '78
Dr. Bharat Kohli
Cindy Abbott Letro
James E. Meyer, '76
Eugene M. O'Connor, Esq., `79
Very Rev. John F. O'Connor, O.F.M.
Fr. Kenneth P. Paulli, O.F.M.
Les Palm
Very Rev. John Puodziunas, O.F.M.
William Purcell III
Yvonne Minor Ragan
John V. Sponyoe, '61
James E. Stitt
Marvin W. Stocker, '75
Bernard E. Stoecklein
Trustees Emeriti
The Hon. Howard M. Holtzmann
Robert R. Jones, LL.D., '58
Charles Osgood, LL.D.
James E. Canty, '84
James J. Cattano, '65
Daniel F. Collins, '73
William M. Collins, '76
Kathleen A. Colucci, '77
Fr. Thomas E. Conway, O.F.M.
Joseph A. DeMaria, Esq., '79
Colette C. Dow, '88
Timothy F. Fidgeon Esq., '66
H
ard to imagine what the
World Series champions
have in common with the
state of higher education in this
country, but Dr. Brian Mitchell
draws a compelling parallel.
"Boston was a storied fran-
chise badly tarnished that had re-
gained its sense of self. Each
individual contributed differently
while sharing a common purpose
and focus -- to imagine the pos-
sible. It worked," says Mitchell,
director of the Edvance Founda-
tion.
"Like the Red Sox, it's time that
higher education worked more
closely together -- collectively,
purposefully and with enthusi-
asm -- to imagine the possible."
nounced in October plans to ex-
plore building on our 20-year
partnership with Hilbert College,
I'm sure many of our alumni and
friends probably wondered why
we have chosen this dramatic
strategy.
But the feasibility study with
our Franciscan friends in subur-
ban Buffalo is a proactive initia-
tive, necessitated by the rapidly
shifting landscape in higher edu-
cation, whose reputation has
been tarnished by both the
media and the government.
St. Bonaventure has made re-
markable improvements to its in-
frastructure over the last decade
and added exciting and innova-
tive new academic programs, in-
cluding two at the graduate level
But the challenges of operating
a private university in an eco-
nomically and demographically
stagnant region aren't going
away anytime soon. The
prospective student population is
eroding in our primary markets
and the continued loss of good-
paying jobs makes it increasingly
difficult for those families who
are still here to afford a quality
education.
Examining how we might be
able to more closely align with a
valued partner is just good busi-
ness sense. The two campuses
are only 60 miles apart. St. Bona-
venture has offered a robust
graduate program on the cam-
pus of Hilbert for the past two
decades.
While the feasibility analysis is
a "discovery process," we
wouldn't be investing in this ef-
fort if we didn't think there were
likely some ways in which we
could collaborate more closely
and achieve greater synergies.
This is the right time to em-
brace new thinking and collabo-
ration in higher education, and
to consider changes that will
serve our communities presently
and in the years ahead. The pur-
pose of this study starts -- and
ends -- with students who de-
serve the very best higher educa-
tion experience we can provide.
Dr. Cynthia Zane, president of
Hilbert, and I firmly believe that
higher education has to do more
to create synergies between institutions
to drive program and curriculum inno-
vation, attract top students and faculty,
keep rising costs in check, and offer
life-changing educational opportuni-
ties.
Our Boards of Trustees agree.
"Leading U.S. colleges and universi-
ties are turning to new models and ini-
tiatives," said Raymond Dee, '64,
chairman of SBU's Board of Trustees.
"We owe it to our institutions and the
people we serve to stay out in front of
higher education change, and be rele-
vant, innovative and competitive."
And, like the Red Sox, if we do it col-
lectively, purposefully and with enthusi-
asm, anything is possible.
Pax et Bonum,
Sr. Margaret Carney, O.S.F.
President of the University
Higher ed -- as American as baseball and apple pie