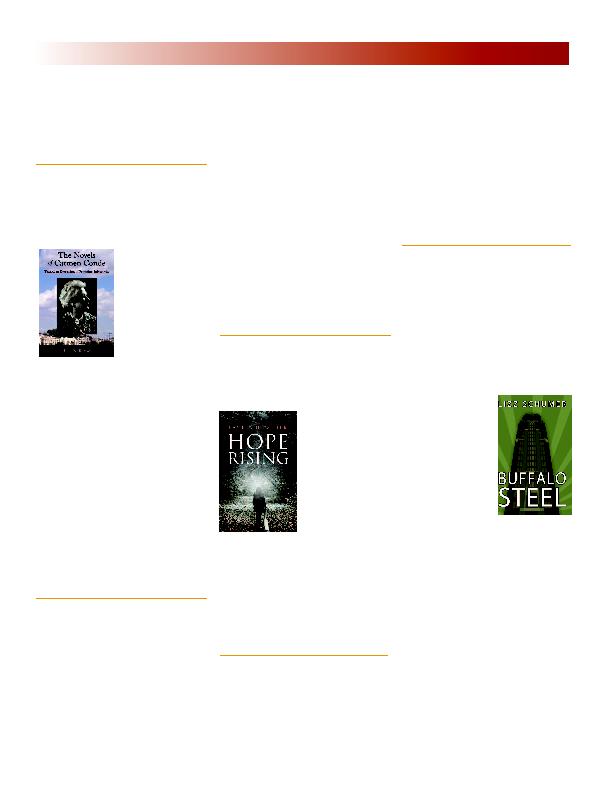 I
N

2
-
2
Off the Shelf
"It's Always Okay to Be Me" is full of
humorous, tragic, and near-death experi-
ences, described by the author as "a tri-
umph of recovery and self-love through
the help of a power greater than all of
us."
Lisa Nalbone, '87, published "The Nov-
els of Carmen Conde: Toward an Expres-
sion of Feminine Subjectivity (2012)."
Conde (1907-1996), a distinguished
Spanish poet considered a pioneer in her
field, wrote eight
novels between
1935 and 1985 that
have received scant
critical attention. This
is the first critical
analysis of these nov-
els, a study of the fe-
male protagonist's
role beyond the pa-
ternal, domestic do-
main that focuses on
the constructs of these protagonists in
20th century Spanish literature.
Conde's perception of womanhood
blossoms first from within the boundaries
of hegemonic discourse and then evolves
to deracinate the premises that marginal-
ize the feminine. Her female protagonists
for the most part exist as autonomous
entities who speak beyond the ears of
androcentricity as the textual (re)inscrip-
tion of their gender allows them to ap-
propriate their surroundings.
Nalbone, an associate professor at the
University of Central Florida, majored in
Spanish at SBU. She received her M.S.
from Georgetown University and Ph.D.
from Florida State University. She lives in
the Orlando, Fla., area with her husband
and three children.
A new book by Michael D. Krause,
'96, is a step-by-step guide to reaching
potential customers where they want to
be met, without wasting time on fruitless
cold calls.
"SMART Prospecting That Works Every
Time" (McGraw Hill) was released March
8, 2013.
In the title of the book, SMART is an
acronym for Solutions Measure Attitude
Resilience Trusted advisor. Krause fully ex-
plains his proven SMART process in the
book, along with providing pertinent
questions and forms to assist experienced
and novice sales professionals work more
effectively. This proven method, he says,
balances social media marketing strate-
gies, online applications, and traditional
appointment setting techniques to help
every salesperson connect with more
clients and close more sales.
Having sold more than $100 million in
products and services, Krause knows the
challenges sales leaders, entrepreneurs
and business professionals face every day.
He has spent more than 20 years in pro-
fessional sales, consistently achieving
high levels of success in sales, manage-
ment and training.
He is the president and founder of Sales
Sense Solutions, Inc., which helps clients
create measurable results using Fortune
500 strategies, tactics, and tools.
Pamela (Say) Witter, '01, is the author
of "Hope Rising," which captures the riv-
eting story of a businesswoman desper-
ately trying to save her teenage daughter
from the minefield of youth.
pression, high school
freshman Ellie toys
with dangerous be-
haviors, inadvertently
stirring up memories
from her mother's
past. Mom Anastasia
finds a way to tell
Ellie her own painful
story -- from seri-
ously troubled teen
to astoundingly successful professional --
in an effort to pull her daughter out of
the darkness.
"Hope Rising" explores the raw emo-
tion and honest reality of life for an at-
risk teen, while offering inspirational
hope that transcendence is possible; that
we can discover peace amidst pain and
joy after tragedy.
Melinda (Clemens) McCloud, '02, has
published a novel, "Fifty Shades of
Crazy," a funny yet poignant look at the
experiences of a burnt out social worker.
Belinda McStorm is a social worker, an
MSW, licensed by the state, unlike other
kinds of caseworkers she encounters in
her line of work. Belinda feels that at its
heart, her work can be boiled down to
helping people become more compliant
with social expectations. However, lately
Belinda has been feeling that she herself
can't even comply with social expecta-
tions, though she has become very good
at behaving in a socially acceptable way
with others. Lately she doesn't care what
society wants or expects.
The book is available on Amazon and at
other retailers, in paperback and ebook
format.
After growing up under the twin
specters of the shuttered Bethlehem Steel
plant and the cross-topped spires that
shadow the dreams of its residents, "Buf-
falo Steel" finds its narrator setting off to
seek her own spirit, away from the forces
that forged her. Firmly grounded in the
historical and cultural context of the
Queen City, this lyrical journey by Lizz
Schumer, '08, explores how a child
raised in a conservative, religious culture
can free herself from
the bonds that made
her without losing her
place in that world.
stories connected by
threads of historical
anecdotes and biblical
touchstones, the nar-
rator explores her
own changing views
on what it means to
be part of a society,
whether by birth, assimilation or a combi-
nation of the two.
After a spiritual awakening leaves her
skeptical of the world in which she was
raised, she seeks solace in a Catholic col-
lege that offers faint echoes of the home
that cradled her childhood.
There, she learns to worship at new al-
tars, as the university culture infiltrates
her quest for meaning. That quest sees
her travel to Oxford, Dublin, Italy, Wash-
ington, D.C., and back again, finding dis-
placement and disillusionment
everywhere she lands. Along the way, she
discovers that her identity has been wait-
ing all along.
Schumer is a writer, reporter and pho-
tographer who lives and works in Buffalo.