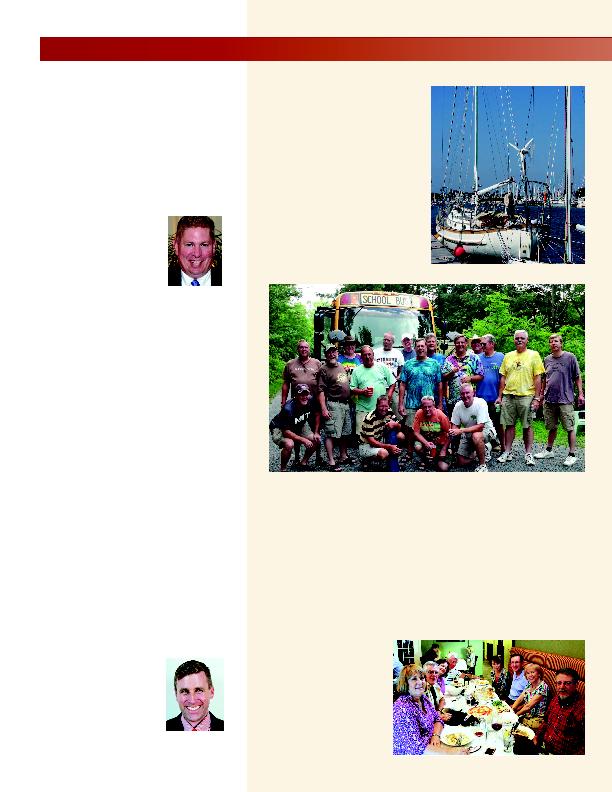 dler, Ariz., as well as an adjunct faculty member
for Ottawa University online education courses.
1990 -- Bill Moffitt was promoted to lieu-
tenant in the town of Westfield (N.J.) Police De-
partment.
1991 -- Franklin County District Attorney Derek
P. Champagne was awarded the 2013 Prosecu-
tor of the Year award by the New York Prosecu-
tors Training Institute. The award is given to a
prosecutor who exemplifies strong leadership, is
responsible for innovative and
important programs, and
thereby enhances criminal justice
throughout New York state. Also
mentioned during the presenta-
tion of the award were Cham-
pagne's appointments to the
Moreland Commission, vice
chair of the New York State Sentencing Commis-
sion, counsel to the Law Enforcement Council,
past president of the New York State District At-
torneys Association, board director for District
Attorneys Association of the State of New York,
and his participation on both Attorney General
Eric Schneiderman and Gov. Andrew Cuomo's
transition teams.
1992 -- In her first year as vice president of
marketing and communications at Saint Vincent
College, Suzanne Wilcox English and her
team assisted the college in achieving a 38-per-
cent increase in freshman enrollment over the
previous year, bringing in the second-largest
class in college history. The enrollment increase
was the result of a campuswide effort led by
President Br. Norman Hipps, O.S.B., with further
goals of maintaining enrollment and increasing
selectivity at the 2,000-student institution. Dur-
ing the year, Saint Vincent's billboard campaign,
titled Ready for Your Future and featuring the
new $39 million Dupré Science Pavilion, won a
gold Marcom Award and a historical video com-
memorating the 50th anniversary of a devastat-
ing fire, "Fire and Ice," earned a Telly Award.
Wilcox English is a proud graduate of St.
Bonaventure with a degree in journalism and
mass communication and of The University of
Findlay (Ohio), where she earned an MBA in or-
ganizational leadership.
1996 -- Michael Hill is president and CEO of
Youth For Understanding USA,
which advances intercultural
understanding, mutual respect
and social responsibility
through educational exchanges
for youth, families and commu-
nities. Prior to joining YFU, he
served as senior vice president
of external affairs for United Cerebral Palsy's in-
Alumna sets sail
for new adventures
Diane M. Bergeron, Ph.D., '92, and
her husband, Matt, decided, spur-of-
the-moment, to sell their house, buy a
boat and sail around the Atlantic for a
year with their two young sons. Berg-
eron requested a one-year unpaid
leave of absence from her position as a
research professor at Case Western Re-
serve University. They set sail from An-
napolis, Md., and are blogging about
their adventures at www.SailingUn-
chartedWaters.com. Bergeron would
love to hear from former classmates.
Alums get together for Bake on the Lake
At the third annual Bake on the Lake at Keuka Lake, St. Bonaventure alumni get
ready to head to a Furthur concert in upstate New York in July. Pictured are (front
row) Dan "Skunk" Essler, '79, Jack Modrak '79; and Bill Conway, '82; (second
row) David "Sniff" Cunniff, '79; Ron Scardetta '79; Rod "Stanky Brown"
Stankewicz, '83; Mike "Smokey" Stets, '79; Ed Wodarski, '79; Mike "Herm"
Varecka, '79; Mike "Slick" Pickert, '79; (back row) Bob Stratford '79; Chris
Keenan, '79; Tom "Pick" Pickert, '81; Mike Stratford, Tim "Duga" Hackbarth,
'79; Jim "Genesee" Terrell, '79. Alumni who attended but aren't pictured include
Peter Fennell, '79; Dan Errico, '82; Paul Eberst, '81; Marty Reidy, '80; Mike Spal-
lone, '79; John Boegel, '81; Andy Zamow, '79.
Pictured at what has be-
come an annual First Rob
(back wing) mini-reunion
are (from left) Linda Harvi-
son; Bill Reed, '75; Jodi
(Kessing) Quigley, '75; Dr.
Bill Hulbert, '75; Leslie
Hulbert; Jack Quigley, '75;
Valerie (Mottes) Reed,
'77; and Carl Harvison,
'75.
Mini-Reunion for First Rob floormates
Updates