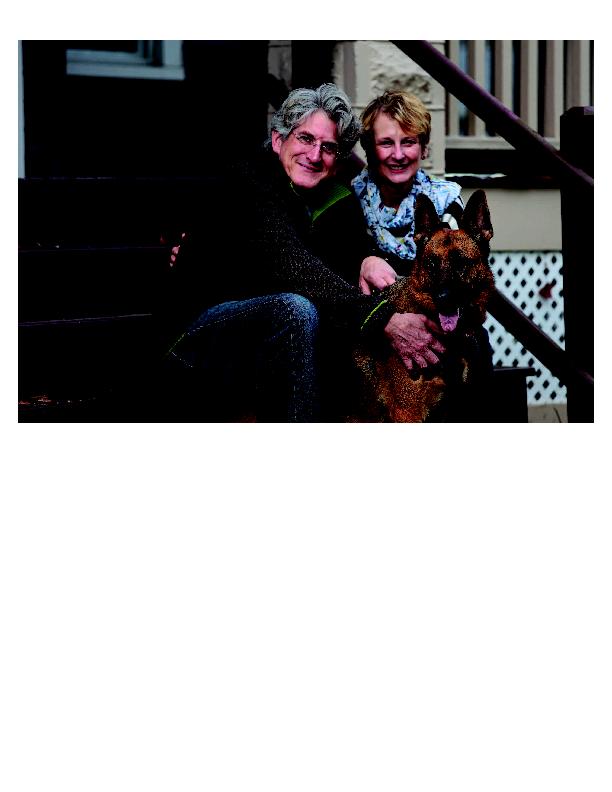 He chose Binghamton University, where he studied with
world-class actors and professors, including Arthur Lessac, and
earned a master's degree in theater.
A few years of teaching led him back to his passion. He went
the free-lance route for four years, staying busy with directing,
voice-over, commercial, and acting work that took him all over
the country from his home base of Black Rock, Conn.
Now married to Leigh, who was an executive recruiter for
Korn/Ferry International, in 1993 the couple decided to go
back to school. Both were admitted to graduate programs at
Texas Tech; a Ph.D. program in theater for Ed. and a master's
program in Spanish for Leigh. She later earned her Ph.D. from
Tech as well.
"I did a tremendous amount of voice-over work while we
were in Texas since I didn't sound like a Texan," recalls Simone,
who was hired as a faculty member at Texas State after earn-
ing his Ph.D.
"So here we are living in south Texas, and Leigh tells me one
day that there's an opening for a Spanish professor at St.
Bonaventure. She got the job, and we truck back north --
back to our Bonaventure home."
arts
humanities
Ed. and Leigh Simone with their pooch, Kiva.
The dramatic
journey of
Ed. Simone, `78
Those 6 words have sent chills through the spines
of parents and mentors for generations. "It's not
realistic to think you can earn a living as an actor,"
say many parents, family members, teachers, and
guidance counselors. St. Bonaventure theater
professor Dr. Ed. Simone sees that aspiration
very differently.
By Emily Sinsabaugh | Photography by Danny Bush, '13
Simone has not only made a living as an actor, but he's
cultivated a rich, diverse, and fulfilled life.
Growing up in Saratoga Springs, N.Y., Simone was sur-
rounded by the arts and fearlessly pursued his dream, first
by enrolling in the BFA program at Ithaca College, then
transferring a year later to St. Bonaventure after being in-
vited to a cast party following the production of "Blythe
Spirit" in the Garret Theater. The production featured
Leigh Berezney, '77 -- who would one day be his wife.
Simone found a rich academic tradition at St. Bonaven-
ture that supported his interest in theater, and ultimately
gained him admission to every graduate school to which
he applied.