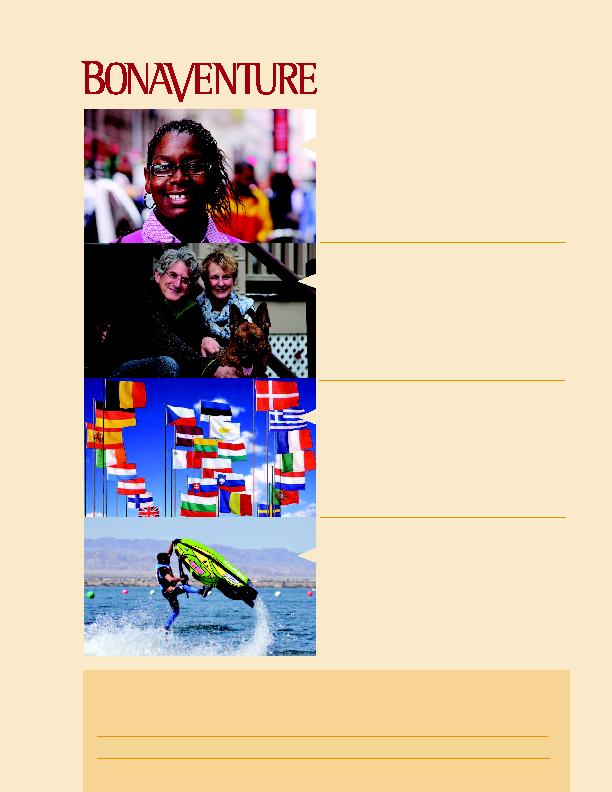 Editorial Advisory Board
Beth Eberth, editor
Susan Anderson, '11
Lisa Biedenbach, '76
Br. F. Edward Coughlin, O.F.M., '70
Mary Driscoll, '79
Vol. 6, No. 1, WINTER 2013-2014
St. Bonaventure, NY 14778
On the Web: www.sbu.edu/bonamag
Submit class notes: bonalumnus@sbu.edu
Address changes: alumni@sbu.edu
Additional contacts: Office of Alumni Services, (716) 375-2302
Bonaventure: The Magazine of St. Bonaventure University is produced twice a year by the Office of Marketing and Communications.
TheMagazine ofSt.Bonaventure University
On the right track
Just two months after graduation in 2009, Keishia
Blake started her first job in New York City. Now, as a
fourth-grade math and science teacher in Harlem,
she balances her bustling city life with the quietude
of her Bonaventure roots. Meet Blake and 19 other
young alumni whose careers are on the right track.
The dramatic journey of Ed. Simone, '78
For theater major -- and now theater professor --
Ed. Simone, St. Bonaventure's strong foundation in
the arts and humanities gave him the ability to
successfully pursue his dream. With "one foot in
the business," he brings that electricity back to the
classroom.
Wall Street and the world
After nearly 10 years in campaign politics, Matt
Dabrowski, '14, now evaluates political
developments across the globe for Citigroup.
Departments
Editor's Letter . . . . . . . . . . . . . .4
Franciscan Minute . . . . . . . . . . .5
Our Gifts. Their Future . . . . .20
Off the Shelf . . . . . . . . . . . . . .24
Class Notes . . . . . . . . . . . . . . . 26
Honor Roll of Donors . . . . . . .34
Joe Flanagan, '74
Steve Mest, '91
Tom Missel
Dr. Todd Palmer
Carri (Gregorski) Prue, '04
Dr. Emily Sinsabaugh
Jordan Steves, '09
Mary Jane Telford, '75
Jocelyn Thomas, '77
Contributors
Andrea Westerlund, '10, '12
18
21
7
Photography
Danny Bush, '13
Illustrations