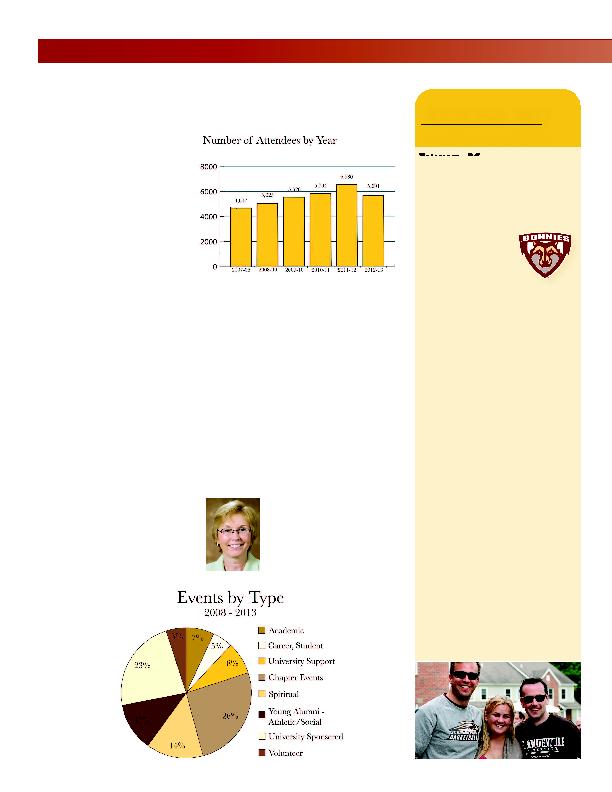 nies together. While the specifics vary from place
to place, our chapter leaders make sure the St.
Bonaventure spirit always shines through.
This year we are focusing also on our academic
strengths. Our deans and faculty thank alumni
who assist them while they are on the road visit-
ing communities, enriching the student experi-
ence, and presenting the value of St. Bonaven-
ture University. A good example of this is the full
day of community engagement in Rochester as-
sociated with this year's "Meet the Deans" pro-
gram.
Together these efforts serve to sustain the
essence of the St. Bonaventure experience and
keep the commitment to provide our students
with pathways to internships, jobs and graduate
schools.
Monica Mattioli, '77
Executive Director of
Alumni Operations
Phone: (716) 375-2187
Email: mmattioli@sbu.edu
Partnering with you today. Making a difference for tomorrow.
Men's Basketball Pre-game Reception
@ Duquesne, Pittsburgh, Pa.
Bona Pride Day, worldwide
Homecoming Weekend:
Bonnies Men's Basketball
faces Dayton at home.
Men's Basketball Pre-game Reception @
George Mason University, Fairfax, Va.
Bonnies Softball Charlotte (N.C.)
Tournament
Bonnies Baseball Snowbird Classic, Port
Charlotte, Fla.
Atlantic 10 Women's Basketball
Championship, Richmond, Va.
Atlantic 10 Men's Basketball Championship,
Barclay's Center, Brooklyn, N.Y.
Charlotte Alumni Chapter to participate
in St. Patrick's Day Parade, Charlotte, N.C.
Gaudete Medal Awards Ceremony and
Dinner, Rochester
Senior/Alumni Candlelight Induction
Ceremony, campus
Alumni Reunion Weekend, campus
A
review of trends in St. Bona-
venture alumni events is
sure to spark interest. Let's
have a closer look at how those
trends express alumni interest and
university response.
We Bonnies love to get together
for fun and sports, so it is no surprise
that attendance numbers in the
"Athletic-Social" category are quite
robust. There was a spike in this cat-
egory associated with both the men's
and women's basketball teams'
NCAA runs. At that time, the num-
ber of events and variety of venues
increased with post-season play.
Another favorite category is "Spiri-
tual." Alumni around the country al-
ways respond positively to the arrival
of Franciscans in their hometown. In
addition to the very impactful and
student focused "Mountain on the
Road" program, friars celebrate
Masses in many cities throughout
the year, and Franciscan scholars
often present retreats and programs
for alumni and friends. It is encour-
aging to know that our Franciscan
heritage continues to be borne out
in our current student population
and will, therefore, persist into the
future.
The dedicated efforts of wonderful
leaders are evidenced in the "Chap-
ter Events" category. At chapter
events, alumni of all decades partic-
ipate in activities that gather Bon-
Alumni events recap