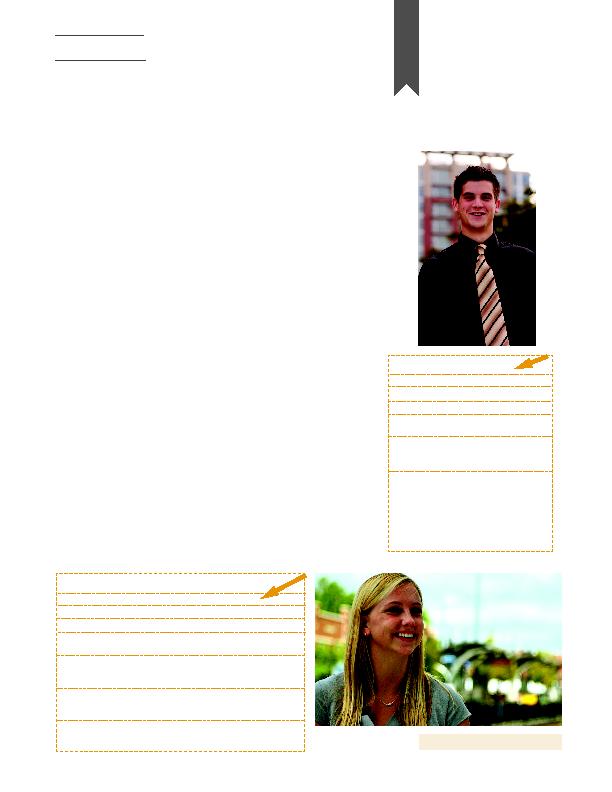 he pages of Bonaventure magazine are typically populated with the stories
of our successful alumni, people at the pinnacle of a career or service ven-
ture. These are interesting, entertaining and inspiring stories to tell and read.
But, a recent alumni survey stopped us in our editorial tracks. The survey
of the members of the class of 2012 found some 95 percent were employed full time
or in graduate school within six months of graduation. Earlier surveys of this nature
reported as high as 97 percent employed or in graduate school six months after
Bona's. We suspected our young alumni must have interesting stories to tell, and they
didn't disappoint.
We visited Charlotte, N.C., Baltimore, Md., Washington, D.C., Fairfax, Va., New
York, N.Y., and Buffalo, N.Y., to find the stories behind these statistics -- alumni at
the early-to-mid-career stage who are thriving professionally or enrolled in graduate
or professional school at some of the nation's top universities.
What we found is this: They're beating the odds in the job market and in some of
the most competitive graduate programs. Even in fields like education and communica-
tions, where employment opportunities can be scarce in some regions, our young
alumni are in dream jobs -- and loving every minute of it. Some called it the "Bonaven-
ture advantage."
Joe Ryan, '96, a managing partner at Mindseeker in Charlotte, says St. Bonaven-
ture alumni are easily finding work in finance, IT, and education in North Car-
olina. "They are hard workers and they seem to fit in and do a great job. They
have a good reputation down here."
Mindseeker is in the business of IT staffing, financial services consulting, and
risk management. Ryan and co-managing partners Marty Ryan '96 (his twin
brother) and Tom Lamendola, '98, '99, have populated their offices in Char-
lotte almost entirely with Bonaventure graduates. And they've successfully
placed many Bona alumni in entry- through senior-level positions in the region.
"I think the Franciscan values and environment give a lot to students during
their four years at St. Bonaventure. It gives them the values of working hard
and being honest, which makes them great when they graduate and go into
the working world," Ryan added.
The images, stories and video we collected paint a very promising picture for
future graduates, as they also reflect senses of optimism, determination, reflec-
tion, hope and joy. Indeed, our young alumni stories are also interesting, enter-
taining and inspiring as they make you want to shout: Go Bona's!
I
N

2
-
2
Journalism/Mass Communication
Panel Manager for Residential Evaluation Services
at Wells Fargo in Charlotte, N.C.
My job is to find appraisers who are
certified and credible to complete residential evaluations for
The teachers, the community around campus,
and the students are all awesome. I love everything about
Bonaventure and I would do it all over again.
At Wells Fargo we have the Heart Walk,
and I did the walk with a group of people from work.
RIGHT TRACK

S
Meet some of our young alumni who have already made a mark
Operations Analyst, Bank of
I feel that with a general MBA
from SBU you can go wherever you want
Network, Network, Network:
small school you meet a lot of people
and establish new connections -- and
not just in the Western New York area. I
came down to Charlotte for a month and
(now) I work for one of the biggest com-
Meet 18 more young alums >>