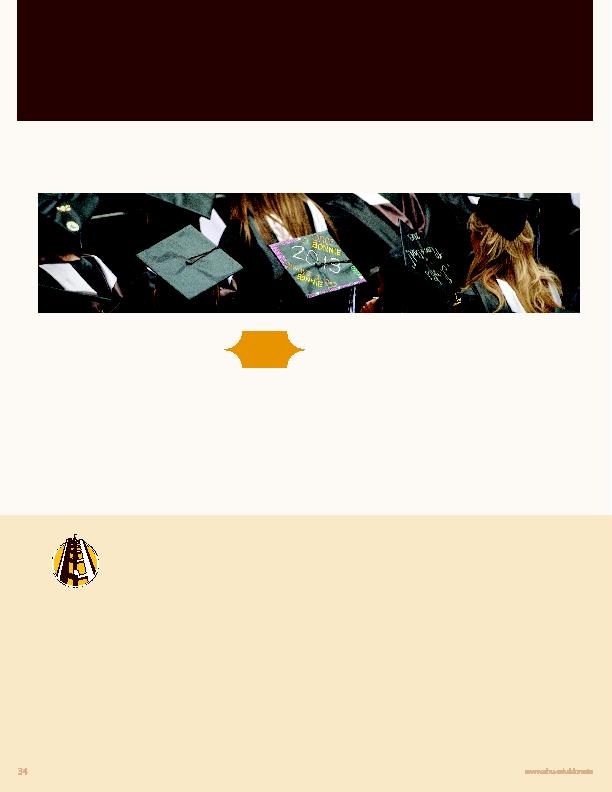 Your support sets St. Bonaventure apart
June 1, 2012 - May 31, 2013
St. Bonaventure University gratefully acknowledges all gifts and grants received by the University during Fiscal Year 2013 (June 1,
2012, through May 31, 2013). Being conscious of the university's carbon footprint, this report reflects a partial listing of donors
(those who have given at the Merton's Heart Club level and above). A full listing of donors is available at
www.sbu.edu/donorhonorroll.
Please note that alumni donors are listed by class year and giving society.
have often noted that St. Bonaventure's
alumni and friends are the magnetic
force that draws our student body for-
ward. You are the example of success our stu-
dents seek to follow, and you help provide the financial
foundation they need to succeed in their collegiate careers.
In reviewing our Honor Roll of Donors, I am once again re-
minded of the good work that can be done when many come
together.
While your name may reside on the following pages, please
be assured that the impact of your gift is felt campuswide. You
are the new art exhibit at the Quick Center for the Arts. You
are the reason for the interactive lecture taking place this
evening in the Financial Services Lab of the Swan Business
Center. You are behind every point scored by our Atlantic 10
teams.
Thank you for your commitment to the vision and mission of
the university -- for being willing to network with our stu-
dents, hire our graduates, and give of your time and treasure.
Your assistance is a vital part of what creates Bona's unique
and distinctive brand of higher education.
To put it simply: Your support sets St. Bonaventure apart ...
and for that, we thank you.
Pax et Bonum,
Sr. Margaret Carney, O.S.F., S.T.D.
President of the University
President's
Message
A partial list of Fiscal Year 2013 donors was included
in the print version of Bonaventure magazine.
To view the complete Honor Roll of Donors,
please click anywhere on this page
or visit
www.sbu.edu/donorhonorroll
EXCLUSIVE WEB CONTENT FOR
ST. BONAVENTURE ALUMNI AND FRIENDS