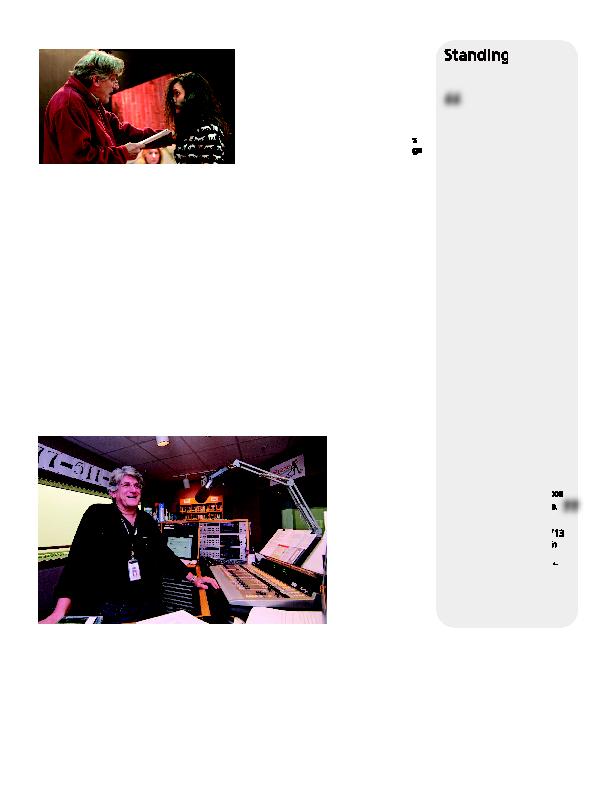 Simone says the couple never let a year pass
without returning to campus for reunions and
other visits, even while living in Texas.
"We would see shows in the Garret Theater
and the Quick Center. We did an alumni pro-
duction of `The Play is the Thing' that in-
volved a number of alumni from the '70s and
'80s. We all came out for about a week in the
summer and rehearsed and put it up. It was
cool."
Now back in Western New York, with Leigh
in a tenure-track position, Ed. was acting and
teaching at Studio Arena Theater in Buffalo,
acting on tour, broadcasting on Classical
94.5/WNED, and serving on the Arts Council
at St. Bonaventure.
"I knew that my mentor and theater pro-
fessor Steve Gray-Lewis was heading toward
retirement. Dr. Jim White, dean of arts and
sciences, and I, along with the visual and per-
forming arts chair, Dr. Les Sabina, started talk-
ing about theater as a major. When Steve
retired in 2003, I was hired full time and
started about establishing the major, which
we rolled out in 2007."
Simone likes to think of St. Bonaventure's
program as "the theater major with an insur-
ance policy."
"The B.A. is not designed to send students
on a narrow track to a life only as an actor or
director. It's about exposing them to a solid
foundation of knowledge coupled with varied
practical experiences that enable them to pur-
sue a wide range of opportunities, including
acting, directing and stagecraft, but also in
business or education -- really any field. Our
graduates have a liberal arts education that
makes them well-rounded, adaptable, critical
thinkers with an entrepreneurial disposition. "
In 2008, Simone was promoted to the rank
of professor, and he continues to work in the
field.
"It works best for my students when I de-
fine myself as an actor/director who teaches
rather than the opposite. If I have one foot in
the business, I can bring that electricity back
to the class when I do Shakespeare in the
summer; my weekly classical radio show at
WNED, and the artist interviews and live
broadcasts at The Chautauqua Institution."
ability to pursue his
dream and success-
fully negotiate myriad
personal and profes-
sional opportunities to
the strong foundation
in the arts and hu-
manities that he got
at St. Bonaventure.
really provide the
human face on edu-
cation because they
are reflective of our
deepest emotions, our
oldest traditions, and
our newest ideas."
saddened when he
sees high schools cut-
ting arts programs and when he reads the
headlines that question the value of the hu-
manities at the college level.
"We have to stop hanging our heads about
it and instead embrace the humanities --
they're called that for a reason. The more we
distance ourselves from one another the
more we let the railroad ride on us; the less
I
N

2
-
2
Favorite Play: "The Tempest"
Role he'd like to play: Joe in "All My Sons"
Favorite Shows Directed @ SBU:
"Twelfth Night"
"A Year with Frog and Toad"
"Burial at Thebes"
"The Inner Above"
Why the "." after your name?
It's the official spelling I chose for my Actors
Equity Association union card. It's an homage
to one of my grammar school teachers.
Watch an interview with Ed. Simone at the studios of Classical
94.5/WNED (pictured above) at www.sbu.edu/simone.
West was a double major in
theater and journalism &
mass communication. She is
a Costume Fellow at the
American Conservatory The-
atre in San Francisco, Calif.
BEHIND THE SCENES
Praise from a former student
Dr. Simone has a very hands-
on teaching style that requires
everyone to participate, espe-
cially in acting classes.
He encouraged us to push out-
side of our boundaries and under-
stood that meant different things
One of my favorite memories
was watching a couple nervous
pre-med students in Acting 1 fin-
ish the semester confident
enough to re-enact a scene from
`Reservoir Dogs' for their final.
As a director, I worked with Dr.
Simone both as an actor and de-
signer. As an actor, I found that
he would accept nothing less
than the best I could offer. As a
designer, he allowed me the free-
dom to execute my most ambi-
tious designs, along with making
sure I could take every opportu-
nity to attend design conferences,
see shows, and interview for jobs.
He has always been nothing
but supportive of my career. I
could not have earned my fellow-
ship at the American Conserva-
tory Theatre without SBU's
theater program, Prof. Rebecca
Misenheimer, and Dr. Simone.
we understand one another; the
less we get who we are as a
species. Theater reinforces the
humanity among all of us; it
shows us who we really are --
and, better -- who we could be
if we understood. That's what
makes me stay in theater."