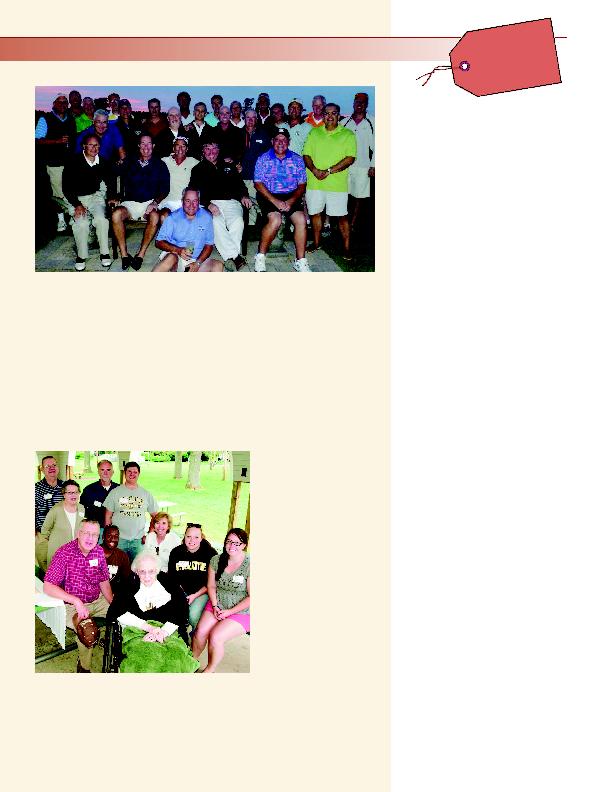 Golf, dinner and the Bills
Some 26 former 3rd Rob residents gathered in early September for four days of catching
up. The group kicked off the reunion with dinner at Black & Blue, followed by two days
of golf (Ivy Ridge and Glen Oak), and concluded the weekend at the Buffalo Bills home
opener. Pictured during a golf outing are (seated in front) Rich Putignano, '82; (seated in
second row, from left) Mike Giordano, '79; Norm Malone, '79; Chris Allan, '78; Steve
Gadziala, '79; Chuck Frawley, '79; (standing from left) Ron Reinecker, '79; Kevin Sutton,
'81; John O'Connor, '79; Bill Fagan, '79; Greg Schwind, '79; Jerry Reilly, '78; Steve Fiala,
'79; Joe Davis, '79; Terry Dacey, '78; Brian Small, '79; Paul Rokos, '79; Joe Baucom, '80;
Walt Cummings, '79; Art Demers, '77; Mauro Schifino, '79; Doug Sanger, '79; Michael
Stets, '79; Peter McCann, '79; Brian DiGiacomo, '79; and Jim Glynn.
Alumni from the Ithaca area got
together on Cayuga Lake for a
picnic and to meet with Alumni
Services staff Monica Mattioli,
'77, and Joe Flanagan, '75.
Among those attending were
Conrad Whyte, Evan Cleve-
land and Katie Rush from the
Class of 2013 and Mary Gilli-
gan, Class of 1933. At the gath-
ering, the decision was made to
launch an Ithaca Alumni Chap-
ter with Kelly Cobb, '10, (sec-
ond from right) as chapter
leader. Also pictured are Willy
Locke, '75, '82, '86, and Mrs.
Gilligan's daughter and son-in-
law (Sally and Hank Dullea).
Getting together with your SBU peeps?
Snap a pic (high resolution) and submit it to
bonalumnus@sbu.edu.
The deadline for the summer 2014 Bonaventure magazine
is March 1, 2014. Submit career news online at
www.sbu.edu/BonaMag
or use the enclosed envelope.
Ithaca-area grads gather, launch alumni chapter
We've lost touch with a number of alums and
need your help! Of the many missing alumni,
our hope is to start finding lost alumni who will
be celebrating their reunion in 2014. If you know
the whereabouts of the following alumni, please
let us know at www.sbu.edu/foundalumni.
Edward J. Murphy, '54
Donald M. Green, '59
David A. Kelly, '59
T. P. Reddy, '59
Vincent S. Scognamiglio, '59
Frances M. Nitti, '64
Thomas J. Brick, '69
John J. Frattaroli, '69
Timothy P. Castle, '79
Lawrence G. Darcey, '79
Mary Laubenthal, '79
Michael G. Mann, '79
Mary E. (Dolan) Zdraljevic, '79
Claire E. Breyton, '84
John J. DiGioia, '84
Katherine K. Fay, '84
Michael J. Fox, '84
Kathryn B. Murphy, '84
Laura Noe, '84
Doris Norton, '84
Phillip R. Diemer, '89
Maureen J. Lloyd, '89
Changnian Lu, '89
Matthew T. Pedrone, '89
David J. VanLone, '89
James A. Wellman, '89
Jason D. Beck, '94
Norman Bielmeier, '94
Barbara L. Bushardt, '94
Jennifer D. Coval, '94
Daniel P. Garrigan, '94
Diane M. Hardy, '94
Leonard M. Katusz, '94
Kevin W. Knieling, '94
Kevin S. Konecny, '94
Millicent M. Maloney, '94
John F. McKenna, '94
Timothy M. Mohan, '94
Catherine A. (Cusick) Monk, '94
Patricia J. (Morgan) Parente, '94
Randi C. (Vanwy) Rodriguez, '94
Susan M. (Gregg) Wall, '94
JoJo M. Young, '94
Amy B. (Cudahy) Holt, '99
Dayna L. Kanary, '99
Isaac N. King, '99
Mark A. Lux, '99
Bradley L. Nagel, '99
Kelly A. Nelson, '99
Heather A. O'Brien, '99
Stephanie (Roussel-Dupre) Weiss, '99
Marilynn S. Wesche, '99
Richard L. Hazard, '04
Marcell A. Mallette, '04
Rebecca L. Valenti, '04
Brennan H. Payne, '09