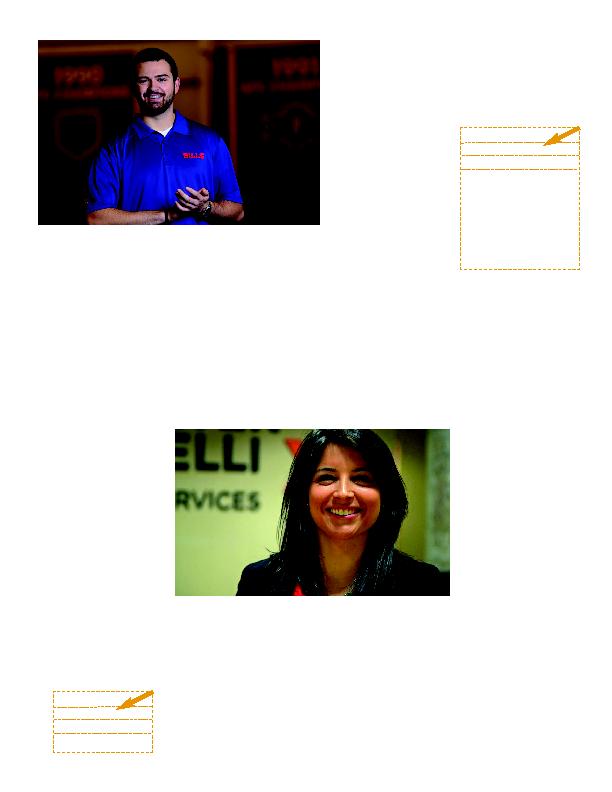 was working on her MBA,
the School of Business wel-
comed alumna Mari Snyder,
vice president of Social Re-
sponsibility and Community
Engagement at Marriott In-
ternational, Inc., as a guest
speaker.
"Ever since she came into
class I stayed in touch with
her through email, updating
her with my professional sta-
tus, and also asking her for
advice and tips (about) mov-
ing forward with my career,"
Nessle said.
While at SBU, Nessle was a
member of Students in Free
Enterprise (SIFE) and em-
braced the organization's so-
cial entrepreneurship mission.
In one of SIFE's signature pro-
grams, she joined fellow stu-
dents and faculty from a
cross-section of disciplines on
the annual Bahamas service
trip.
"I taught in the schools,
helped with building projects
and even participated in hur-
ricane relief," Nessle said.
When she was interviewing
for jobs, she found out that
employers were very inter-
ested in these types of expe-
riences.
"I think this is something
that distinguished me from
other candidates who were
applying for the same jobs,"
she said.
Today Nessle helps with media
planning and buying in the Con-
sumer Marketing Department at
public relations firm Porter Nov-
elli's Washington, D.C., office --
one of the firm's 90 offices in 60
countries.
Connecting with St. Bonaven-
ture alumni began long before
Nessle graduated.
"Networking was part of my
student experience at SBU," she
explained. For instance, when she
PATRICIA NESSLE
Patty Nessle used her mar-
keting degree to market her-
self and landed her first job at
a Baltimore public relations
firm right on the heels of
graduation.
"I was able to start right off
the bat with great working
habits," said Nessle. So when
she decided she wanted to
seek career opportunities be-
yond Baltimore, "I already
had experience knowing what
I needed to do next and
where to look and find jobs."
She set her sights on the
nation's capital and reached
out to St. Bonaventure alumni
in the D.C. network.
every single day... especially with the holidays coming up, we
do a lot of holiday outreach. It's great to have an opportunity to
help people in that way."
Academically, he could not have asked for better preparation
for his current position.
"A key aspect of my job is the ability to communicate," he
said. "I acquired that coming out of the J/MC school. What we
did in the IMC program was
take that and apply it to a pro-
fessional setting. We treated
the classroom like a business
environment. By the time I
came out of school I couldn't
wait to jump in and start ap-
plying all of this knowledge."
McCarthy was skeptical at
first about attending the same
college his parents (Bob, '76;
Ann, '74) graduated from.
"I felt that since both my
parents attended (St.
Bonaventure) it would be a lot of pressure to live up to," said
McCarthy. "My dad is the one that actually said, `If you're to be
going into a career of communications, you have to apply. It's
an outstanding journalism and mass communication school.
You owe it to yourself to apply.'"
It is a decision he would not come to regret.
"I had an unbelievable experience at St. Bonaventure and it's
really the reason I chose to stick around for two more years to
complete my master's. I made the best friends that I will ever
make and it's a great place to grow as a person and as a pro-
fessional," he said.
DANIEL MCCARTHY
"Getting hired by the Bills was an
unbelievable feeling," said Daniel Mc-
Carthy, who managed to grab an open-
ing in Community Relations for the
Buffalo Bills before he had even finished
his master's degree. "I consider myself
extremely lucky. You hear from people
every day that everybody wants to work
in pro sports, and to get a chance to do
that and live your dream -- it's a great
feeling."
In his department, which deals with
fitness, health and safety,
and military education, Mc-
Carthy revels in the opportu-
nity to work in a position
where compassion is just as
important as St. Francis be-
lieved it was.
we do out in the community
is with the specific intention
of helping people, which is
something Franciscans do
I
N

2
-
2
Keeping the Legacy Alive:
Getting a chance to co-author
a book about SBU, about a
place that I love so much and
my parents love so much, was
the ultimate honor. I think we
are lucky to consider that our
legacy to the university.