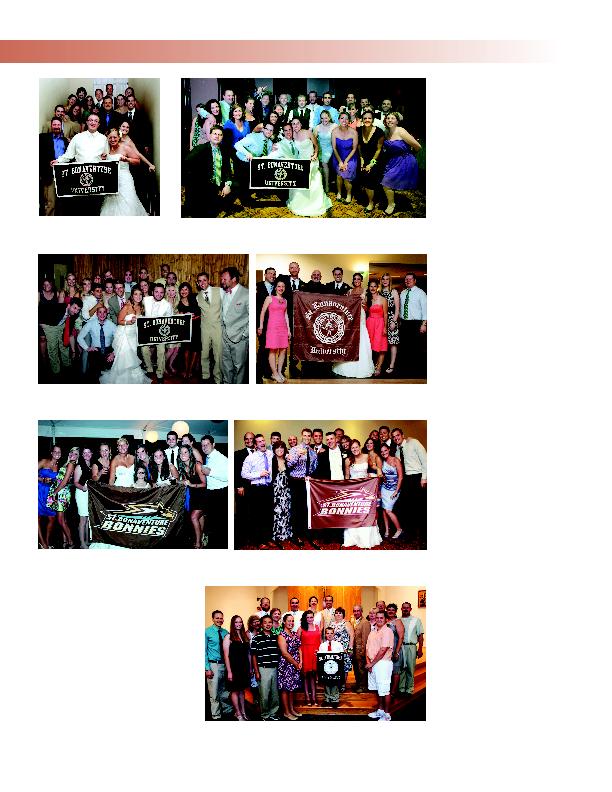 Births/Adoptions
I
N

2
-
2
To submit your marriage announcement:
· use the enclosed envelope
· email bonalumnus@sbu.edu
· mail to P.O. Box 2509
St. Bonaventure University
St. Bonaventure, NY 14778
All photos must be of good reproductive
quality. Pictures submitted electronically must
have a resolution of at least 300 dpi. The uni-
versity is prohibited from publishing copy-
righted photographs, unless accompanied by
written permission from the photographer.
Photos are published at the discretion of the
editor.
The deadline for the summer 2014
Bonaventure magazine is March 1, 2014.
Ashley English, '08, and Christopher Pennell
Danielle Lada, '08, and Eric Carlsen
Heather Hatfield and Patrick McCarthy, '95
Rachelle Hoeflschweiger, '08, and
Dan Nuhfer, '08, '09
Lynne Muccia, '08, '09, and Tyler Herman
Ruth Harper, '10, '11, and
Kevin Rhode, '10
Mallory Zabel and Brandon Haas, '05
Marriage submissions
Welcome,
Baby Bonnies!
Clara Margaret to Therese (Run-
fola), '98, and Marty Blind, '94
Zachry Edwin Joseph to Theresa
(Behil), '91, and David Keiser
Jack Michael to Christina Orr and
Mike Magulick, '93
Lorenzo Alexander to Kristie Vil-
lano-Porter, '99, '03, and Jason
Porter
Matthew Peyton to Renee (Evans),
'00, and Matthew Allsopp
Benjamin Ryan to Karen (Breen),
'00, and Brian Mudrak
William Lawrence to Keri (Gu-
miney), '00, and Bill Thoman
Tyson James to Molly (Dillon), '00,
'01, and Elton Ruddock
Alyssa Kaitlyn to Angela (Mc-
Daniels), '01, and Peter Barrett
Katherine Hannah to Meghan (Zim-
merman), '01, '03, and Tom Grif-
fin, '02
Clarissa Mae to Catherine (Eng-
man), '02, and Greg Oakley
Alexander Dominic to Katie
(Glaser), '03, and Justin DiLoro
Keegan Joseph to Vicki (Covey),
'04, and Tim McArdle, '03, '04
Jackson to Christine (Milovich),
'04, and Michael Blough
Ethan Francis to Angela (Russo),
'04, and Sean McGarry, '03
Emma, Hannah and Richard to Lind-
sey (Walsh), '03, and Richard Mer-
riam
Xavier Kevin Clark to Colleen
(Stoneham), '04, '05, and Ethan
Creech
Gracyn Taylor to Barbara Deike,
'05, and Thomas Deike
Ella Jean to Lyndsay (Jones), '05,
'06, and Matthew Niemiec
Grace Elizabeth to Lauren (Davey),
'06, and Jason Millican
James Timothy III to Sarah
(Dressler), '06, and Capt. James
Wellington II, '06
Benjamin Thomas to Jessica
(Manocchio), '06, '07, and Erik
Christensen
Olivia Katherine to Katherine
(Vorndran), '07, '08, and Matthew
Strusienski, '06