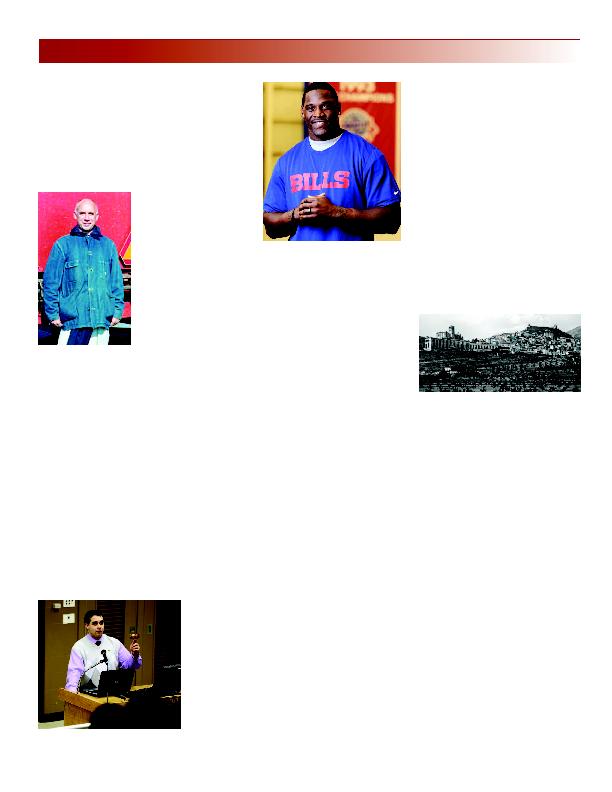 University to celebrate
Merton at June conference
In June 2014, the university will kick off a year-
long celebration leading to the 100th anniversary of
Thomas Merton's birth in 2015.
The June 19-22, 2014, conference will highlight
the experiences of Thomas Merton on our campus
and, among other things, the influence of the Fran-
ciscan intellectual-spiritual
tradition on his life and
work.
ference is "Coming Home
and Going Forth: Merton
as Example and Mirror."
years provided pivotal ex-
periences in discerning his
vocation and clarifying his
desire to live his Christian
commitment as a Trappist
monk.
Michael W. Higgins, an author, Vatican affairs spe-
cialist for the Globe and Mail and CTV Network,
Catholic educator, and CBC radio documentarian;
Christine Bochen, professor of religious studies and
the William H. Shannon Chair in Catholic Studies at
Nazareth College; and Fr. Daniel Horan, O.F.M., '05,
a doctoral student at Boston College and Interna-
tional Thomas Merton Society board member.
The program will also include opportunities for
mentored conversations with a variety of others who
have studied and explored the writing and influence
of Merton, including Fr. Daniel Riley, O.F.M., '64, and
Br. F. Edward Coughlin, O.F.M., '70.
The experience will include opportunities to visit
the Merton and Lax Archives of Friedsam Memorial
Library, campus sites that were important to Mer-
ton, and Mt. Irenaeus. For more information, con-
tact Julianne Wallace in University Ministries at
(716) 375-7841 or Monica Mattioli in Alumni Serv-
ices at (716) 375-2187.
Campus News
Tournament director and SBU stu-
dent Alex Noguerola
Historical exhibition from
Quick Center on display at
New York University
A traveling exhibition from the
Regina A. Quick Center for the Arts is
on view at The Kimmel Center for Uni-
versity Life (Stovall Gallery) at New York
University.
"Memoria: Assisi and the Jews" is on
display until mid-January 2014 and tells
the story of how a handful of Catholic
clergy, private citizens, and even a Ger-
many officer orchestrated the dramatic
rescue of several hundred Jewish
refugees in Assisi, Italy, following the
city's German occupation during WWII.
It is the story of the Assisi under-
ground from the perspective of Don
Aldo Brunacci, a diocesan priest and
altar canon of the Cathedral of San
Ruffino in Assisi, who was one of the
original architects of the plan.
After Germany took over central and
northern Italy in 1943, Italian Jews from
the region descended on Assisi, the city
of St. Francis, for help. Giuseppe Placido
M. Nicolini, bishop of Assisi, directed
that assistance be given to the Jews in
whatever way possible.
Brunacci, who was at the time the sec-
retary to the bishop, helped oversee the
hiding of the Jews in the convents,
monasteries and friaries of Assisi, with
the cooperation of a loose network of
clergy and their supporters.
Campus recruits 2,000
volunteers in 10 days
On a conference call with the
United Way, senior Simone Bern-
stein and Buffalo Bills linebacker
Arthur Moats (pictured above)
hatched a plan.
Moats told Bernstein, co-
founder of volunteennation.org,
that if St. Bonaventure could re-
cruit 2,000 members of the uni-
versity family to volunteer in their
communities, he'd come to cam-
pus to speak to students.
Utilizing social media, video, e-
blasts, and old-fashioned pen and
paper in a Hickey Dining Hall cam-
paign, more than 2,000 students,
faculty, staff and alumni made the
pledge -- in just 10 days.
For reaching the goal, Moats
sent game tickets, and auto-
graphed cleats, T-shirts, photos
and jerseys; the prizes were dis-
tributed through a drawing before
the holidays. Moats will be com-
ing to campus during the spring
semester to talk about the impor-
tance of giving back.
A two-day, four-round "Friar Faceoff" in No-
vember at St. Bonaventure gave college stu-
dents from 10 other universities the opportunity
to hone their trial skills.
Joining SBU at the mock trial invitational were
students from the University at Buffalo, SUNY
Fredonia, SUNY Geneseo, Buffalo State College,
Colgate University, Canisius College, Bingham-
ton University, Seton Hall University, Michigan
State University, and SUNY Oneonta.
St. Bonaventure's mock trial is offered as a
course, PHIL 324, in the fall semester and as a
"The tournament provides an opportunity
for area attorneys, some of whom are alumni,
as well as faculty and staff, to involve them-
selves in the education of a group of stu-
dents, many of whom will go on to law
school and enter the legal profession," said
Dr. Steven Nuttall, professor of philosophy
and adviser of St. Bonaventure's Mock Trial
Team. "Hosting the tournament allows us to
showcase the university and the welcoming
spirit of those who study and work here."
Mock trial invitational draws students from 10 universities