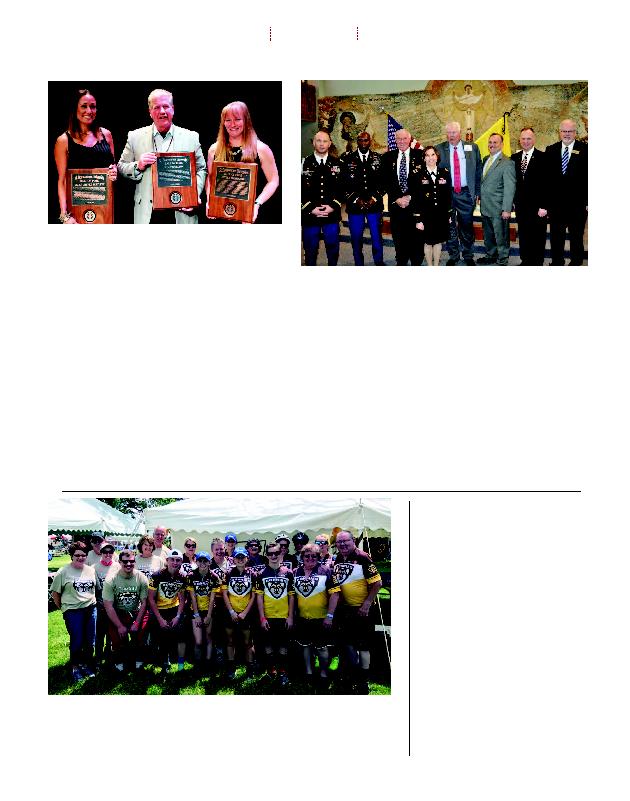 2
HALLS OF FAME
SAVE THE DATE!
Athletics honors three standouts
Three outstanding former student-athletes -- Kelly
(Chevez) Bartlett, '06, Tom Middleton, '63, and Heather
MacDougall, '06 -- were inducted into the Athletics Hall of
Fame as the Class of 2017.
Bartlett remains St. Bonaventure's all-time leading
women's lacrosse scorer with 121 goals and 119 assists for
240 points. Over her four seasons, the Bonnies went 32-26
and qualified for the A-10 Tournament twice (2003, 2004)
­ the first-ever A-10 postseason berths for the program.
A smooth-swinging and fleet-footed center fielder, Mid-
dleton was not only the best baseball player on campus
from 1960-63, he was renowned throughout the region. A
three-time all-star selection by the Western New York Col-
lege Baseball Conference, Middleton led Bona's in batting,
RBI, runs, hits and on-base percentage three years in a row.
As a senior, MacDougall earned All-Atlantic 10 soccer ac-
colades after tallying a team-high 24 points on 11 goals
and two assists. Her 36 career goals and 83 points rank
third and fourth, respectively, all-time in the Bona record
books. Read more about the inductees at gobonnies.com.
The Seneca Battalion of the U.S. Army Reserve Officers' Training
Corps at St. Bonaventure inducted four alumni into its ROTC Hall of
Fame on Saturday, April 1.
Pictured above from left are Lt. Col. Sean Coulter, professor of mili-
tary science; Master Sgt. James Andrews, senior military science in-
structor; Marvin Stocker, '65, former Army captain; Margret Emborsky
Merino, M.D., '90, retired colonel; Peter Bradley, '59, retired colonel;
Michael C.H. McDaniel, '79, retired brigadier general; Richard C. Triet-
ley Jr., '86, retired lieutenant colonel; and Provost Dr. Joseph Zimmer.
The induction ceremony was held at the University Chapel following
an ROTC Cadet Awards ceremony honoring current cadets for military
excellence and academic achievement. The day of recognition con-
cluded with the annual ROTC Military Ball at the Old Library in Olean.
The keynote speaker at the ball was retired Brig. Gen. McDaniel.
Read more about the distinguished graduates at
www.sbu.edu/ROTC.
St. Bonaventure's School of Commu-
nication will honor Hellinger Award
winners Andrew Bevevino, Class of
2016, and Lian Bunny, Class of 2017,
during a fall program in Manhattan.
The event will be held from noon to 2
p.m. Tuesday, Oct. 10, in Hearst Tower,
Manhattan.
The program will also feature a "fire-
side chat" moderated by Mike Spain,
'74, associate editor at the Albany
Times Union, who will discuss journal-
ism and communication today and into
the future.
Additional details will be forthcom-
ing, but alums who would like more in-
formation can contact Sue Ciesla at
sciesla@sbu.edu or (716) 375-2520.
Pictured above are some of the 38 members of Team SBU #CarneyStrong at the 22nd
annual Ride for Roswell in Buffalo. The bike riders raised more than $53,000 for can-
cer research in honor of President Emeritus Sr. Margaret Carney, O.S.F., who has been
treated at Roswell Park Cancer Institute.
Four inducted into ROTC Hall of Fame
Team SBU hits the pavement in annual Ride for Roswell
Communication School
to host Hellinger event