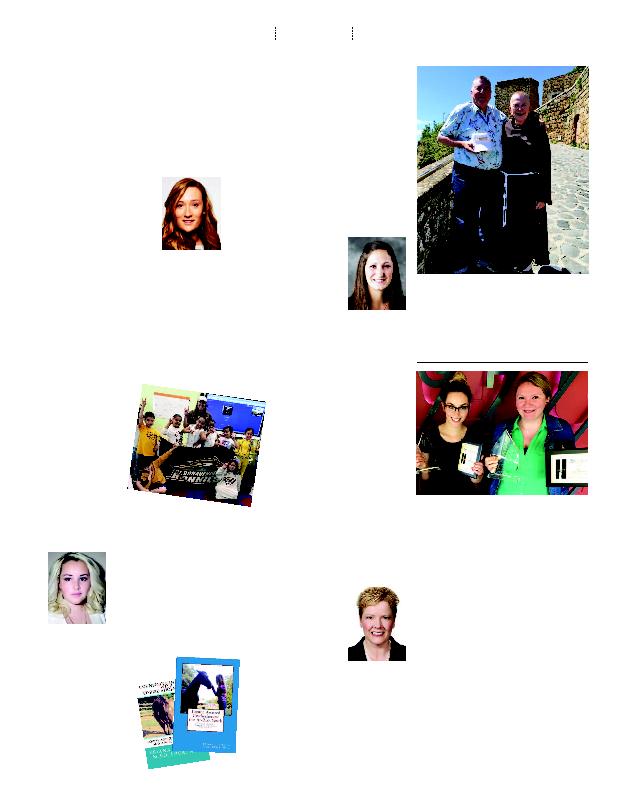 Jaycees, a member of the Buffalo Rugby
Club and volunteer for Educators for Amer-
ica.
Andrea Westerlund
Rochester, N.Y., to work in the public rela-
tions department of the University of
Rochester Medical Center. And on May 15,
she started her second graduate degree at
St. Bonaventure.
2012
Sinead Coleman
director of Energy Opera-
tions of Hampshire Power,
the only Massachusetts-
based electricity supplier.
Under her leadership, the
Hampshire Power team pro-
vides the largest number of
community choice aggregation programs
across the Commonwealth with electricity
supplied to more than 90,000 customers. The
program involves curating energy programs,
solar and renewable energy net metering pro-
grams, and energy efficiency technology.
Kaitlin Lindahl Jackson
Catholic Charities of Buffalo in October
2016 as a communications and public rela-
tions specialist. Previously, she worked as the
editor of the East Au-
rora Bee newspaper.
Kristen Worth
co-teacher in an inte-
grated co-teaching
classroom in New
York, N.Y. Every
year, the classes
dress up in college
colors for Field
Day. She is pic-
tured here with
some of the scholars in her
classroom showing off their Bonnies pride!
2013
Briana Perkins
ing the two-year anniversary
of her private counseling
practice Perkins Wellness
LLC. This comes after a suc-
cessful year of authoring
three books in 2016:
"Counseling in Nature with
At-Risk Adolescents," "Equine Assisted Psy-
chotherapy for Autism Spectrum
Disorder," and "Equine Assisted
Psychotherapy for At-Risk
Youth"). Perkins
was also featured in
three chapters of the
book "Group Experts
Share their Favorite
Activities" (Volume 1).
She has also been a
member of the South
Carolina Counseling Association Executive
Board, serving as treasurer since 2015. Perkins
is a second-year doctoral student at the Uni-
versity of the Cumberlands, where she is con-
ducting research into neuro-psychotherapy
applications for trauma.
Kevin L. Smith
sports writer for the Morning Times newspa-
per in Sayre, Pa.
Alex Teixeira
ishing law school at Wake Forest University in
2018. After winning the school's student
moot court competition, Teixeira was selected
to represent Wake Forest in the National Moot
Court Competition in 2018.
Jenna Torella,
CPA
, was named a senior accountant in the
audit department of Lumsden & McCormick,
LLP. She is responsible for
audit fieldwork, audit docu-
mentation and assisting
members of the audit de-
partment serving commercial
entities and exempt organi-
zations. Torella completed
her master's in accounting at
St. Bonaventure in 2014.
2015
Reid Okoniewski
nator for Catholic Charities in the Archdio-
cese of Washington, D.C. This follows a
previous position with the Foundation of
the Roman Catholic Diocese of
Buffalo, serving as relationship
manager and working on the $100
million capital campaign, Upon This
Nicholas Siciliano
ished his Master of Science in edu-
cation with distinction for social
studies education in seventh through
12th grades, as well as an advanced
certificate for middle childhood edu-
cation at Hofstra University in Hemp-
stead, N.Y. Siciliano is teaching sixth,
seventh and eighth grades in Crown
Heights, Brooklyn, at M.S. 584 Granville T.
Woods Middle School.
2016
Maureen E. Fyke
Barclay Damon, LLP as the
law firm's new director of
marketing. She will work in
all 11 firm offices. Fyke
brings decades of experi-
ence leading teams in a
and marketing activities, including adver-
tising and integrated marketing commu-
nications, brand positioning and
management, business transformation
and marketing strategy, marketing re-
search and analytics, innovation and new
product/offering development, and metrics
and performance management. Prior to

2
ALUMNAE EARN PRSA AWARDS
Kerri Linsenbigler, '14, '15, (left) and Erin
Collins, '05, '07, each took home platinum
best-of-show awards on behalf of Gelia at
the 28th Annual Excalibur Awards from
the Buffalo Niagara Chapter of the Public
Relations Society of America. The cere-
mony recognizes communications profes-
sionals in the Buffalo region and platinum
honors recognize the highest scoring en-
tries in the campaign and tactic divisions.
THESE ALUMS ROCK!
Jack Lyons, '63 (left), and Fr. Kevin
Mackin, O.F.M., '60, visited Bagnoregio,
Italy, on May 21. Bagnoregio, the birth-
place of Saint Bonaventure, is known for
its striking position on a plateau of vol-
canic rock.
joining Barclay Damon, Fyke was senior
manager of global consumer insights at
Fisher-Price; an associate at Goodman &
Company, a marketing consulting firm for
Fortune 500 companies in New York City;
senior manager of market research at Rich
Products; and account planning manager at
Answerthink in New York City. She has also
held senior positions in several New York
City advertising agencies, managing client
services and account planning for several
Fortune 500 clients.