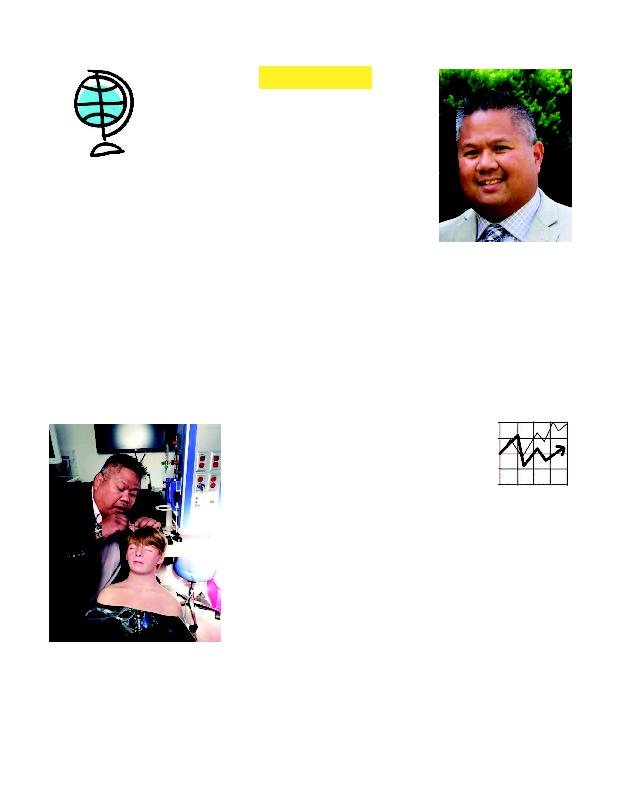 S
trat V is the holdings company for the portfolio of early-
stage medical device companies co-founded by Jason
Ylizarde. The name was inspired by the principles of
"Crossing the Chasm," a popular business book that de-
scribes the manner in which products eventually get adopted
into the mainstream marketplace.
Under the umbrella of Strat V Partners are six separate com-
panies co-founded by Jason Ylizarde, '96. The companies are
all in the medical technology industry.
Ylizarde constantly explored new opportunities to expand
his perspective. Even in his days as an undergrad, he was con-
stantly busy, from the commitment of being on the tennis
team to MERT (Medical Emergency Response Team) to commu-
nity volunteer work; he even DJ'd local dances and worked vari-
ous on-campus concerts and events.
"If I had time, I tried to fill it with something productive," he
A naturally hard-worker, Ylizarde said he joined the tennis
team his freshman year as a walk-on.
made the team, but
I worked hard and
kept at it. And with
great coaching
along the way, I
eventually finished
as a co-captain my
senior year."
tight-knit popula-
tion helped him to
flourish.
has such a positive
and supportive en-
vironment of pro-
fessors, friars,
students and local
community, and
that is a great
recipe to bring out
the best in people,"
Ylizarde said.
Ylizarde became the director of the intramural sports program
as well as assistant coach for the men's and women's tennis
teams at St. Bonaventure. While in that role, he started to ex-
plore careers in health care and eventually focused on getting
into the medical device industry.
were jobs in med device
sales, where you could go
into surgery and teach
the physicians and staff
how to use a new product," he said. "I was fascinated by this
and I absolutely had to get involved."
He explained that playing and coaching tennis at a high level
taught him how to persevere, how to work hard and have
good sportsmanship, how to lead and effectively communi-
cate. Those characteristics translated well into having a suc-
cessful career in the medical device business.
Ylizarde spent 12 years excelling in different commercial
roles within the medical device industry. He then spent an-
other five years leading the commercial efforts for several
early-stage med-tech companies.
In 2015, he and a business partner decided to branch out
from their careers in the corporate world and start their first
company. Two years later, they are the co-founders and man-
aging directors of six companies in the
medical device industry, all at different
commercial stages.
"We still have several other technolo-
gies we intend to build an infrastructure
around. Our goal is to manage/maintain
a stable of approximately 12 early-stage
companies. When we sell or spin one
off, we'll backfill it with another opportunity," he said.
Owning a company is right up Ylizarde's alley.
"I love being able to exercise my creativity and problem-solv-
ing skills on a daily basis, and blend that with my experience
commercializing new products or techniques into the mini-
mally invasive surgical environment," he said. "The ultimate
reward is knowing that the products we develop are saving
people's lives."
Eventually, Ylizarde wants to give back to the world.
"I intend for my biggest accomplishment to be one of phil-
anthropic importance," he said.
Building companies requires a demanding travel schedule,
but Ylizarde still finds time to play competitive tennis. He and
his wife have lived outside of Houston, Texas, since 2010 and
are active with animal rescue (particularly Weimaraner Rescue
of Texas). They currently have seven adopted dogs, which in-
clude five weimaraners.
CONTACT
Connect with Ylizarde on Facebook and LinkedIn
Email: jason.ylizarde@gmail.com
Phone/text: (410) 707-9993
Ylizarde examines a model's head during
a visit to Boston Children's Hospital,
where he discussed 3D printing for surgi-
cal planning.
STARTUP SUCCESS
A principal and founder of StratV Partners, a
med-tech consulting firm