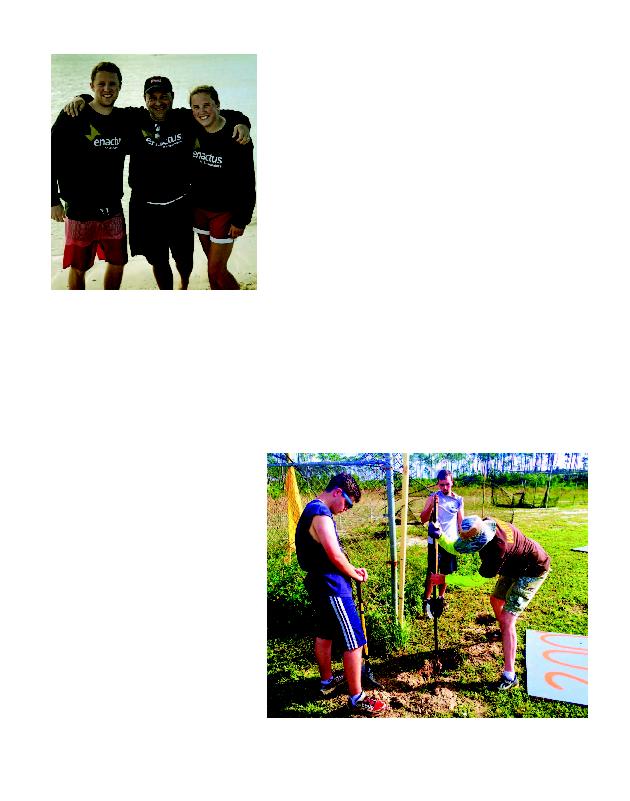 schools. Many of the university's education majors student teach in Grand Ba-
hama Island schools, and many of the computer labs in the schools were built
by SBU students.
Among the areas of focus are:
· Business seminars offered three evenings for entrepreneurs.
· SciencePacks, lesson plans and teaching tools created by Bona's education
and science students for the schools the university works with while in the Ba-
hamas.
· Beacon School, where SBU students -- all are certified in Special Olympics
-- provide physical education instruction to kids with special needs and run a
field day for the entire school.
· General service, including hurricane relief. Grand Bahama Island has been
hit by three major hurricanes in the past 15 years, including extensive damage
from Hurricane Matthew last fall. Enactus raised more than $10,000 for service
teams to repair roofs in January 2017.
Hannah Pingelski, '18, knew all about the university's annual trip to the Ba-
hamas even before she enrolled at Bona's as a marketing and management
major. Her sister Lauren, who earned her accounting (2012) and MBA (2013)
degrees at Bona's, is a former SIFE president. In fact, Hannah and her brother,
Mike, followed in Lauren's footsteps to St. Bonaventure and to the leadership
organization. Mike completed his accounting degree in 2016 and completed
his MBA in May.
"She would come home with so many great stories about her experiences
and all the great work she did. I'm thankful I had such a great role model in
Lauren to lead the way down the path of going to SBU and joining Enactus,"
said Hannah, who was a service team leader for the Bahamas trip in January.
Although Lauren wasn't able to join Hannah and Mike in January, they did
draft a third member of their family ­ their father, Stan. Hannah describes her
dad, recently retired from Campbell's Soup Company after 30 years, as a
"pretty handy guy" who can usually "MacGyver something" he doesn't know
how to fix. A dedicated community volunteer, including with Habitat for Hu-
manity, Stan was a great addition to the service team, which spent most of its
time repairing two houses damaged by Hurricane Matthew.
"We've gone on family vacations before but never did service together. Being

2
Finance professor Dr. Jim Mahar works on fencing damaged by a hurricane at
the Grand Bahama Sports Complex. Mahar is one of more than 20 faculty, staff
and alumni who has accompanied Palmer on his trips abroad.
Photo by Kathryn McTyre, '17
signed to serve as an engaging, inexpensive entry
point for international service. The fall semester is
spent planning the trip and training students new
to the club. It's also when Enactus conducts what
are called legacy projects. These are student-gener-
ated spinoff organizations and stand-alone projects
that include:
· Embrace it Africa, now a separate 501c3 or-
ganization with a St. Bonaventure chapter.
· Canvas for a Cure, which has raised some
$15,000 for pediatric cancer patients in three
years.
· Dream It. Do It 500, a rubber band-powered
car race that attracted more than 200 middle and
high school students in 2016. This event has been
named a best practice by the Manufacturing Insti-
tute and versions of it have been implemented
throughout the U.S.
· C4 Consulting, a student consulting group that
has more than 40 members and has worked with
nearly 20 Olean-area companies and nonprofits in
the past two years.
· Bonareach, a brand-new tutoring program tar-
geting middle school and high school students.
"A hallmark of all that we do is that all of these
organizations are primarily student run. Projects are
student generated and implemented. I work to
provide training, infrastructure and vision. The stu-
dents provide the rest," said Palmer.
Bahamas Entrepreneurial Service Trip
Hundreds of SBU students, faculty and staff have
gone to Grand Bahama Island in the 15 years since
Enactus (formerly SIFE) was formed. Each year,
about 50 SBU students work in the schools teach-
ing science, consult with local businesses, provide
training in business and technology, and conduct re-
search on learning outcomes in primary and high
The Pingelski family (from left): Michael, '16, '17,
Stan, and Hannah, '18.