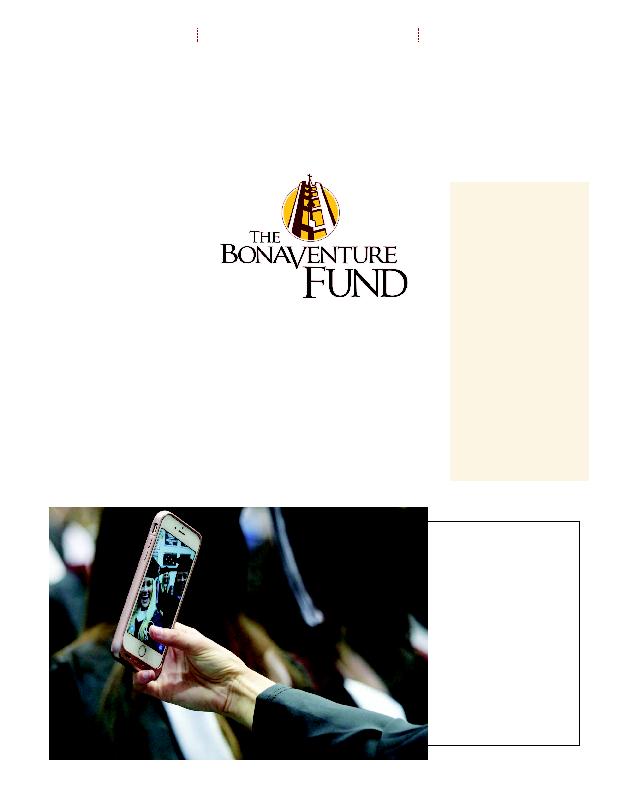 T
hank you to the more than 4,500
alumni and friends who donated
to The Bonaventure Fund. To-
gether we raised more than $2.5 mil-
lion, making the 2017 fiscal year the
most successful in unrestricted annual
giving in Bona's nearly 160-year history.
Your gifts allow access to St.
Bonaventure's unique brand of higher
education, enable faculty to remain
leaders in their fields, and provide a ro-
bust student experience -- academi-
cally, socially and spiritually.
This past fiscal year saw the launch of
Bonaventure's crowdfunding websites.
New software allowed the university to host
a successful #BonaGivingDay, where alumni
could join in the fun and challenge class-
mates to donate. It also added a competitive
edge to our Reunion Class Challenge, allow-
ing honored reunion classes to view chal-
lenge results in real time.
We are looking forward to the new fiscal
year and continuing our fundraising efforts
for The Bonaventure Fund. This vital fund
is crucial to the continued growth and vitality
of the university. It's the ebb and flow of
When you give to The Bonaventure
Fund, you provide scholarships and financial
aid to more than 95 percent of our students.
Your investment produces the leaders and in-
novators of tomorrow. Your gift also ad-
vances technology and builds on academic
excellence, keeping us on the leading edge
and contributing to the overall Bonaventure
experience.
Your support of The Bonaventure Fund
today changes lives tomorrow. Thank you
again for your generous contribution.
The Pathway to Success Begins With You.
you like competition?
Consider volunteering as a
Reunion Class Co-Chair
and help your class raise
funds for The Bonaventure
Fund.
To learn more, or to vol-
unteer, please contact
Karen Heitzinger, director
of Annual Giving, at (716)
375-2328.
To see the final results of
Reunion 2017, visit
www.sbu.edu/reunion-
challenge.
Thank you!
Calling all
classmates
from class
years 3 and 8
Bona's celebrates historic fundraising season
Disconnected your landline?
Changed your email address
Please let us know by calling
(716) 375-2330 or emailing
us at advserv@sbu.edu and
would hate for you to be-
Keep in touch!